I hate Wednesdays… Even more than Mondays. Therefore, I figured I had to do something about it. So here you have: Wednesday's Specials. We will talk here about drinks, food, sweets and all things tasty.
Today is the first day of fall for me. This morning was chilly and on my way to the office, I couldn't stop thinking about a cup of hot tea with a little rum in it. Then I discovered this recipe, for pumpkin hot butter, which sounded a lot better. I think I will serve at the party on Halloween weekend.
Recipe and pic from here.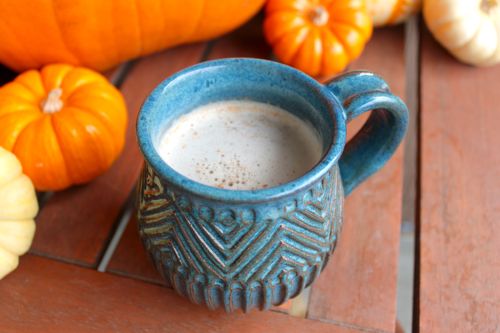 Ingredients
1 pint good quality vanilla ice cream, softened (I used Haagen Dazs 5)
1 cup dark brown sugar
1 cup powdered sugar
1 cup unsalted butter (2 sticks)
2 tsp pumpkin pie spice
2 tsp cinnamon
3/4 cup canned pumpkin
Directions
Leave ice cream on counter to soften, approximately 30 minutes. Once softened add all ingredients in a large bowl and mix with an electric mixture. Pour in a freezer safe container to harden.
To serve
Mix 2-4 tablespoons pumpkin hot butter with 1 oz spiced rum and 6 oz boiling water.
0