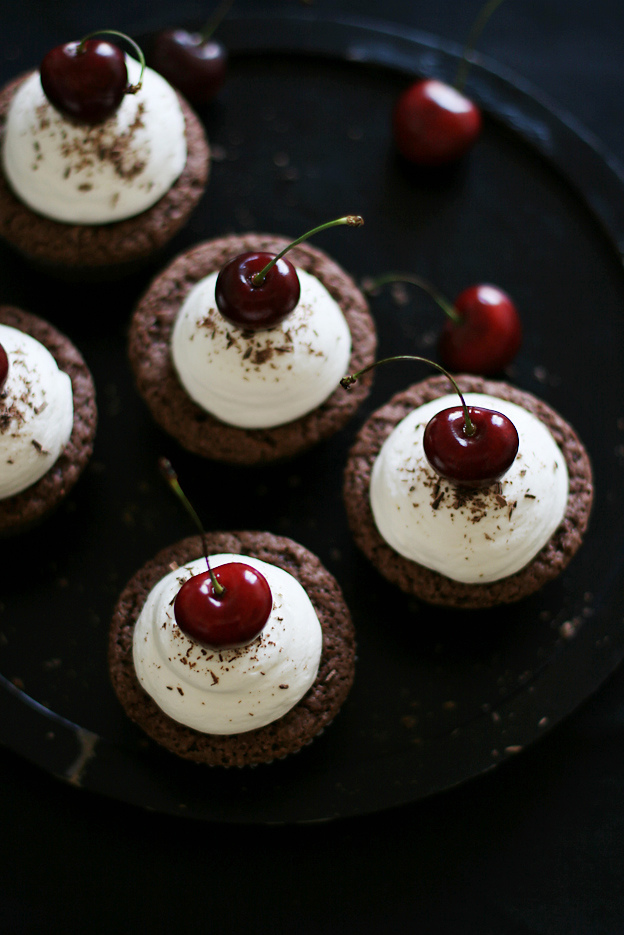 I cannot wait for summer, but since it is only January and around here the freezing temperatures will last for some months the fresh cherries are just a sweet dream. I think they will be replaced by sour cherries from the freezer… or by the ones preserved in alcohol…
Chocolate cupcakes
Makes approx. 10
•200 g flour
•2 tbsp cocoa powder
•0,5 tsp baking soda
•180 g sugar
•50 g butter, at room temperature
•1 large egg
•0,5 tsp vanilla powder
•0,5 dl canola oil
•0,5 dl buttermilk
Filling:
•Preserved cherries in rum (optional)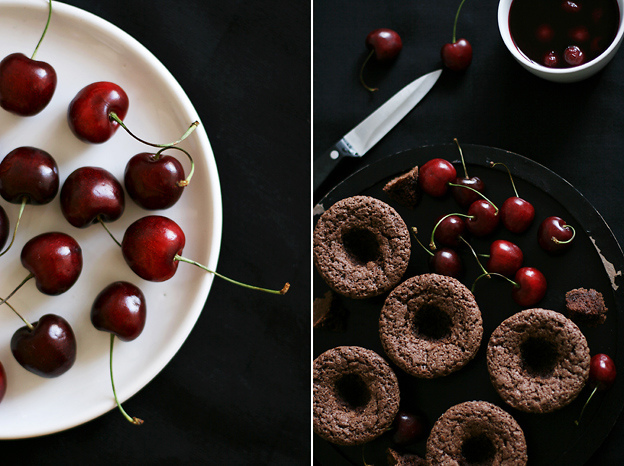 Preheat oven to 150 degrees C. Mix dry ingredients in a bowl. With an electric mixer, cream the butter and sugar until light and fluffy. Add oil and egg beating well.
Add flour mixture and buttermilk in three additions, beginning and ending with the flour. Scrape down sides of bowl. Fill paper liners about 2/3 full and bake for about 25-30 minutes. Let the cupcakes cool while you make the frosting. Cut a hole in the center of each cupcake and fill with a (or more if you want to) preserved cherry.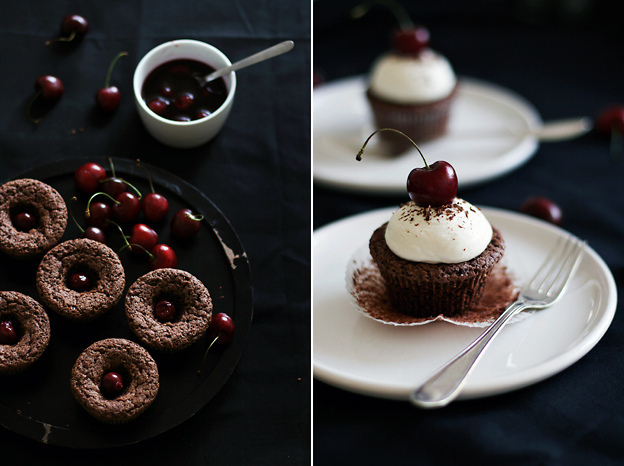 Whipped cream cheese frosting
•150 grams cream cheese
•1,5 dl heavy whipping cream
•0,5 teaspoon vanilla extract
•1 dl powdered sugar
Whip the cream in a large bowl. Mix cream cheese, powdered sugar and vanilla in another bowl. Mix everything together and whip until smooth. If the frosting is runny, put the bowl in the fridge for a while.
Recipe and photos via Call Me Cupcake
0