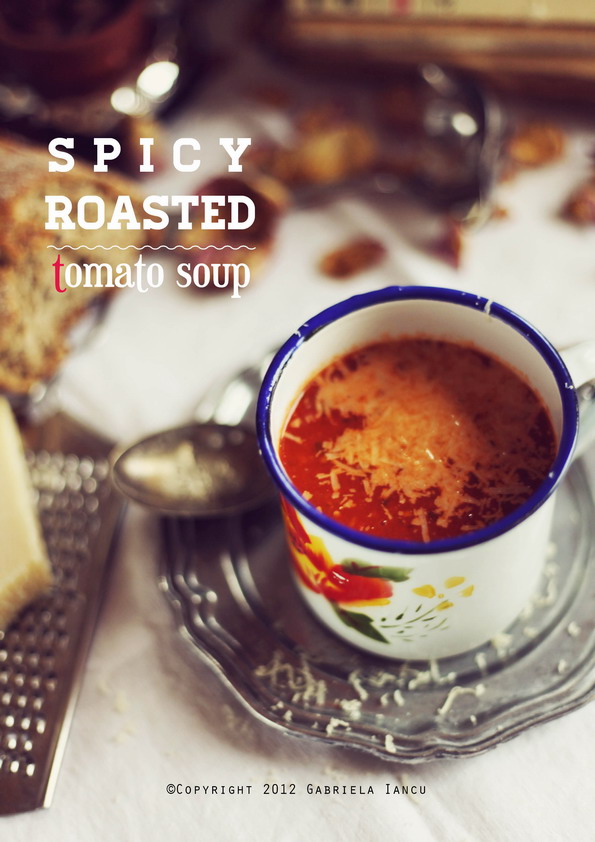 While staring at my Facebook news feed the other day, I was attracted by some lovely food pictures and so I discovered the beautiful online space of Gabriela Iancu – What Liberty Ate. I spent a lot of time on her blog, mesmerized by the pictures, the writing and also the very special look of the site. I am always really happy and proud when I discover Romanian blogs I really like, and hers is no exception. So, for today's specials, I will feature one of her recipes, the Spicy Tomato Soup.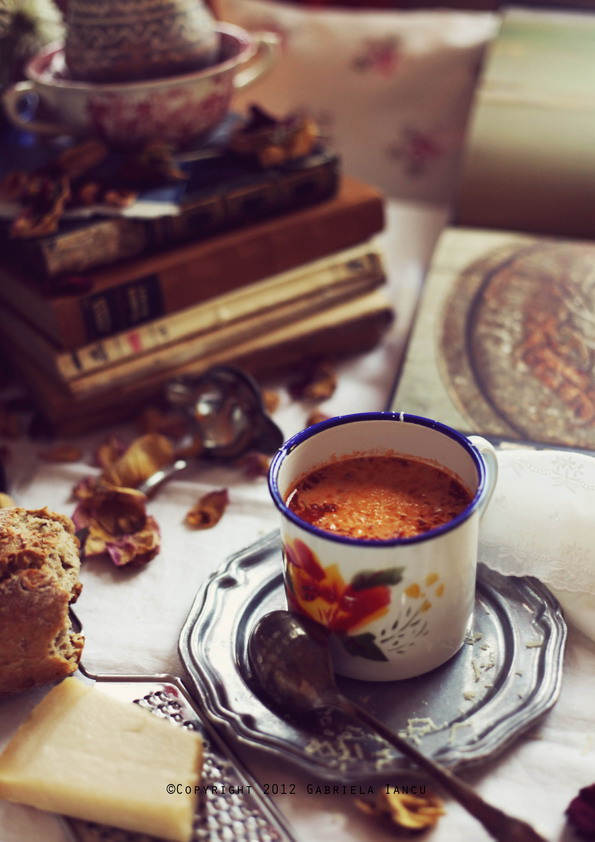 Ingredients (makes 4 servings):
4 medium size tomatoes
2 medium size red bell peppers
1 small red pepper (Habanero or Chile)
1 handful of lovage
few leaves of basil
100g homemade tomato buillon
100ml chicken stock
1 head of garlic
1/2 teaspoon smoke paprika
olive oil to drizzle
sea salt and black pepper
parmeggiano to servered bell peppers
Directions:
1. In a large baking sheet arrange the tomatoes cut in half, the bell pepper (whole), the head of garlic, red pepper and drizzle with olive oil and sprinkle sea salt. Roast them at 200C, for 20 minutes. Let them cool completely, then peel of the skin of the bell peppers, cut them in small pieces and together with the tomatoes put them in a large pot. Peel of the skin of the head of garlic, you will have a very smooth paste of roasted garlic. Add it to the pot. Finely chop the red pepper (exclude the seeds, if you would prefer it more mild in spiciness) and add it to the pot.
2. Finely chop the lovage and basil and add it to the soup. Season with salt, pepper, paprika, add the chicken stock and cook the soup, with the pot cover for 10 minutes over medium heat. Let it slightly cool and then using a hand blender, homogenize all soup. Serve it warm with parmeggiano.
Enjoy!
0