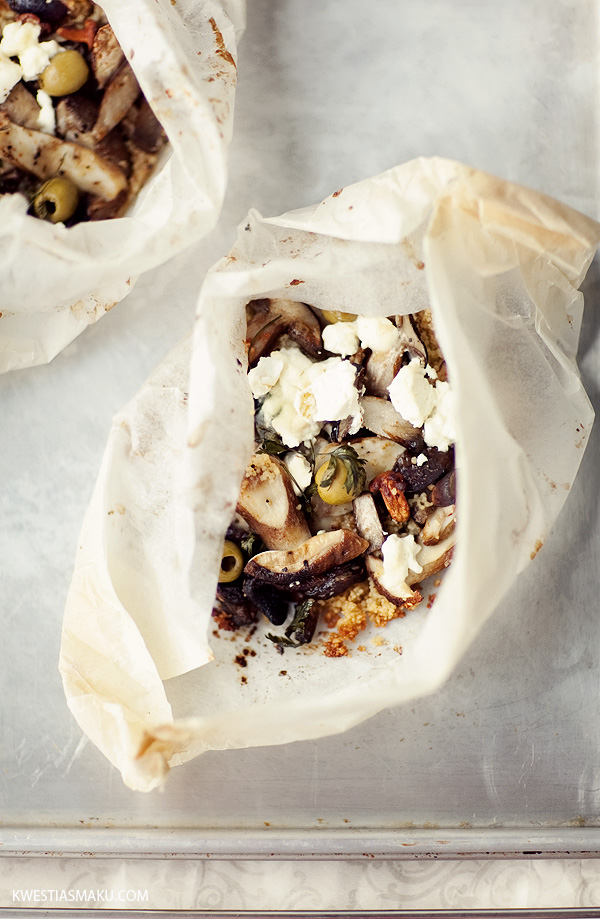 Again, the Wednesday's Specials recipe is a result of me browsing the mighty Internet and drooling over a picture found on tumblr… These "packages", or "parcels" accroding to Google, looked amazing (at least to my hungry self)… The real challenge came when I found the recipe and everything was in Polish… Yuppie! Below you will find an approximate translation based on Google Translate and a little on my imagination 🙂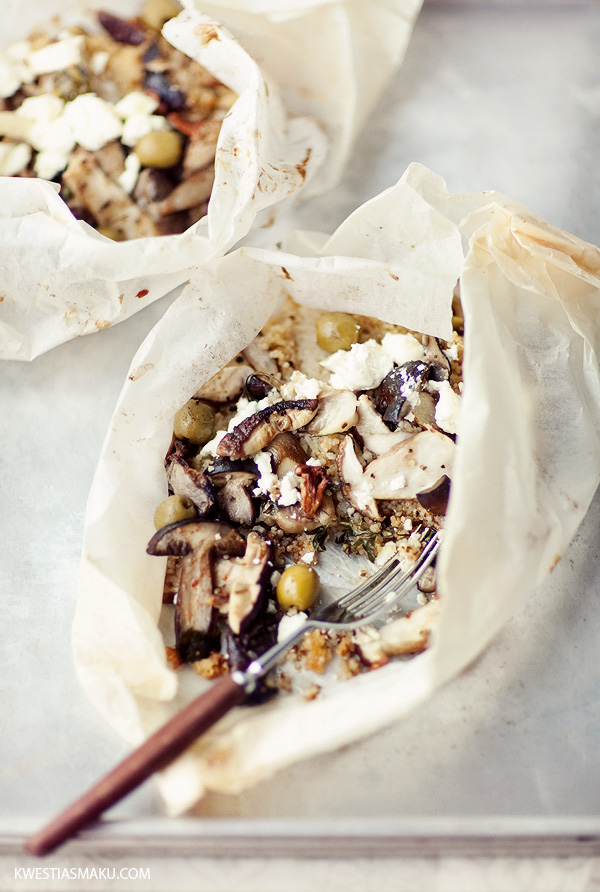 Ingredients for 2 servings:
• 200 – 250 g of mixed fresh mushrooms (such as porcini, wild mushroom, mushrooms etc.)
• 100 g (1/2 cup) couscous (dry)
• 1/3 cup sherry or white wine (you can substitute with mushroom broth for example)
• 10 green (or black) olives
• Two sprigs of fresh herbs (parsley, thyme or rosemary best)
• 60 g of butter
• two pinches of smoked paprika (optional)
• sea salt and freshly ground black pepper
• 40g goat cheese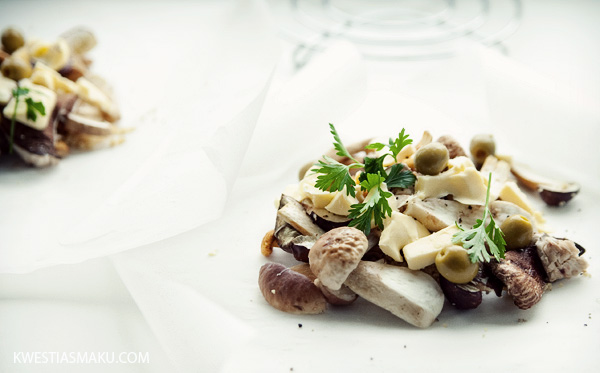 Preparation:
• Preheat the oven to 200 degrees. Cut out two squares of about 40 cm of baking paper. Clean the mushrooms and then wipe them with a damp cloth.
• Using two deep plates, pour in each half of the semolina couscous, add half of the mushroom quantity in half, pour the sherry or wine, spread the olives, fresh herbs, twigs and bits of butter. Season with salt and freshly ground pepper.
• Slide the contents of the plates in the center of the sheet of baking paper, so that the couscous is on the bottom and on top of the mushrooms. Fold the sides of the paper in the center and wrap the sides to form a sealed package. Place on a baking tray and place in preheated oven for 25 minutes. Place the packages on a flat large plates, open and sprinkle with crumbled goat cheese.
• You can also bake for another 2 – 3 minutes (under the grill or in a preheated oven as standard) after adding the cheese.
I hope I understood everything (anyway, it seems logic…). I will try this asap, may be adding some more vegetables to the mix. I will let you know how it turned out 🙂
All pics and the original recipe here.
Keep up with Project Fairytale
Facebook / Pinterest / Twitter
0