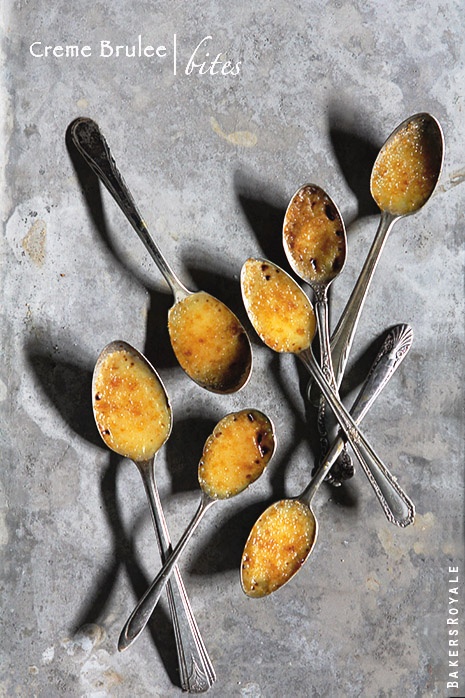 Recipe and photos via Bakers Royale:
Yield: Makes about 50-60 crème brulee bites or 8 four ounce ramekin servings
Ingredients:
4 cups heavy cream, chilled
2/3 cup granulated sugar
pinch table salt
1 vanilla bean, halved lengthwise or 2 teaspoons of vanilla bean paste
12 large egg yolks
8 – 12 teaspoons Demerara sugar or raw sugar
Directions:

Preparation
Adjust oven rack to lower-middle position and heat oven to 300 degrees.
Bring 8 cups of water of water to boil. Meanwhile, place kitchen towel in bottom of large baking dish or roasting pan and arrange eight 4- to 5-ounce ramekins (or spoons rested in shallow fluted dishes) on towel.
Place 2 cups cream, sugar, and salt in medium saucepan; split vanilla bean and scrape seeds into pan and submerge pod in cream. Bring mixture to boil over medium heat while constantly stirring ensure the sugar dissolves. Remove pan from heat and let mixture rest and steep for 15 minutes to infuse flavors.
After cream has steeped, add in remaining 2 cups cream to cool down mixture. In a separate bowl whisk yolks until combined. Add and whisk 1 cup of cream mixture into yolks until combined; repeat with another 1 cup cream. Add remaining cream and whisk until combined. Pour mixture through a fine-mesh strainer; discard solids in strainer. Pour or ladle mixture into serving vessels.
Place prepared baking dish on oven rack; pour boiling water into pan (and fluted dishes for bites) taking care not to splash water onto custard, until water reaches two-thirds height of ramekins or an eighth height for spoon bites. Bake until centers of custards are just barely set (custard will give slightly at the center when pan is tapped) and digital instant-read thermometer inserted in centers registers 170 to 175 degrees, 30 to 35 minutes (12-15 minutes for bites). Begin checking for doneness about 5 minutes before recommended time.
Transfer finished crème brulee to wire rack; cool to room temperature, about 2 hours. Set crème brulee on rimmed baking sheet, cover tightly with plastic wrap, and refrigerate until cold, at least 4 hours (ramekins) 2 hours (bites) or up to 4 days.
Uncover and using a paper towel blot away any condensation that has collected on crème brulee surface. Sprinkle a light layer of Demerara sugar on top; tilt and tap for even coverage. Carmelize sugar with a torch. Refrigerate crème brulee, uncovered, to re-chill, 30 to 45 minutes (ramekins), 10-15 minutes (bites); serve.
A few notes:
To make this in traditional 4ounce ramekins, fill the water bath half way up the ramekins and increase bake time to 20-25 minutes or until the custard temperature reaches 175 degrees.
Make sure to blot any condensation that may form on the surface of the crème brulee before dusting with the turbinado sugar for best torching results.
If Demerara sugar is not easily accessible in your area, raw sugar will work as well. If vanilla beans are not readily accessible in your area, use vanilla bean paste, its stronger in flavor than just regular vanilla extract.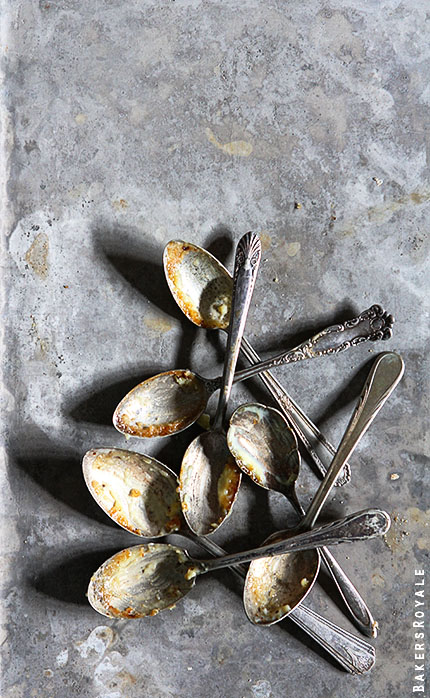 Enjoy!
Keep up with Project Fairytale
Facebook / Pinterest / Twitter
0