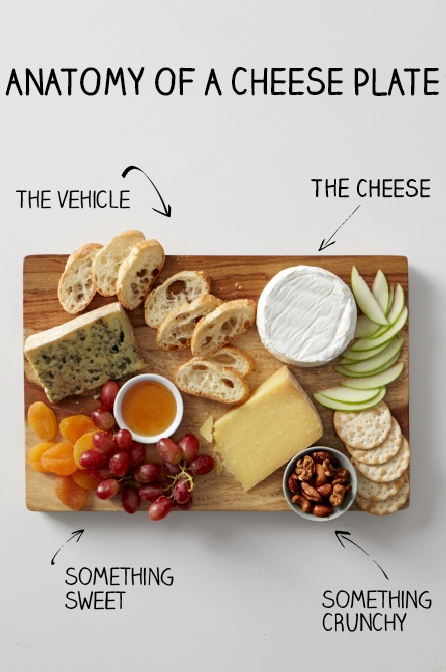 You may have noticed that I love cheese (this, this or this might have given you an idea)… Especially when I get a beautifully arranged plate with all the right types of cheese, perfectly balanced dried and fresh fruits, delicious bread, crunchy nuts and the RIGHT wine. But, to get to this heavenly perfection you have to folow a few rules. And where, if not on the MarthaStewart.com website, will you find the most complete and easy to understand:
Choose the right cheese. Three different cheeses will provide enough variety for a cheese plate that serves six to eight people; add more choices if you're hosting a bigger party, and estimate about a pound of cheese (total) for every five guests. Aim for a variety of different tastes and textures. A helpful clue: Cheeses that look different usually taste different. For a good mix, try one fresh, smooth cheese such as a mild goat or mozzarella, and a buttery one with a soft, edible rind, like Brie or Camembert. Then add one or two semi-hard or hard chesses: Go for a milder one, like Gruyere or Manchego, or a dry, sharp variety, such as Pecorino Romano or Parmesan. If you like, swap one of these cheeses out for a blue cheese (creamy Roquefort or pungent Stilton both work).
Pick the vehicle. For the most part, we view crostini and crackers on a cheese plate as just a way to get cheese into your mouth. Set out some slices of crusty bread or baguette or, if you prefer something crisp, try water crackers, which are plain enough that they still let the cheese shine.
Make some sweet selections. The natural sweetness in fruit complements the saltiness of cheese. Serve something fresh, like grapes or pear slices, or dried fruits, such as figs, prunes, and apricots.
Just add crunch. A good cheese plate is about more than just taste — texture plays an important role, too. Add nuts, crunchy apple slices, or crisp crackers for a crunchy texture that offsets rich, creamy cheeses.
Get a board. You don't need a dedicated cheese board — a clean wooden cutting board will work just fine. We like the rustic look of the sheesham wood board pictured above. Buy it here.
Consider timing. Cheeses taste best at room temperature, so let them sit for an hour or so before serving (longer of large chunks or hard cheeses). That said, no one will complain if you forget and serve your wedges and wheels straight from the fridge — it's still cheese afterall!
0