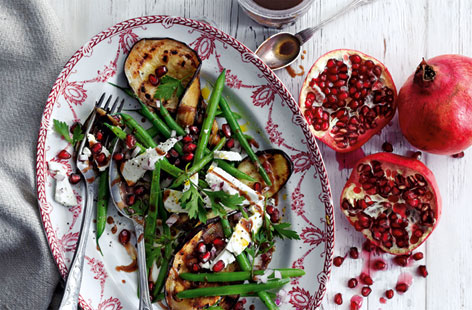 Love of food is one of the things that defines me. If someone would ask me to present myself in five simple sentences I belive one would be food related. And I adore vegetables… I am not really a meat person (I am not vegan or vegetarian, I love a good piece of steak, but I seldom crave meat) so usually, when I think about food salads and grilled veggies appeal to my imagination. And this combination is a killer! I never cooked this particular recipe, but, parts of it were integrated in other dishes and I can testify that they taste excellent. And so should the combination of all of them, which I will definitely try this weekend (like I told you previously, I am more of a weekend cook).
Ingredients
2 small aubergines
100g (3 1/2 oz) fine green beans, trimmed
1/2 small red onion,finely diced
50g (1 3/4oz) feta cheese, crumbled
1 pomegranate
2tbsp fat-leaf parsley, roughly chopped
For the dressing
45ml (3tbsp) balsamic vinegar
60ml (4tbsp) extra-virgin olive oil
1tsp Dijon mustard
Pinch of sugar
In a small jar with a fitted lid, shake together the vinegar, oil, mustard and sugar. Season. Slice the aubergines lengthways, 1cm thick. Brush with some of the dressing and season.
Heat a chargrill pan until very hot. Grill the aubergines until charred on both sides, about 1-2 minutes each. Divide between four plates.
Blanch the beans for 1 minute, drain, rinse in cold water and dry on a tea towel. Divide between the plates and top with red onion, feta, pomegranate seeds and parsley. Pour the dressing over each plate. Alternatively, arrange on a large serving platter.
Enjoy!
Via Tesco
Keep up with Project Fairytale
Facebook / Pinterest / Twitter
0