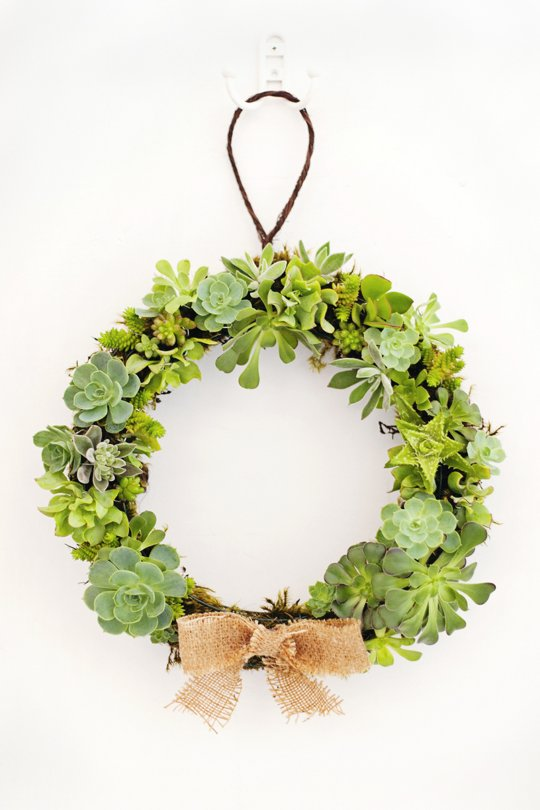 I do not know if you are int DIYing like me, but, the fact that I live in Romania sometimes limits my choices. A lot! For example, for Christmas, if I want a nice green wreath to hang above the mantel or on my door, the available possibilities include simple or already decorated fir-tree flat crown… I could go to an expensive floral designer and choose the way I want it to look, but, as much as I love and appreciate the work these people do, sometimes I just cannot afford it. And, it this particular case, for Christmas I would rather spend more on presents for the loved ones than on home decor.
So, I started looking for ideas to make my own DIY wreath. I was thinking about one made of Christmas ornaments (like the one here) but I kinda did that last year too… And I would like something fresh, simple and highly decorative… So I think I will go with this beautiful wreath made from moss and topped with succulents, which, besides looking great should also last for a long period of time…
What You Need:
Dry Sphagnum or Peat Moss
Wire Wreath Frame
Floral Wire
Floral Pins
Succulent Cuttings
Burlap Ribbon (optional)
Rustic Floral Wire (optional)
Tools
Pencil
Scissors
The rest of the tutorial with more photos on Apartment Therapy.
You can find more inspiration here.
Keep up with Project Fairytale
Facebook / Pinterest / Twitter
0