Last weekend I had a terrible crave of avocado and eggs. I ended up making quesadillas with sour cream sauce and guacamole dip, but the eggs remained on my mind. I really hope I will make something like this next weekend, but replace the bread with baked tomato slices.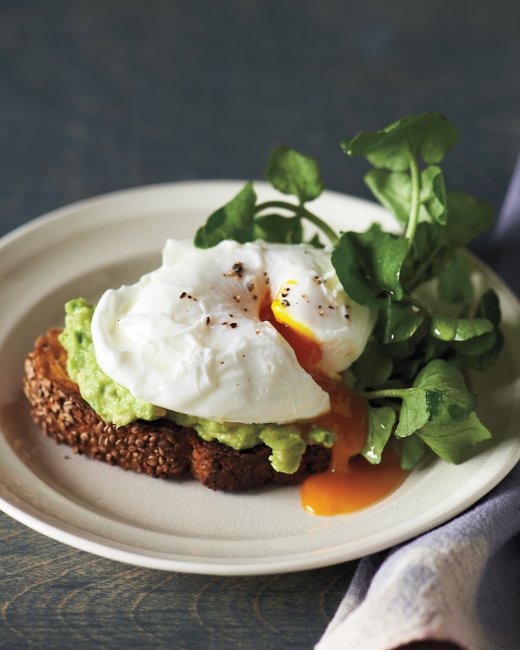 Ingredients
1 avocado
1 teaspoon fresh lemon juice
Coarse salt and freshly ground pepper
3 slices sesame bread, lightly toasted
1 cup lightly packed watercress sprigs
Extra-virgin olive oil, for drizzling
1 tablespoon white vinegar
3 large eggs
Directions
Step 1
Halve avocado, remove pit, and scoop flesh into a medium bowl. Add lemon juice, 1/2 teaspoon salt, and 1/4 teaspoon pepper. Mash and stir with a fork until combined and mostly smooth, with some small chunks remaining. Divide avocado mixture among toast slices, spreading evenly. Top avocado with watercress, and drizzle with oil.
Step 2
Bring 1 1/2 inches of water to a simmer in a large, deep skillet over medium-high heat. Stir in vinegar. Crack 1 egg into a small bowl. Holding bowl just above surface of water, gently pour egg into skillet. Repeat with remaining 2 eggs. Poach eggs, undisturbed, just until whites are firm and yolks are still runny, about 4 minutes (for firmer yolks, poach 1 to 2 minutes more).
Step 3
Carefully remove eggs from water with a slotted spoon, allowing excess water to drain off. Place 1 egg on each watercress-topped toast slice. Season with salt and pepper. Serve immediately
Source Martha Stewart
Keep up with Project Fairytale
Facebook / Pinterest / Twitter
0