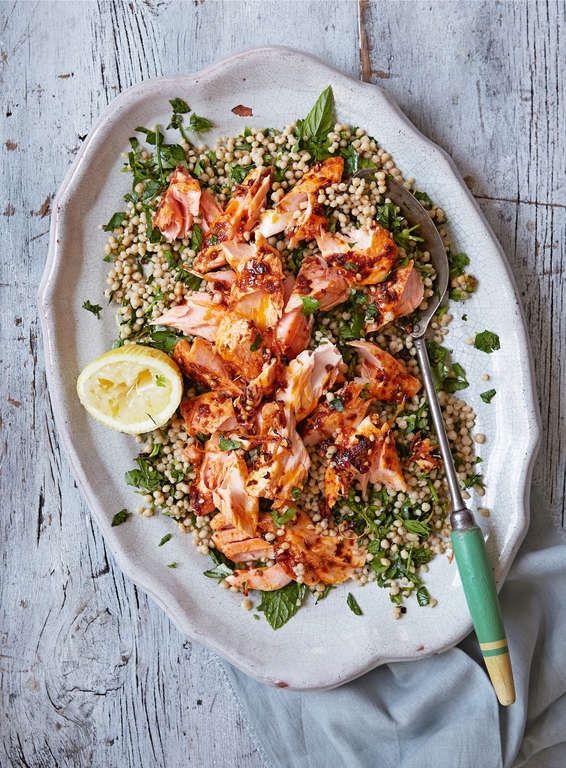 I have already told you that I live in Romania and that not always we have everything available here. And when things are not available we adapt. Take couscous for example: I have been eating couscous for as long as I can remember. Not in Moroccan dishes, but inserted into more traditional food. I grew up in Transylvania, in a small (really small) town and there was a factory there that made "pasta". A kind on "noodles" for soups and "couscous". After a friend recommended the small, rice-like pasta to grandma, at least once every two weeks they were part of our meals. And to be honest, I liked them. A lot. When I grew up, went to France, then Morocco, I thought that we actually could not make the real thing and settled for the giant (compared to real Moroccan couscous) beads. Disappointment!
But then I got it, this is just another variety. I actually like the giant one better, I like to cook it as often as possible adding fresh vegetables to it (raw vegetables) and eat it like that. It's great, I will share this recipe with you here.
Enough with my ramblings for now, this is a recipe I found on The Happy Foodie and it sounds simply delicious. And, like all the recipes I really love, easy to make.
Ingredients
2 tbsp rose harissa
1 tbsp coriander seeds, crushed grated zest and juice of 1 lemon
1 x 600g piece sustainable salmon fillet (skin on)
800ml chicken or vegetable stock
400g giant couscous
a good drizzle of extra-virgin olive oil
a large handful of fresh flat-leaf parsley, chopped
a small handful of fresh mint leaves, chopped
a small handful of fresh coriander, chopped
salt and black pepper
Instructions
STEP 1: Mix the harissa with the crushed coriander seeds and half the lemon zest. Rub this mixture all over the salmon and lay it on a baking sheet. Leave in a cool place to marinate for 30 minutes (or longer if you have time).
STEP 2: Heat the oven to 170°C/325°F/gas 3. Place the salmon in the heated oven and roast for 10–12 minutes until just cooked through.
STEP 3: Meanwhile, bring the stock to a simmer in a large pan, add the couscous and cook for 6–8 minutes until tender. Drain and tip into a large bowl. Cool slightly, then toss with the remaining lemon zest, the lemon juice, oil and herbs. Season well with salt and pepper. Flake the salmon over the top of the couscous, and serve.
Enjoy!
Recipe and photo via The Happy Foodie
Keep up with Project Fairytale
Facebook / Pinterest / Twitter
0