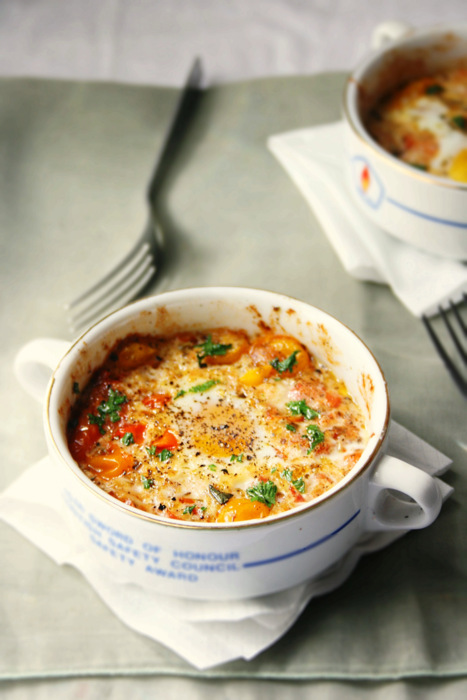 Good morning from the snowy Bucharest! My initial plan was to share a recipe of an easy, green salad since this weekend with all the snow I did not leave the house except to get groceries that I then transformed into meals. And since I had a lot of time on my hands, I even cooked a delicious dessert: pancake pasta with fried bananas and caramel syrup (I made the caramel syrup myself, hooray for me).
But, after a strange succession of events I was reminded of a nice restaurant I used to visit quite often in the past and I now miss. It is a Bulgarian restaurant in Bucharest, called Balcic, and there one of my favourite dishes was an oven baked cheese pudding with tomatoes and eggs and hot peppers.
So I remembered I have seen something similar a while ago on Pigamitha Dimar's Notions and Notations of a Novice Cook blog. I just love her blog. I actually first read her "Secret Handshake of Basic Food Photography" section, which proves to be very useful for any blogger who want to present original content on their blog (food or non-food related). This recipe seems delicious, easy to make and beautifully looking.
I think this will be my Saturday breakfast, if I will not succeed in going on a one day snowboarding adventure. If I succeed, it will be perfect for Sunday brunch!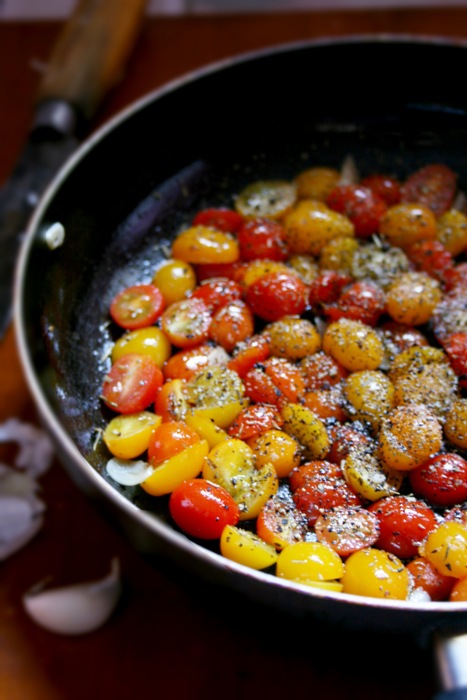 Baked Eggs and Tomatoes: (Serves 2)
2 handfuls of Cherry Tomatoes + 2 cloves of garlic + 3 tablespoons of Olive Oil + 1 teaspoon of Dried Oregano + 2 eggs + Fresh parsley for garnish + Salt & Pepper to taste
Pre-heat the oven at 170 degrees Celcius. Heat 2 tablespoons of oil in a skillet. Slice the garlic and sautee until fragrant. Cut the cherry tomatoes into halves and throw them in. Add oregano and salt and pepper to taste. Sautee until tomatoes soften and reduces, about 4 minutes. Put the sauteed tomatoes into ovenproof dishes (ramekins etc.). Add a teaspoon of olive oil and make a well in the centre. Crack in the eggs. Put into oven and bake until egg is cooked to your taste. Take them out, sprinkle some chopped parsley and serve immediately with some crusty bread.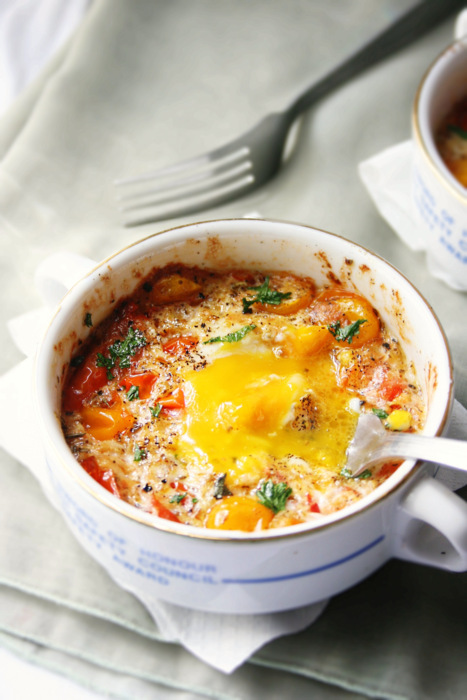 Hope you will like them 🙂
All images and recipe via Notions and Notations of a Novice Cook
Keep up with Project Fairytale
Facebook / Pinterest / Twitter
0