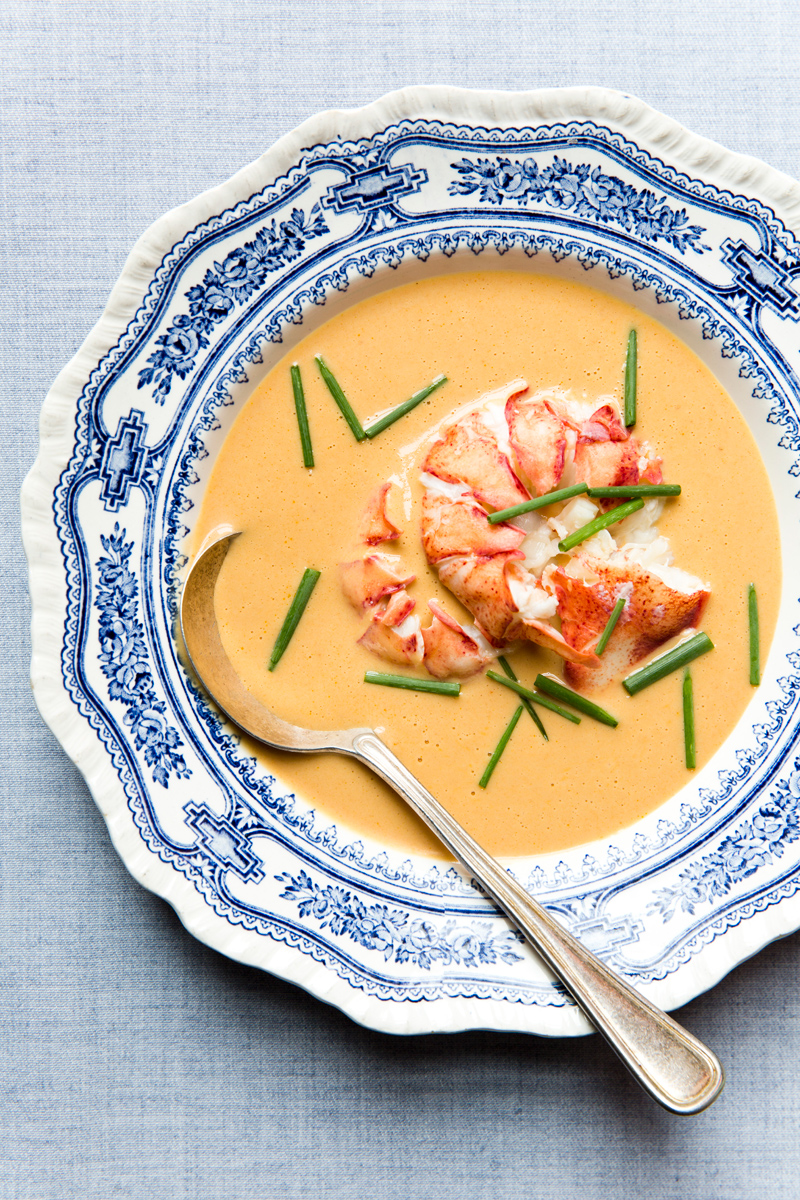 Comfort food is all I need with the end of summer holiday coming and getting back to work next Monday. This lobster bisque found on Saveur.com looks and sounds absolutely delicious and is reminiscent of the holiday sea-food treats I had in Greece 🙂
INGREDIENTS
12 sprigs flat-leaf parsley
6 sprigs thyme
1 fresh bay leaf
1 (4-lb.) Maine lobster
6 tbsp. butter
2 tbsp. extra-virgin olive oil
1⁄4 cup brandy
3 large shallots, finely chopped
2 carrots, finely chopped
2 ribs celery, finely chopped
1 clove garlic, finely chopped
1 large yellow onion, finely chopped
Kosher salt, to taste
2 tbsp. tomato paste
2 cups white wine
5 cups fish stock
Pinch of cayenne pepper
1 cup heavy cream
1 tbsp. cornstarch
4 egg yolks
2 tbsp. chopped chives
INSTRUCTIONS
1. Tie 6 sprigs parsley, thyme, and bay leaf together with kitchen twine to make a bouquet garni; set aside. Working over a sieve set over a bowl to collect the lobster's juices, separate claws and tail from body and crack claws. Cut tail into quarters crosswise; halve body lengthwise. Discard intestinal tract and sac behind head. Reserve lobster parts and juices separately.
2. Heat butter and oil in a deep skillet over high heat. Add lobster parts; cook, covered, turning once, until bright red, 6–7 minutes. Remove skillet from heat. Pour the lobster-infused butter into a bowl; set aside. Pour brandy over lobster; ignite with a match. When the flames subside, transfer lobster to a plate.
3. Heat reserved lobster-infused butter in the skillet over medium-high heat. Add remaining parsley, shallots, carrots, celery, garlic, onions, and salt. Cook until caramelized, 18–20 minutes. Add tomato paste; cook until browned, 3–4 minutes. Add wine; cook, scraping up browned bits, 2–3 minutes. Transfer mixture to a large pot. Add reserved bouquet garni, stock, cayenne, salt, and cream; boil. Reduce heat to medium-low; simmer, covered, for 15–20 minutes; remove soup from heat and strain, returning to pot. Meanwhile, put cornstarch and egg yolks into a medium mixing bowl and whisk until smooth. Gradually whisk about 1/4 cup of the bisque into yolks, then stir egg mixture back into pot of bisque. Place bisque back over medium heat and stir until thickened, about 10 minutes. Add reserved lobster and juices and season with salt and pepper. Divide between dishes and serve garnished with chives.
Via Saveur.com

Keep up with Project Fairytale
Facebook / Pinterest / Twitter
0