If you're a huge bookworm and you're about to plunge into the married world, wouldn't you want to get married among your many paperback and hardbound friends? I'm talking about getting married in a library!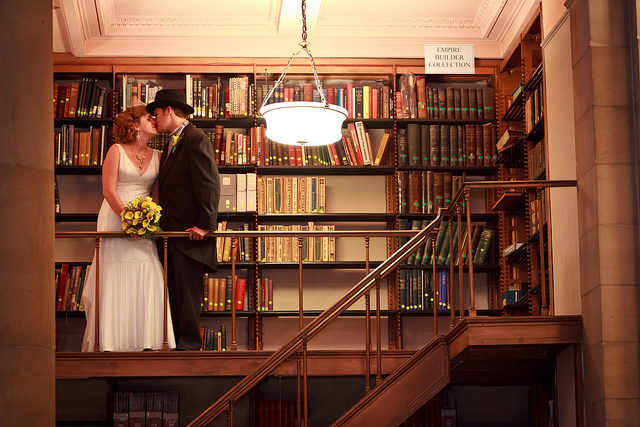 Image by: brianellpu
Think about it: libraries are home to some of the greatest loves stories ever written. So where better a place to start your very own love story than a library in Australia. And older libraries, as far as wedding venues in Adelaide and beyond go, come complete with loads of built-in character and historical interest.
As for the décor for your magical reception, here are some ideas to pull off your romantic literary day.
Book Favours
Get hold of some fabulous used or second-hand books as wedding favours. Add a thank you book mark to complete the theme.
Book Invitations
Hollow out old, discarded books and place your wedding invitation inside. Make sure everyone bookmarks your big date. You'll save on budget which you can put towards a lavish bookworm banquet to mimic your favourite period novel.
Literary Bouquet
Have a bouquet arrangement created with pages of your favourite books. For an extra romantic touch, use Jane Austen's romantic novels.
Personal Story
Have a small book of your engagement and how you met printed for guests to read as they wait for their meal. You could have your menu printed in there too.
Magical Centrepieces
For enchanting, magical and rather charming centerpieces, consider peet moss-covered pieces that are bound to be a talking point at such wedding venues.
Go for a Literary Theme
Why not consider the whimsical Alice in Wonderland as your wedding book theme? Think "drink me" tags, loads of top hats and even a spot of flamingo croquet.
A Creative Groomsmen' Touch
For a little added creativity, present your groomsmen with typewriter cufflinks with the letters of your and your groom's initials.
Vintage Book Place Card Holders
This is a really simple idea that is sure to make a big impression. Have guests shown to their seats with escort cards that are wedged inside a folded over book.
Naming Your Tables
Instead of table numbers, name your tables after famous literary couples.
How About a Great Gatsby Theme?
This is a perfect fantasy world to base your entire wedding around.
A Book Arch To Really Make an Entrance
Enter your library wedding venues through a custom-made book arch – your guests are sure to left in awe.
And a Little More Magic
Add to the magic of your special wedding day by having books flying overhead. String books from the ceiling for this whimsical effect and be sure to tape the pages open to avoid books falling closed.
Don't Forget the Table Runners
Stick to your romantic literary theme by heading off to a second-hand book store. Grab a few bargain books and rip out bunches of pages. Arrange and glue the pages together for stylish and talking-point table runners.
Australia has probably some of the best libraries in the world and as far as wedding venues in Adelaide go, a library offers a sense of the magical, fairy tale, historic and creative. You don't even need to spend much decorating the library for your reception and that means you'll have budget left over for a lavish meal for your guests. Why not choose a meal from one of your all-time favourite books and really complete your page-turner of a special day.
Libraries truly do make for the perfect wedding venue and will ensure your wedding day is remembered by one and all.
Keep up with Project Fairytale
Facebook / Pinterest / Twitter
0