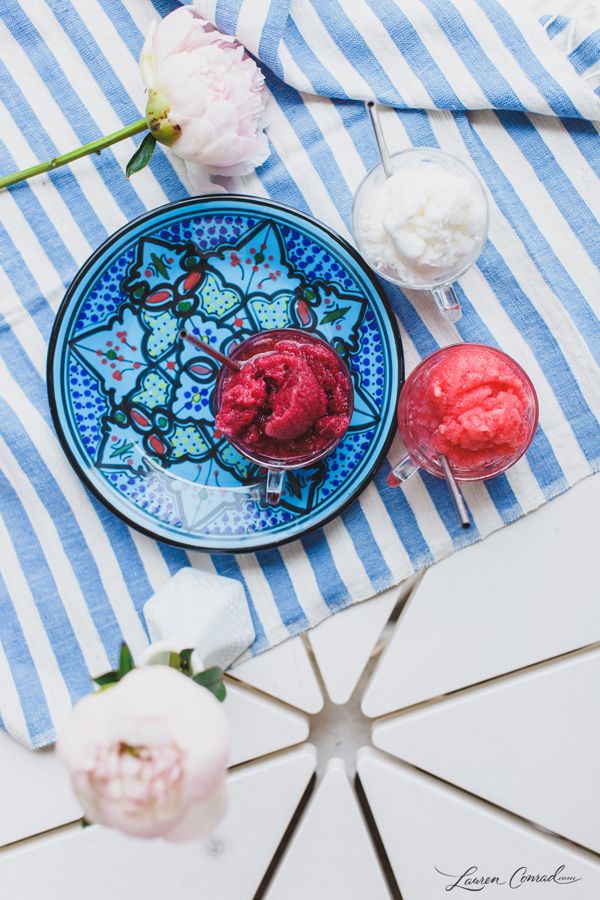 Because I'm currently on holiday and what better time to enjoy a refreshing cocktail than on the beach enjoying the Mediterranean sun, I thought it's time to share with you this gorgeous recipe of Blueberry Lemon Granita. the best part? On LaurenConrad.com you can find two more similar libations, perfect for any summer garden celebration.
Makes 2 servings
Ingredients:
2­3 lemons, peeled and then juiced (about 2/3 cup juice)
1 pint blueberries
1 cup water
½ cup white sugar
Bourbon, to taste
Instructions:
Combine lemon peels, blueberries, sugar, water, and lavender in a pot over medium heat, stirring until sugar is dissolved, about 10 minutes. Take off heat and let the syrup cool.
Once room temp, strain, add the lemon juice, stir together, and pour into one ice cube tray.
To serve, crush the ice cubes in a blender or food processor, and top with bourbon.
Serve in deep cups with spoons and straws.
Via LaurenConrad
Keep up with Project Fairytale
Facebook / Pinterest / Twitter
0