You're ready to drop the proverbial knee and propose. You may have a lot of thoughts swirling around in your head, matched only by the swirling nervousness in your gut. These are completely normal reactions certainly felt by those contemplating wedded bliss. If that still doesn't comfort you, even minimally, then you're probably in need of advice and a calming cup of herbal tea.
Given today's hustle and bustle – and, perhaps, your own indecision— it should be comforting to know that you can look at hundreds of different engagement rings and purchase online now. It's particularly helpful, not just for those who have a style and search in mind, but for those who are starting anew, and just want to see what's available for their budget. You're offered many choices in which you can get all of the details, with a "click" of your computer. You can view at your own pace, whenever you have time.
Hallmarked
If you are worried about the origins of the diamonds, take a good look at CanadaMark diamond engagement rings. A CanadaMark diamond is part of a hallmark program that provides independent verification to diamonds that are of Canadian origin.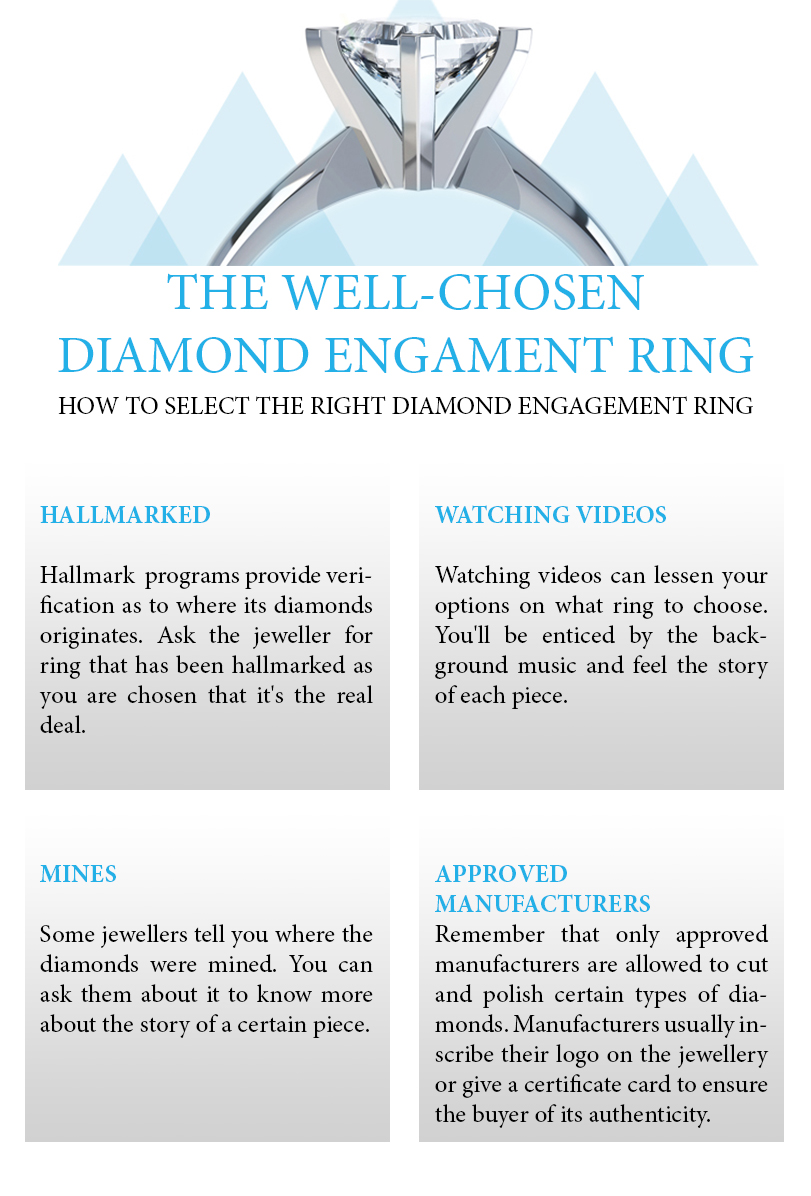 Consider the following
Every CanadaMark diamond is:
Responsibly mined in Canada's Northwest Territories
Natural and untreated
Tracked through audited processes at every stage from country of origin to polished stone
Polished to meet specific quality standard
Watch This
And, definitely check out the video at canadamark.com. It depicts, in a beautiful set of Canadian gloriousness, details about CanadaMark diamonds. Rather than bombard you with distracting dialogue, the only sound is the catchy beat of the theme song. But the stunning visuals and subtle captions tell the complete story.
Integrity and The Mines
All CanadaMark diamonds start at one of two mines
Diavik (Canada's largest diamond mind in terms of carat production)
Both mines were subject to intensive environmental assessments and permitting processes. Special priority was given to ensure the land, water, and wildlife's long-term integrity.
Symbiosis Between Mines and Manufacturers
Only approved manufacturers can cut and polish CanadaMark diamonds, so each of the CanadaMark diamonds can be tracked, from mine to polished diamond. CanadaMark diamonds each have a certificate card, chronicling the aforementioned process, as well as the CanadaMark logo inscribed on the diamond. The company's website offers a verification tool to confirm the CanadaMark Diamond's authenticity.
The Potential Panic Weighs on Everyone's Mind: A Lost Ring
A diamond engagement ring is a delicate little thing. If your engagement ring has been professionally photographed, make sure you keep copies of the photos. Some websites do not allow customers or viewers to "copy" online photos, but once you're purchased a ring, you should ask for as many high-resolution photos as possible. You don't want to think about it right now, this is something you should always have, for insurance purposes.
There are all kinds of jewellery insurance available. Be sure to ask, via phone, email or text, if there is a jewellery insurer your diamond engagement ring recommends.
We hate to mention this, but jewellery is the most targeted item in home robberies today. If, for some reason, a diamond engagement ring is left at home, hidden away in a jewellery box, you should know your jewellery insurance rights. No matter what your insurer's contract says – for example, that you can only have work done by their jewellers, it is the law (Trade Practices Act) that you have the right to take you ring anywhere you'd like to go (even if it's stated contractually that you're obligated to use the insurer's favoured company).
Jewellers Association. chief executive Ian Hadassin has said, "If you bought a piece of jewellery from a particular jeweller and want to replace it, there's no reason you should not be able to."
It's critical to keep paperwork and have detailed photographs, should anything happen to your precious ring. With the fluctuation in gold and diamond prices, have your ring evaluated every two to three years.
Keep up with Project Fairytale
Facebook / Pinterest / Twitter
0