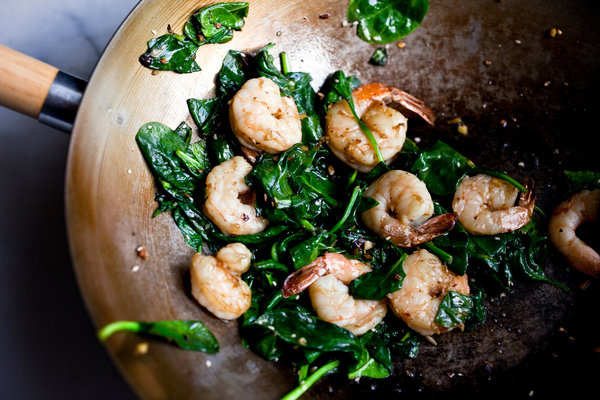 It's been a hectic week (hence the radio silence in the last days) and I wanted to share with you an easy and delicious recipe to try whenever you don't have time or don't feel like cooking an elaborate meal but still want to feast on something special.
INGREDIENTS
1

pound large shrimp, peeled and deveined

Salt to taste

⅛

teaspoon sugar

2

tablespoons canola oil or light sesame oil

1

tablespoon minced ginger

1

tablespoon minced garlic

¼ to ½

teaspoon crumbled dried red chili

2

tablespoons sesame seeds

1

generous bunch spinach (about 1 pound), stems trimmed at the end, rinsed in 2 changes water

2

teaspoons dark sesame oil
PREPARATION
Place the shrimp in a large colander and rinse with water. Sprinkle generously with salt and toss together for about a minute. Rinse with water and repeat. After rinsing one more time, drain on paper towels. Pat dry with more paper towels.
Combine 1/4 to 1/2 teaspoon salt (to taste) and the sugar in a small bowl and place close to your wok.
Heat a 14-inch flat-bottomed wok over high heat until a drop of water evaporates within a second or two when added to the pan. Swirl in 1 tablespoon of the oil by adding it to the sides of the pan and swirling the pan, then add the garlic, ginger and chili flakes and stir-fry for no more than 10 seconds. Push to the sides of the pan and add the shrimp in one layer. Let cook undisturbed for 1 minute, then add the remaining oil and stir-fry for 1 minute.
Add the sesame seeds and spinach and stir-fry for 1 minute, until it has begun to wilt but the wilting is still uneven. Add the salt and sugar, sprinkling it evenly over the spinach, and continue to stir-fry until the spinach has wilted but is still bright and the shrimp are cooked through and bright pink, about 2 more minutes. Remove from the heat, drizzle on the sesame oil, toss together and serve, with rice, noodles or other grains.
Tip
Advance preparation: You can prepare the shrimp through Step 1 several hours ahead.
Keep up with Project Fairytale
Facebook / Pinterest / Twitter
0