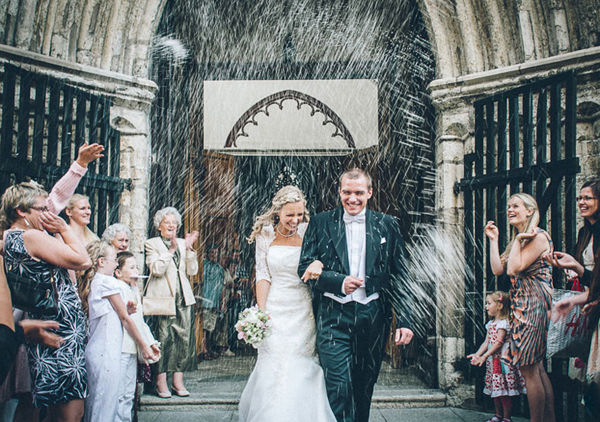 source: MJ Studios
Your wedding is a time to celebrate and honour your love to each other and share that day with your family. While we'd like to think this day goes off easily after months of planning, it doesn't always. As the bride, you worry that everything needs to be perfect because ultimately you and your husband are the reason everyone came together, but if you become too stressed, not only will you not be able to relax, it'll show in your wedding photos.
For anxious bride-to-be's, here are some tips for a stress free wedding reception. The reception is all about the party so this mainly depends on where you're hosting it, your DJ, and your photographer. With those things set in place you're good to go.
Discuss with your photographer which shots are most important besides the traditional ones, whether you want a group shot of both of your families together or one later on of you dancing with your favourite uncle.
Make an important checklist of how you want your day to go while working with one of Melbourne's finest candid wedding photographers. Besides inquiring about the usual questions like what kind of equipment will he use or how many photos are included in each package, focus on the more important details of the day.
Ask your photographer for ideas in making the transition throughout the day run smoothly so that you don't run behind and become frazzled by the reception. While tradition used to state that the couple shouldn't see each other until the bride walks down the aisle, nowadays more couples are doing "first look" photos. These involve meeting at a pre-determined spot like a park and catching the couple's expressions when they see each other on their wedding It also cuts down on the time you'll need to spend taking photos between the ceremony and the reception.
Aim not to take more than an hour taking photos during the downtime between the ceremony and the reception. Remember to provide plenty of fun music and tasty appetizers while your guests mingle but don't arrive late or they may become antsy. Once you arrive and everyone's attention is on you, go directly to the cake table and cut your cake and feed it to each other. This allows for some cute pictures.
Try to go through the formal activities as easily as possible. Some couples prefer going into the introductions, toasts, and blessing next as the emcee and the bridal party have the floor. Others prefer to do all the formal dances right at the beginning, including the first dance, bridal party, and parent and child because then the couple can sit down and enjoy dinner with their guests and just mingle with everyone on the dance floor afterwards.
This way there will be plenty of time if you want a photo of you dancing with your uncle or more of the bridal party by the winding staircase or outdoor fireplace. In fact, some of your guests will love sharing in these moments as well.
Keep up with Project Fairytale
Facebook / Pinterest / Twitter
0