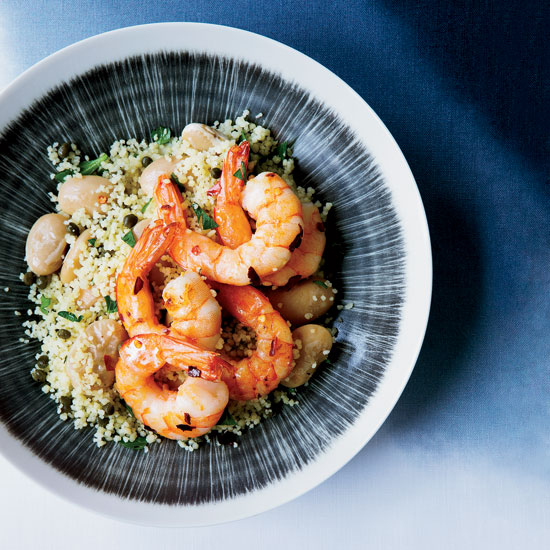 As the holiday season is fast approaching we are all designing our Christmas dinner menu and planning the groceries shopping for all the brunches we are going to host for friends and family during this blessed time. But until then we should try to eat as healthy and clean as possible as most probably we are going to be at least a little excessive in the coming days. And this is a perfect idea to try these days: a light, healthy but really satisfying and delicious meal: Chile Shrimp with Butter Beans and Lemony Couscous.
Ingredients:
2/3 cup couscous
3 tablespoons extra-virgin olive oil
1 pound shelled and deveined medium shrimp
1/2 teaspoon crushed red pepper
2 tablespoons unsalted butter
One 15-ounce can butter beans, rinsed and drained
2 tablespoons capers
1 1/2 tablespoons fresh lemon juice
1 tablespoon chopped parsley
INSTRUCTIONS
1. In a bowl, stir the couscous with 3/4 cup of boiling water. Cover with a lid and steam for 5 minutes. Fluff with a fork.
2. Meanwhile, in a nonstick skillet, heat 2 tablespoons of the oil. Add the shrimp and crushed red pepper and cook over moderately high heat until golden, 2 to 3 minutes; transfer to a plate. Add the butter to the skillet. Add the beans, capers and lemon juice and cook, stirring, for 2 minutes.
3. Fold the bean mixture, parsley and remaining 1 tablespoon of olive oil into the couscous; season with salt and pepper. Serve topped with the shrimp.
via Food&Wine
Keep up with Project Fairytale
Facebook / Pinterest / Twitter
0