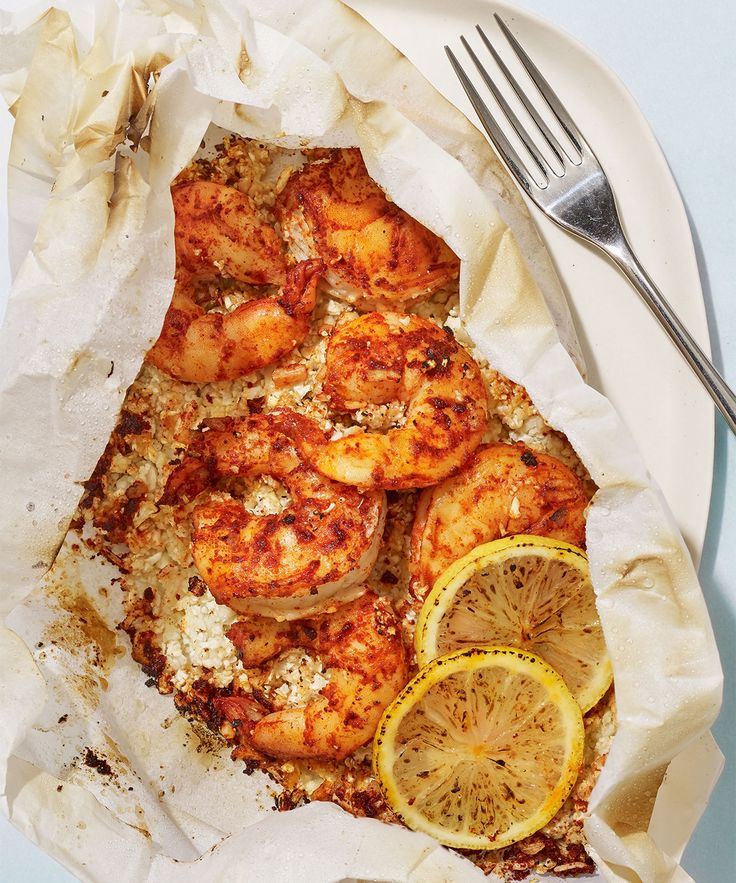 I have to admit that my snowboarding trip to Austria in the end of 2015 kinda had a negative impact on my diet… But how was I supposed to say no to luscious apfelstrudel with running, hot vanilla sauce or those creamy garlic soups I had almost every evening for dinner. Not to mention the countless cans of Coke or Redbull ingested before hitting the slopes each day. So now I need a little bit of healthy food in my life and some hydrating beverages like tea or plain water.
So, I will start this year with a simple, delicious and healthy recipe, that will sure be a staple in my kitchen in the coming weeks, probably with some variations. I love to cook in parchment paper, on of my favourite recipes I shared in the past being this one.
I hope you will like it 🙂
Spicy Shrimp With Cauliflower Couscous
Serves 1

Ingredients
2 cups small cauliflower pieces
1 tbsp butter, cut into small pieces
6 large shrimp, cleaned and de-shelled
Juice from 1/2 of a lemon (about 1 tablespoon), save the other half of the lemon for serving.
1/8 tsp salt, or to taste
1 tsp dried onion flakes
1 tsp chili powder
1 tsp smoked paprika, hot or mild — your choice!
Black pepper to taste

Instructions
1. Preheat the oven to 350ºF.
2. Line a large, rimmed baking sheet with an 18-inch piece of parchment paper.
3. Pulse the cauliflower pieces in a blender or food processor for 20-30 seconds, until they resemble couscous. Spoon the cauliflower into the middle of the parchment paper and top with the small pats of butter.
4. In a bowl, pour the lemon juice over the shrimp, and then stir in the salt, chili powder, paprika, onion flakes, and pepper. Spoon the mixture over the cauliflower.
5. Fold the parchment horizontally across the top so that the most paper is on the sides. Twist the ends to make an airtight pouch. Bake for 20-25 minutes.
Via Refinery29
Keep up with Project Fairytale
Facebook / Pinterest / Twitter
0