Last weekend Denisa came over to film a new recipe for her YouTube channel (check out the first one we did together here) and this is the first thing we did. I will follow next week with the second recipe we prepared together.
This recipe is the result of chance, Pinterest and a lovely memory of a great Parisian night in a Cambodian or Vietnamese restaurant with some happy people. There is where I first had raw spring rolls, not the baked / fried ones I am used to in the Chinese restaurants.
A few weeks ago, while browsing Pinterest I saw a lot of versions of Thai soups that needed a Thai red curry paste and seemed to be delicious. So chance brought me to an Asian food store, where I went for the red curry paste but came out with a lot of other ingredients that included the rice papers. So I needed to do something with them. I remembered I saw a beautiful recipe online some time ago and I recalled the colors of the ingredients, so I decided to try something similar. Looked on Pinterest for ideas for the dip, already knew I would use the Sriracha I bought from the same store, the extra hot variety. So this is what resulted and you will see the video soon <3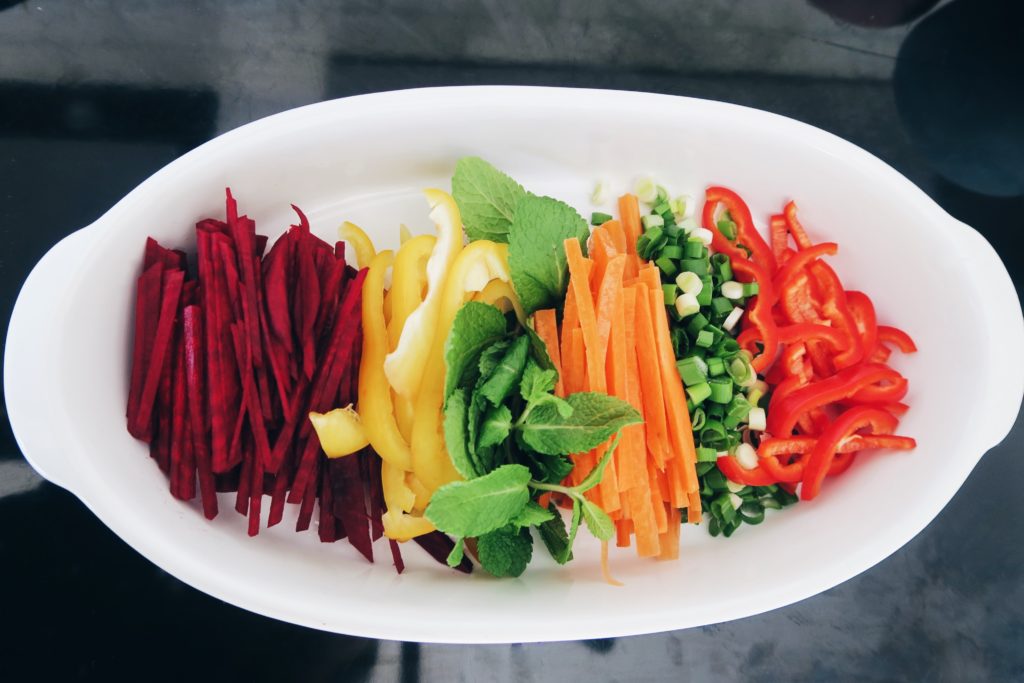 Ingredients
SPRING ROLLS
6 rice spring roll papers
1/2 beet, peeled and thinly chopped
1/2 yellow and red pepper, seeded, thinly sliced
2 carrots, thinly sliced
3 spring onions, chopped
mint leaves
parsley leaves
1 mango, cubed
PEANUT BUTTER GINGER DIP
2 tablespoons natural peanut butter
1 1/2 tablespoons soy sauce
2-3 teaspoons brown sugar or coconut sugar
Juice from 1/2 lime
1/2 teaspoons chili garlic sauce
1 teaspoon fresh grated ginger
hot water to thin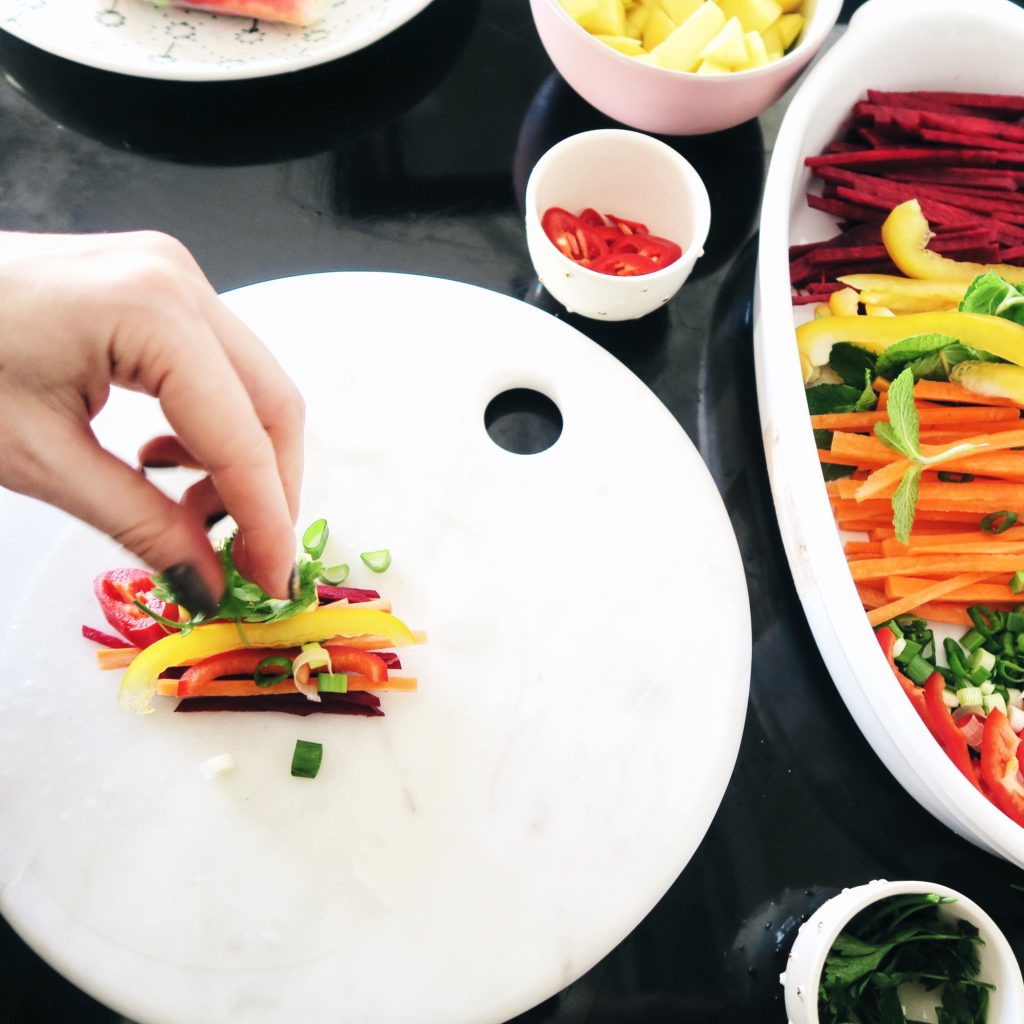 Method
Prepare the vegetable, slice them and set them aside.
Heat 200 ml of water and set aside to cool slightly for preparing the rice paper.
Mix all the ingredients for the the peanut butter dip except the water by whisking them in a bowl. Start adding the hot water gradually and whisk it in until it reaches the desired consistency (I prefer it to be thicker, to be easier to maneuver).
Pour the hot water to a plate and soak each rice paper to soften for about 10-20 seconds. Do not let them soak for too long, or they will be a lot harder to work with.
Once softened, transfer it to the working surface (I used a marble cutting board) and smooth the circle.
Add the vegetable filling in the proportions you wish and fold the rice paper like you would a crepe: fold the top over the vegetables, the fold each side, and roll everything.
Repeat the process until all toppings are used or you reach the desired number of rolls.
Serve with dipping sauce. I also used a dip of extra-hot sriracha sauce.
Enjoy!
Keep up with Project Fairytale
Facebook / Pinterest / Twitter
Follow my blog with Bloglovin
0