I will continue with my gift guide series with another important topic: mothers. And here we can include: mothers, grandmothers, mothers in law, aunts and all those ladies, family or not, who mean something to you and you wish to show them your love. I will rant a little and try to prevent the mean comments that you do not show love through presents. But I believe you do, especially if you come from a family where love is not often spoken but shown every day. A thoughtful present does not have to be expensive, but it needs to be given from the heart.
And, as I did with the present for the men in our lives, I will present a list of suggestions and add some other, less material presents you can offer to these special ladies in your lives.
With my mum on my mind, I will focus on one think: quality. She is obsessed with this: things can be expensive or less expensive, fashionable or classic, full of technology or more old school but their main characteristic is quality. From her I learned that everything I buy must be touched, examined attentively (I am the crazy bitch who dives for the interior label indicating the composition of a sweater in the middle of the store) and weighted to assess their level of quality. And I will try to add only examples of high quality items to my list.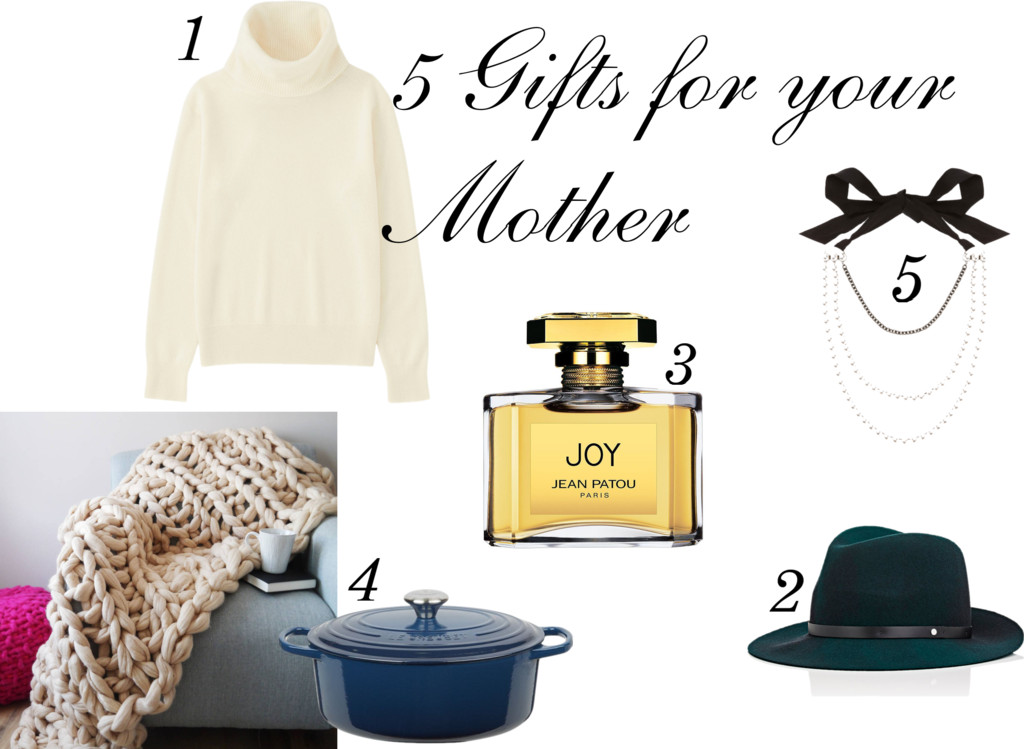 1. A cashmere sweater. In a neutral shade that goes with everything. She will definitely appreciate it and will also know how to care for it to last forever.
2. An elegant hat. Or a Fandacsia. In a pretty color. Because you cannot go wrong with this.
3. Their beloved perfume. If you find a limited edition box with a special bottle, the better. If not, don't worry. They will certainly appreciate it.
4. Something for the home: a beautiful blanket to throw on the living room sofa. A Le Creuset cooking pot. Something they would find useful but in the same time a small luxury they will enjoy every day.
5. Pearls… A pearl necklace or a brooch could be the perfect surprise for someone in love with classical pieces.
And besides this short list of ideas, I will continue with the less material gifts:
Make something yourself: knit them a scarf or make a perfumed candle in a pretty porcelain container, paint them a painting or enlarge a photograph they love and frame it. Anything made by you and not bought will get extra appreciations.
Offer them an experience. I will repeat myself, I know I said this in the previous list, but go on a trip with them or book a day at the spa for both of you. Besides the experience itself, they will cherish the moments they will spend with you.
Donate for a cause they care about in their name.
Keep up with Project Fairytale
Facebook / Pinterest / Twitter
Follow my blog with Bloglovin
0