The last episode of the Christmas giftguide (I hope I covered everyone, except kids, they should be an easy task) will cover a very important yet difficult target: the BFF. And if men more easy to please and you usually cannot fail if you go classical for mothers and aunts, the BFFs are a complicated territory. There is no recipe that works for all, and we all have "that friend…". So, I tried to choose a five different typologies and the perfect present idea for each.
I hope this will be at least a little helpful and if you wish I offer to give free consultancy on this subject. Just drop me a comment 😉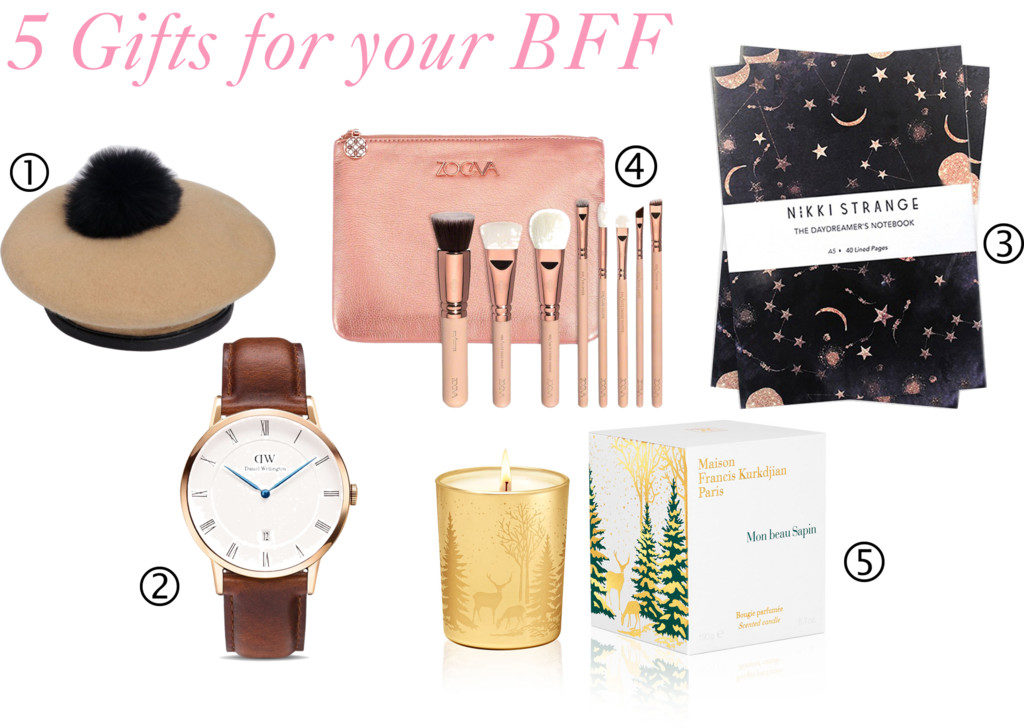 1. So, let's start the list: that friend who loves Paris and is never afraid to wear anything, why not get her a nice beret with a pompom.
2. That friend who is always elegant and cannot stand when her clothes are wrinkled or her hair is out of place would surely appreciate a classic watch. A pretty watch with a leather strap and roman figures but with an unexpected detail like a turquoise hand. Daniel Wellington might have the right one for you friend.
3. We all have that friend who is obsessed with stationery and a pretty notebook / planner could be the perfect idea, especially around this time of the year when she will have to plan all the new adventures that 2017 will bring.
4. For your beauty addict friend, a luxurious set of brushes in a pretty color like rose gold will be magical. Especially in a pretty gift wrap.
5. And last, but most definitely not last, that friend who recently moved in or who is a household goddess will certainly appreciate a scented candle from a traditional maison des parfums, like this Maison Francis Kurkdjian Mon beau Sapin. And perfect for Christmas as well.
And, besides the list I also have some extra suggestions:
Offer to babysit for one evening a month so that she could go out on a romantic date.
Take her out for a girls only day with shopping, movies and an elegant dinner in a fancy place
Take her one day skiing / snowboarding in the middle of the week. There is no feeling like enjoying the emply slopes on a Wednesday
Get her a gym membership to the same gym you go, so that you can go together.
I hope these gifts are inspiring enough and you could think about something for your own BFF.
Keep up with Project Fairytale
Facebook / Pinterest / Twitter
Follow my blog with Bloglovin
0