Wednesday is almost over but I could not let it pass without sharing with you the cutest thing I've done last weekend: a mini carrot cake with cream cheese frosting. I was absolutely delicious, and it looked really sweet don't you think? It would make for a perfect Valentine's Day dessert if you decide to celebrate over the weekend because Tuesday was just a normal weekday for you.
I used a small cake pan (Φ 12 cm from Cake Boss) to get this small cake – a larger version would have sat in the fridge and probably would have ended in the bin after a few days, so I always prefer to make smaller quantities.
But you can adapt it and increase the quantities as you wish.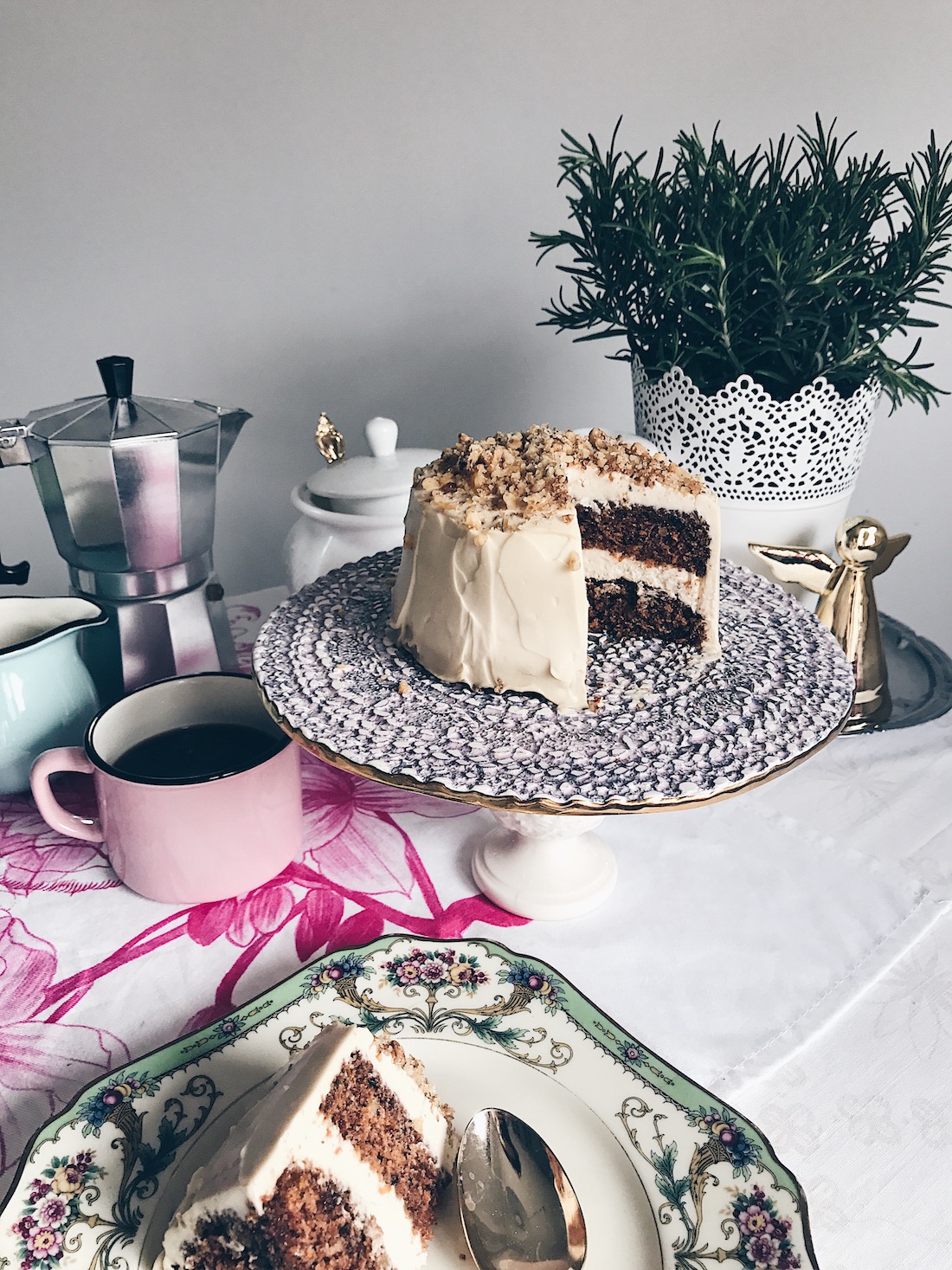 INGREDIENTS
For the cake
100g flour
100g sugar
1 egg
1 small cup of vegetable oil (I used sunflower, for a mild taste)
2 medium sized carrots
1/4 teaspoons of salt
1/2 teaspoons of cinnamon
1 teaspoons of baking powder
A handful of toasted ground walnuts
For the icing
300g cream cheese (I like a lot of icing)
Sugar (I do not use a specific quantity, just add around 100g and add some more if necessary)
Zest and juice from half a lemon
Vanilla extract
METHOD:
1. Preheat the oven to 220°C
2. Mix the salt, sugar, oil and egg and once homogenous add the flour.
3. Add the cinnamon and mix.
4. Grate the carrots and add them to the mix
5. Pour the mix in a 12c cm pan and let it bake for about 30 minutes. Test it with a wooden skewer, once the skewer is clean when you take it out of the cake, the cake is done.
6. While the cake is in the oven, mix the cream cheese with the sugar, lemon zest and juice and vanilla extract until smooth.
7. Once the cake is ready let it cool and cut it in half. Position one half on the plate or stand you want to use.
8. Split the icing in two and spread half on the base of the cake, then cover with the other half and spread the remaining icing over the cake. Decorate with walnuts and carrot fringes.
You can double or even triple the quantities (I used a version with triple the quantity of sugar, flour and eggs for the cake and adapted from there). You can bake the mixes in tho different pans, so there is no need to cut them in half. Also, you can use any icing you wish, for me this one is light enough and makes the cake balanced in the end.
Keep up with Project Fairytale
Facebook / Pinterest / Twitter
Follow my blog with Bloglovin
0