You might thing I am overreacting or exaggerating but I have to admit this was the best take on a caprese salad I ever had. And it was made by me… So hooray to me. The best part: I used supermarket bought cow mozzarella (so the taste was not so intense as you would get from a buffalo fresh one from a delicacy store that stocks fresh products and does not refrigerate the mozzarella – if you have ever had fresh buffalo mozzarella in Campagna you know what I mean) and pesto from the jar (supermarket bought as well). Not to mention that the tomatoes are out of season and the valerian (better known in English as corn locust or lamb's lettuce) was imported from Italy. And it still tasted great. I cannot wait for making it again in the summer with cherry tomatoes freshly picked from the garden, home made pesto using fresh basil (from the garden as well) and a more flavorful mozzarella.
This was just a quick dinner I made one late evening (going back to my healthy habits of no pasta, rice or potatoes in the evening) while trying to be creative and make the salad fun.
Baking the tomatoes with a sprinkle of basil and some olive oil really intensified their flavor (they were pretty bland), while a little lemon, balsamico and olive oil gave the pesto the much needed kick to make everything come together in a beautiful and delicious manner.
I do not have more pics, since it was a simple Thursday night dinner, but I can assure you of its absolute perfection and deliciousness, a taste of summer and Italy in a cold February evening in Bucharest.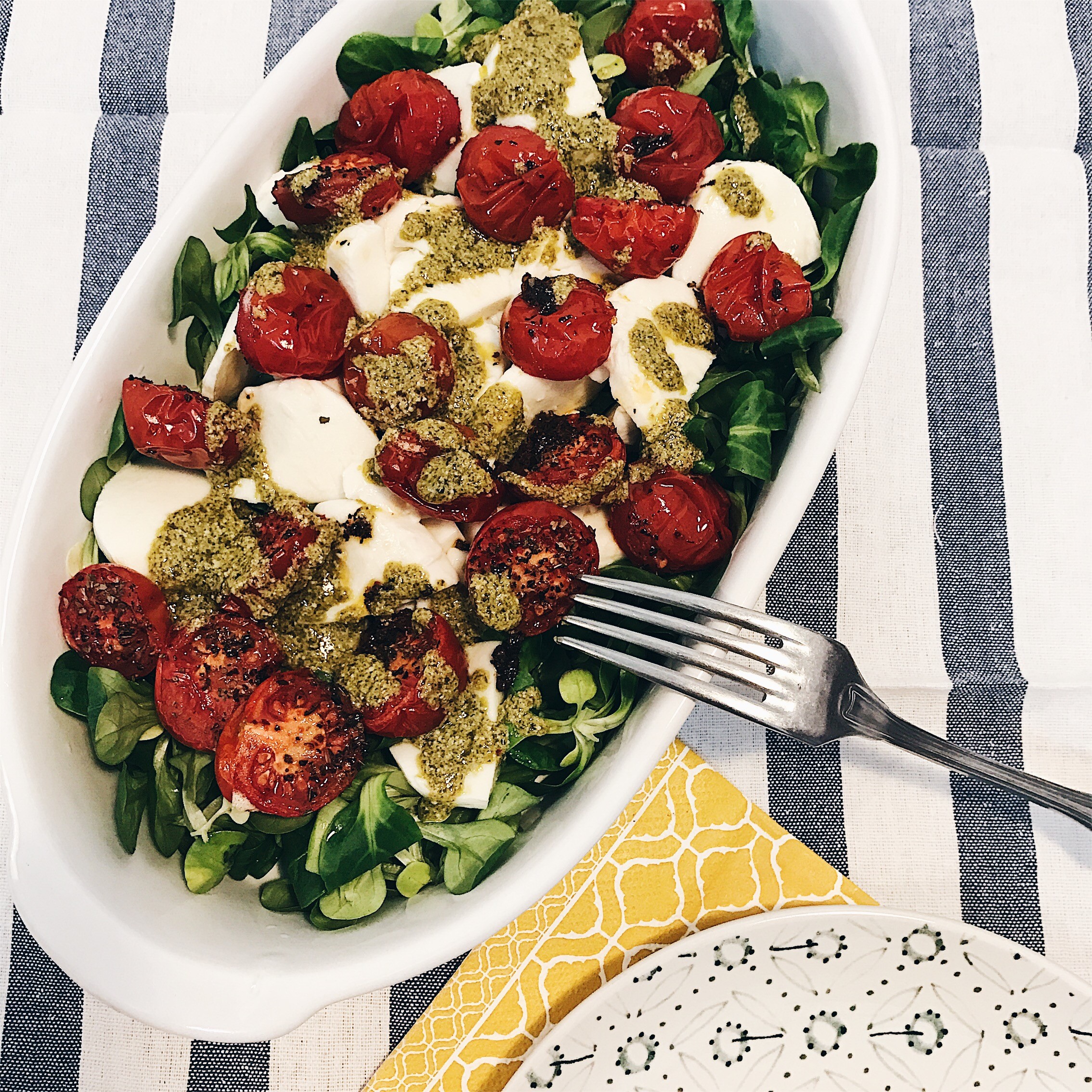 INGREDIENTS:
300g cherry tomatoes, halved (I used a larger variety, but it is not that important)
300g valerian salad
250g mozzarella
3-4 teaspoons of pesto sauce (normally I would highly recommend to make your own according to your taste but for this recipe store bought will work just fine)
Lemon juice, olive oil, aceto balsamico, chili flakes, dried basil (works better with fresh, but in February you can make do with dried) according to taste
METHOD:
Wash the tomatoes and cut them in half. In a oven resistant pan put the halves, cut side up, sprinkle with chili flakes and basil and drizzle with olive oil. Pop them in the oven for about 10-15 minutes (check them from time to time).
 In the meanwhile wash the valerian and let it drain in a colander.
Cut or tear the mozzarella however you wish.
Prepare the sauce: mix the pesto sauce with lemon juice, a few drops of aceto balsamico and some olive oil to make it more runny and amplify its taste.
Once the tomatoes are ready just mix all the ingredients together and add the sauce.
Enjoy!
Keep up with Project Fairytale
Facebook / Pinterest / Twitter
Follow my blog with Bloglovin
0