Streets of Polignano a Mare
Besides not posting on the blog (busy at work and suffering from a total lack of inspiration) I did not manage to keep up with my plans before going MIA. I was planning to post some more useful articles and not my usual dreaminess of posts. So I was thinking to start a travel series based on my own personal experiences (did that previously as well, here, here and here but not in a very organized manner) and also share some of the most magical places from Romania I had the opportunity to discover so far.
And, in order to keep with my "midsummer" resolutions, I will start with something I did a while back, in May to be more precise, visited Bari and some other places in Puglia for a few days.
It was our first time in the south east of Italy and we had absolutely no clue about it. Lately I've been doing this more often, not preparing my trips very thoroughly but I discovered that it can be more pleasant like this: you never know what you can encounter. I did a bit of reading the day before and our host was very nice and pointed us all the main attractions as well as a station manager with whom we exchanged for about 45 minutes in the Bari Stazione Centrale about the beauties of Puglia, Italy and Romania (the latter he was going to visit in the coming month and already knew a great deal about it).
So, little preparation, no maps and excited for new adventures we arrived in Bari one rainy evening, quite late after our train from Rome had almost 2 hours delay. And the adventure began.
I will not make a travel diary but I will try to give some recommendations of things to see and things to do there, as I experienced them. I will start with the fact that Bari itself might not seem so spectacular after you get there (at least that was my firs impression after walking from the station to the accommodation) but it grows on you and there are quite a few places to see and try. So this is a non exhaustive and very subjective top 10 things to do in Bari and the surrounding areas: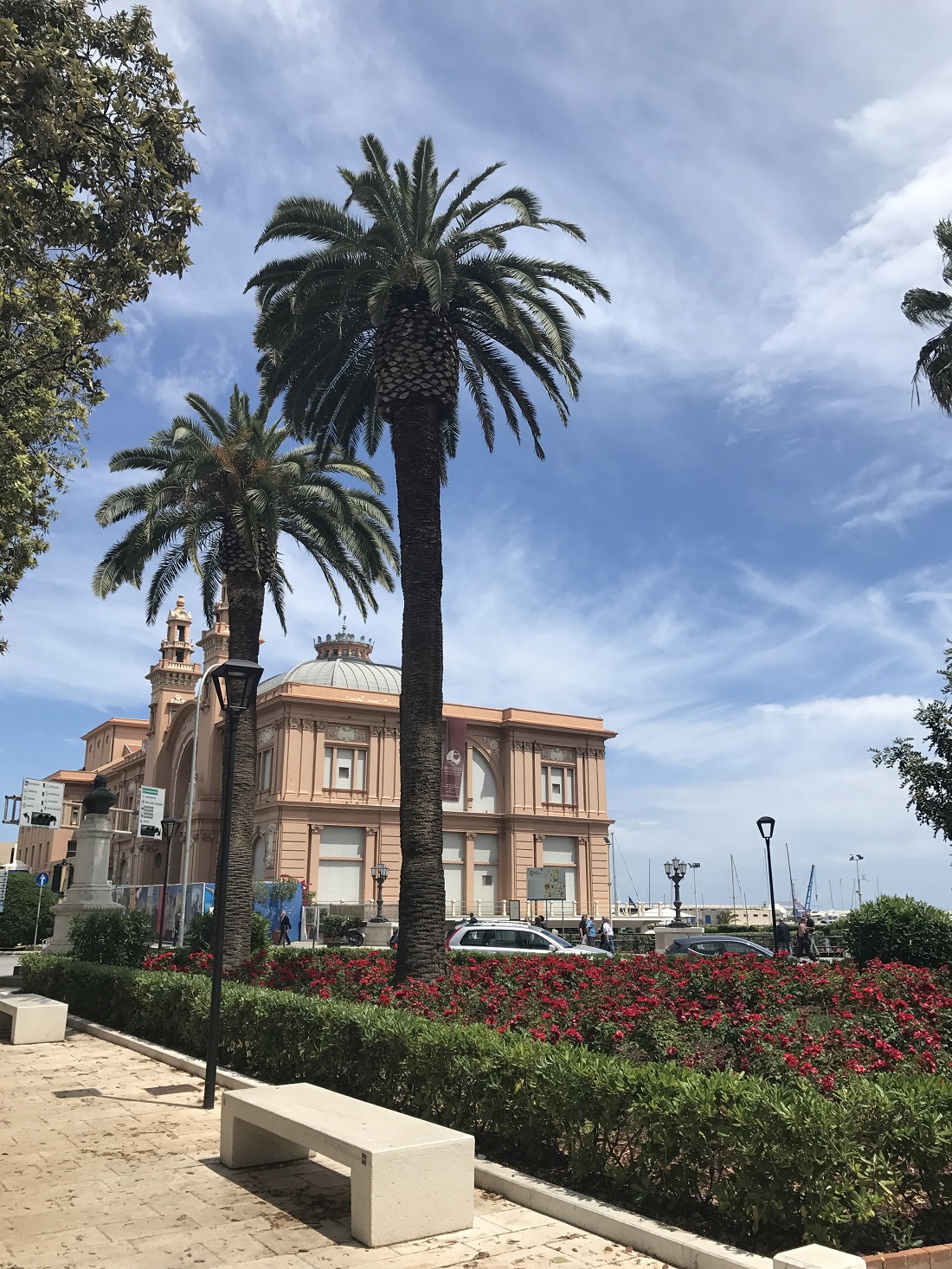 Teatro Margherita
A corner of Old Bari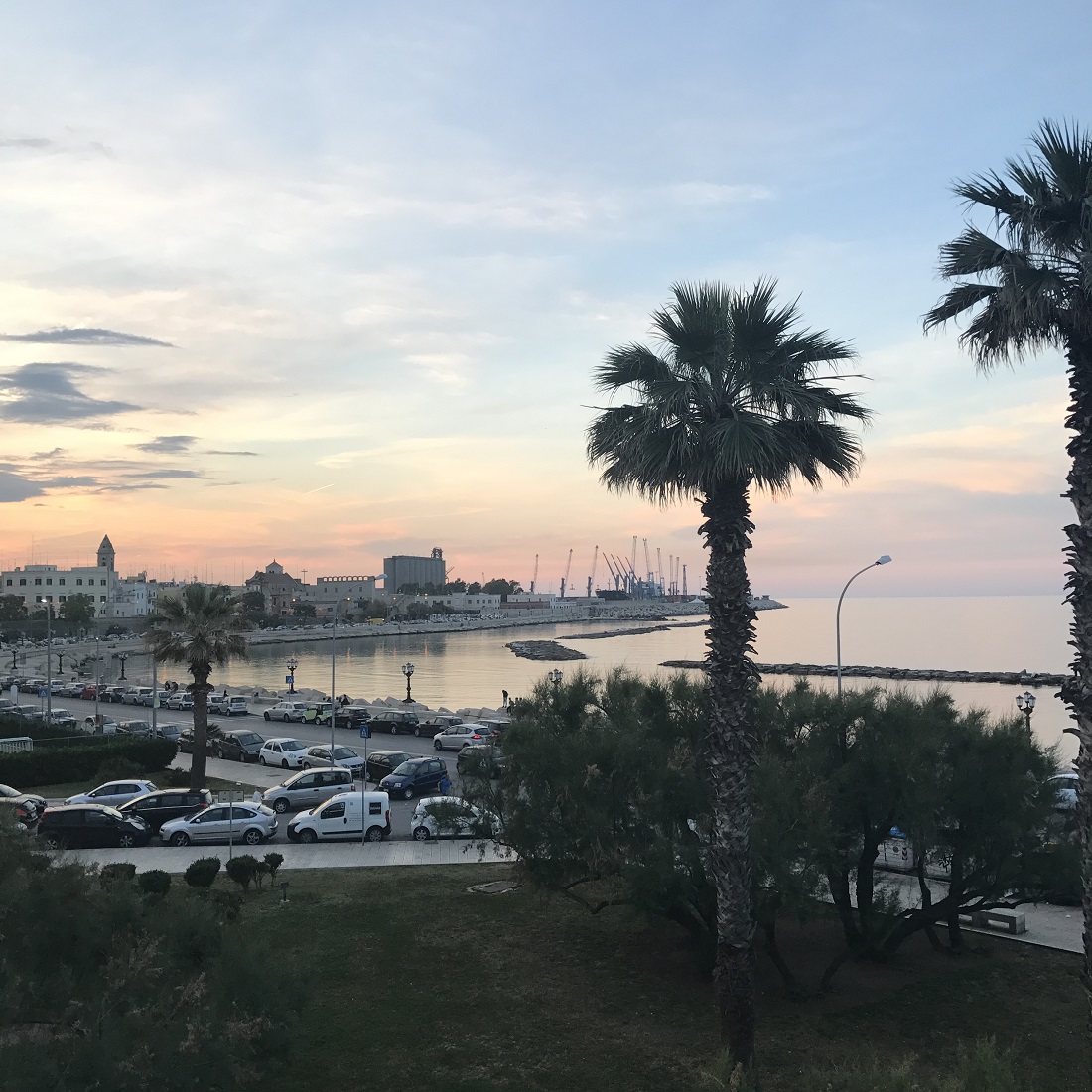 The Bari sunset
1. Bari in itself can be the command center of your adventure in Puglia as well as a nice place to stay, a little away from the crowds of tourists you will find in Alberobello or Polignano. It is also very well connected by train with all of the neighboring attractions and it is a classical Italian small town with great food (ahhh-mazing foccacia), good wine, a nice marina where you can have a seafood snack, some great shopping streets and an interesting medieval part where you can get lost on narrow streets. It is the perfect place to stay and explore the region of Puglia.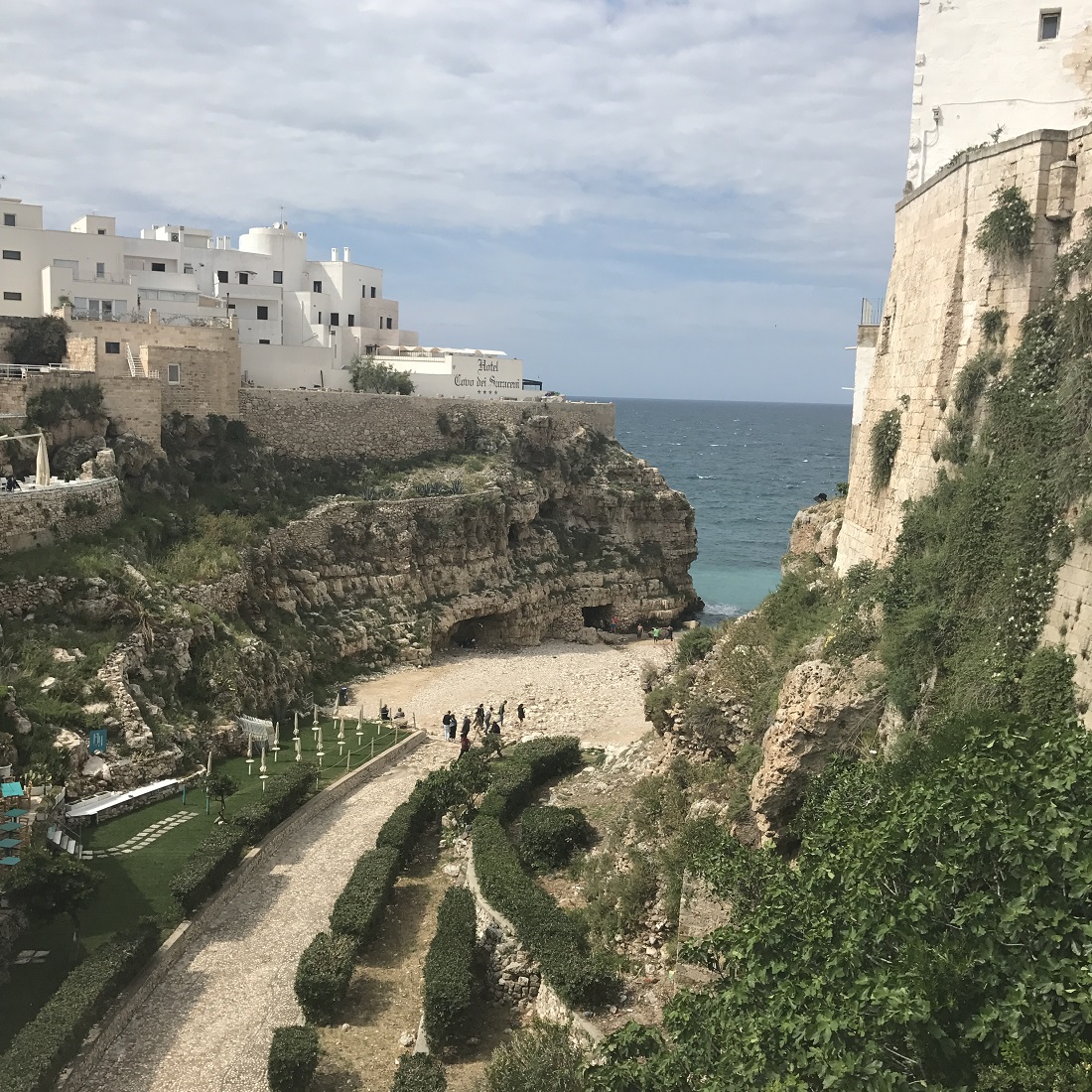 Spiaggia Cala Porto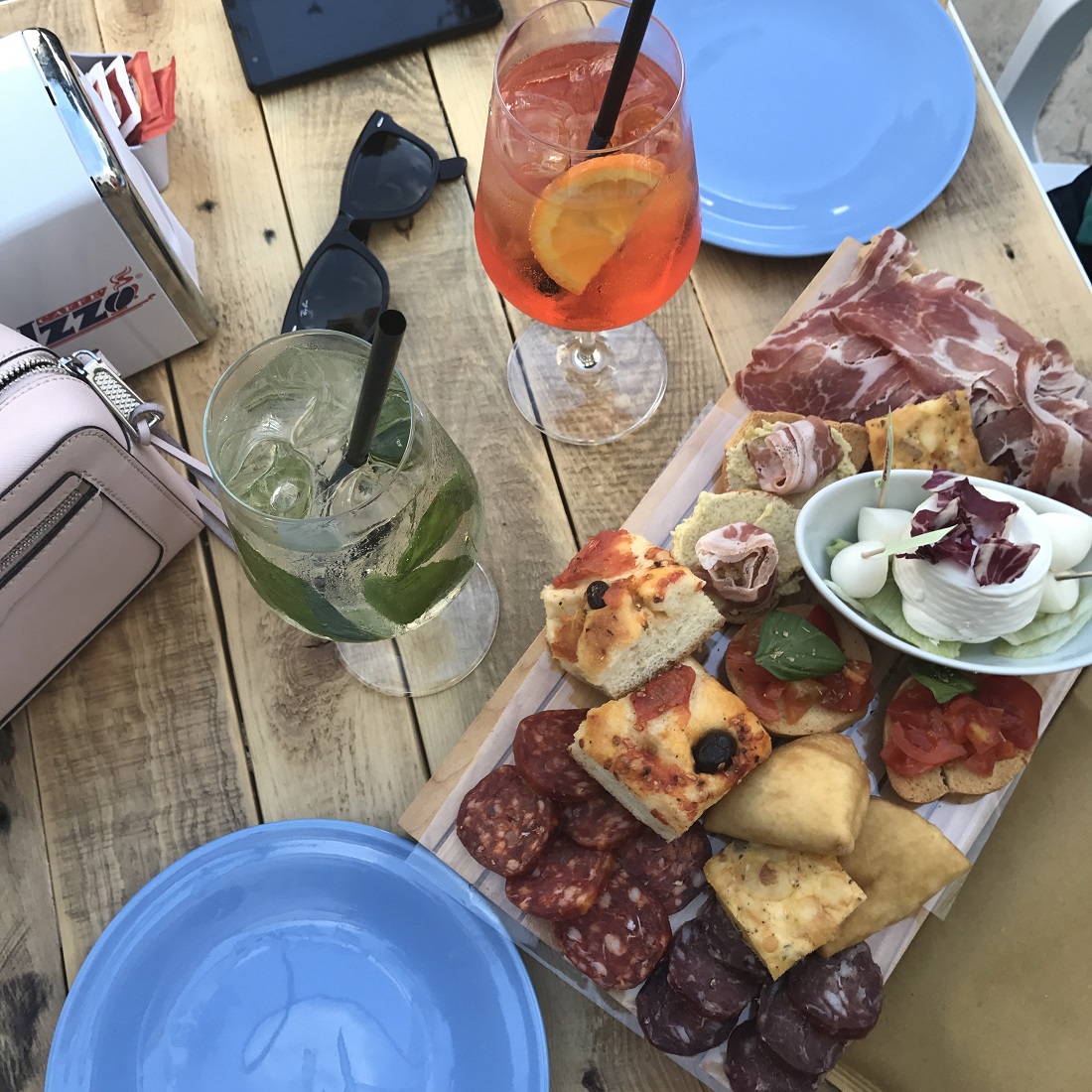 Aperitivo hour in Polignano a Mare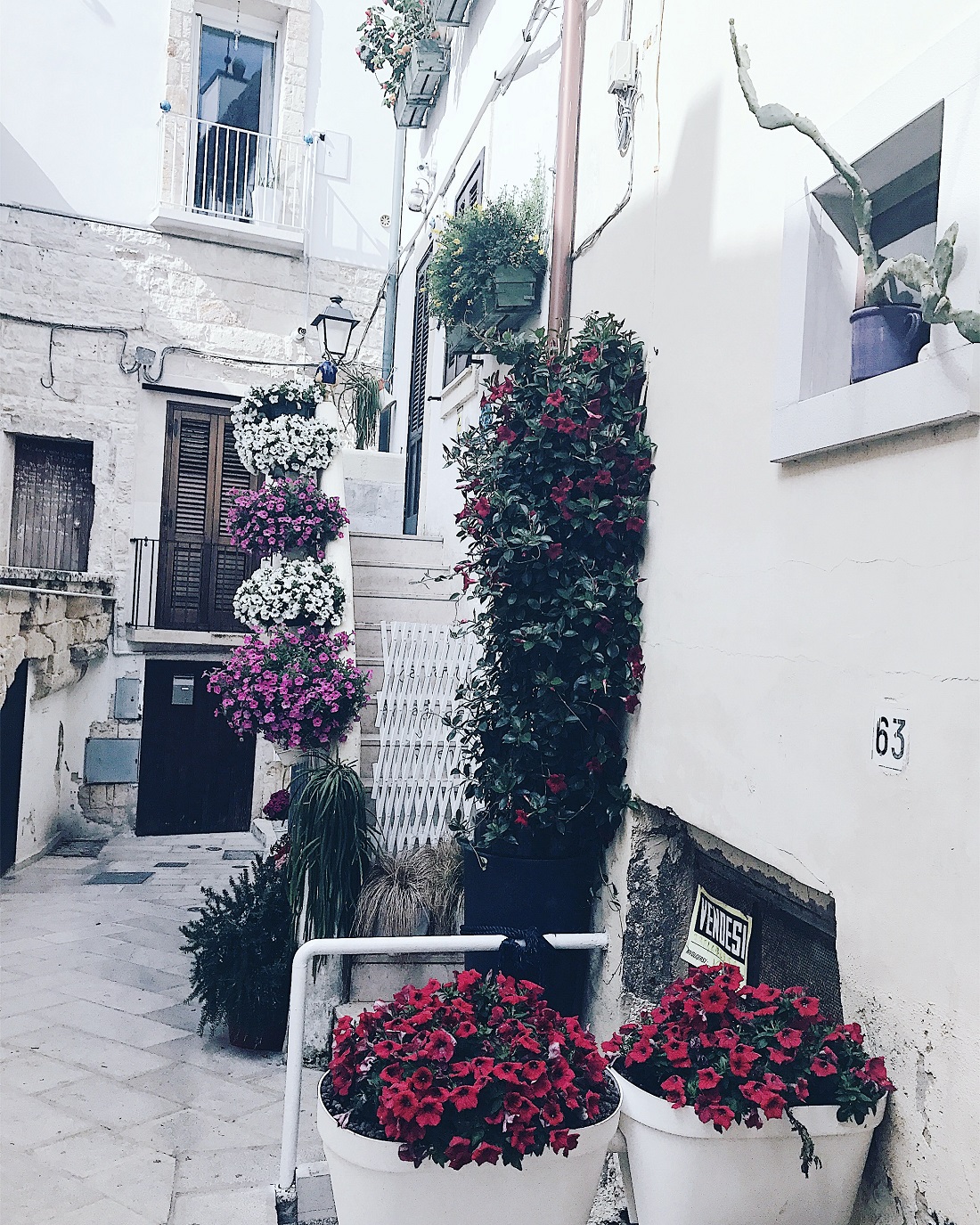 Charming houses of Polignano a Mare
2. Polignano a Mare: it is truly a beautiful village, with gorgeous beaches, a cave hotel / restaurant and the most charming streets. It makes you feel that the Italian peninsula has transformed itself in a Greek island in this village.
Some practical information: it is really easy to reach from Bari, just take the train from Bari Stazione Centrale and you will be there in about 20 minutes. The ticket cost 2.5 euros. You can walk from the Polignano a Mare train station to the old town and the beach (a 5-7 minutes walk).
Things not to miss:
Spiaggia Cala Porto – the most famous attraction, a perfect little golf where you descend from a viaduct, a reminiscence . It is one of the main attractions and the place where all the photos are taken
Grotta Palazzese – 
Lungomare Domenico Modugno –  and the "Volare" statue that exudes happiness
Il Borgo Antico – the old town, with narrow streets and really beautiful houses. There is an understated elegance here that I have seen in few places I have visited so far.
The sunset colors –  it was one of the most dreamy sunsets I have ever seen in my life, the way the pink clouds were visible against the white walls of the town
An apperitivo in one of the squares – a great way to end a day trip is an apperitivo on a little terrace overlooking the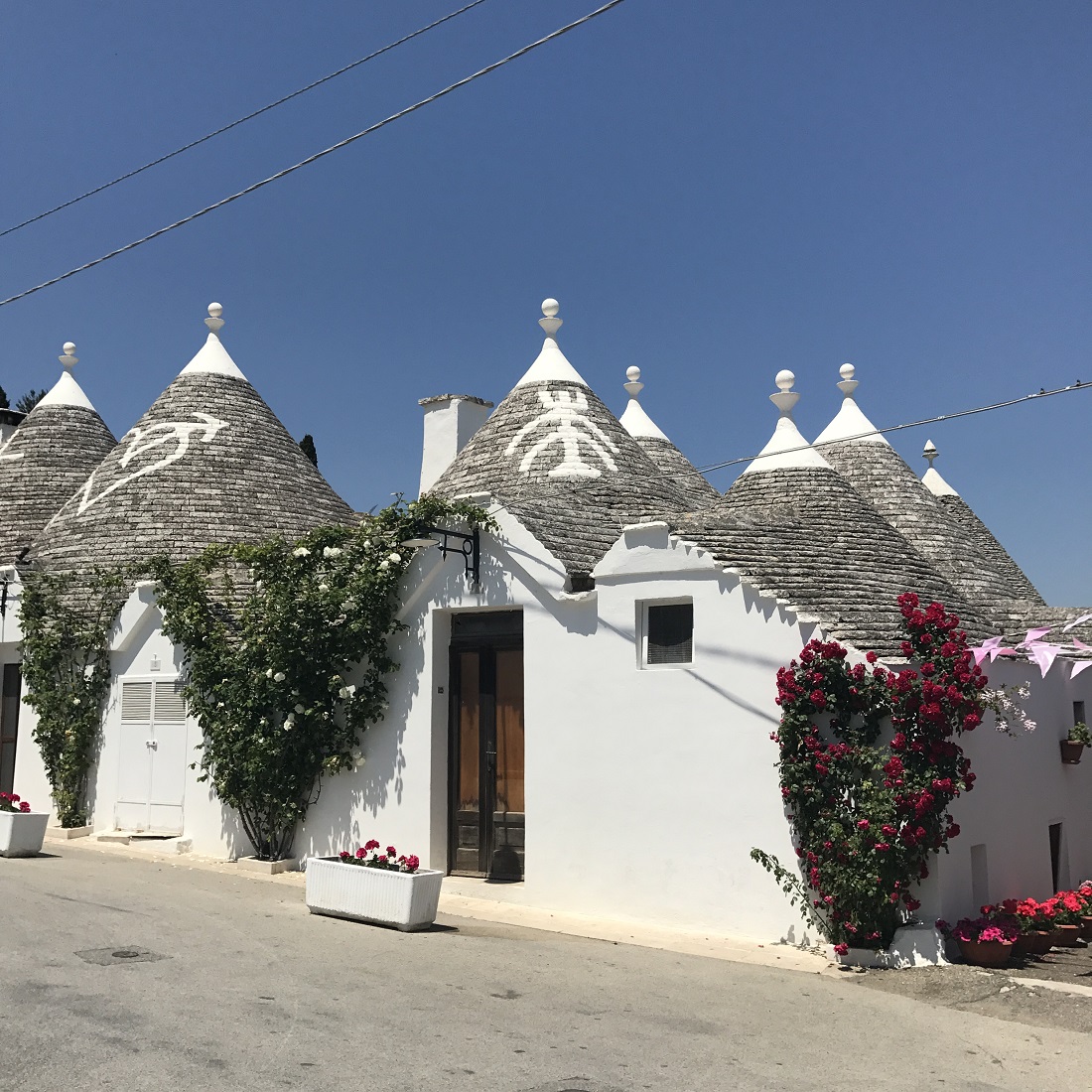 Trulli of Alberobello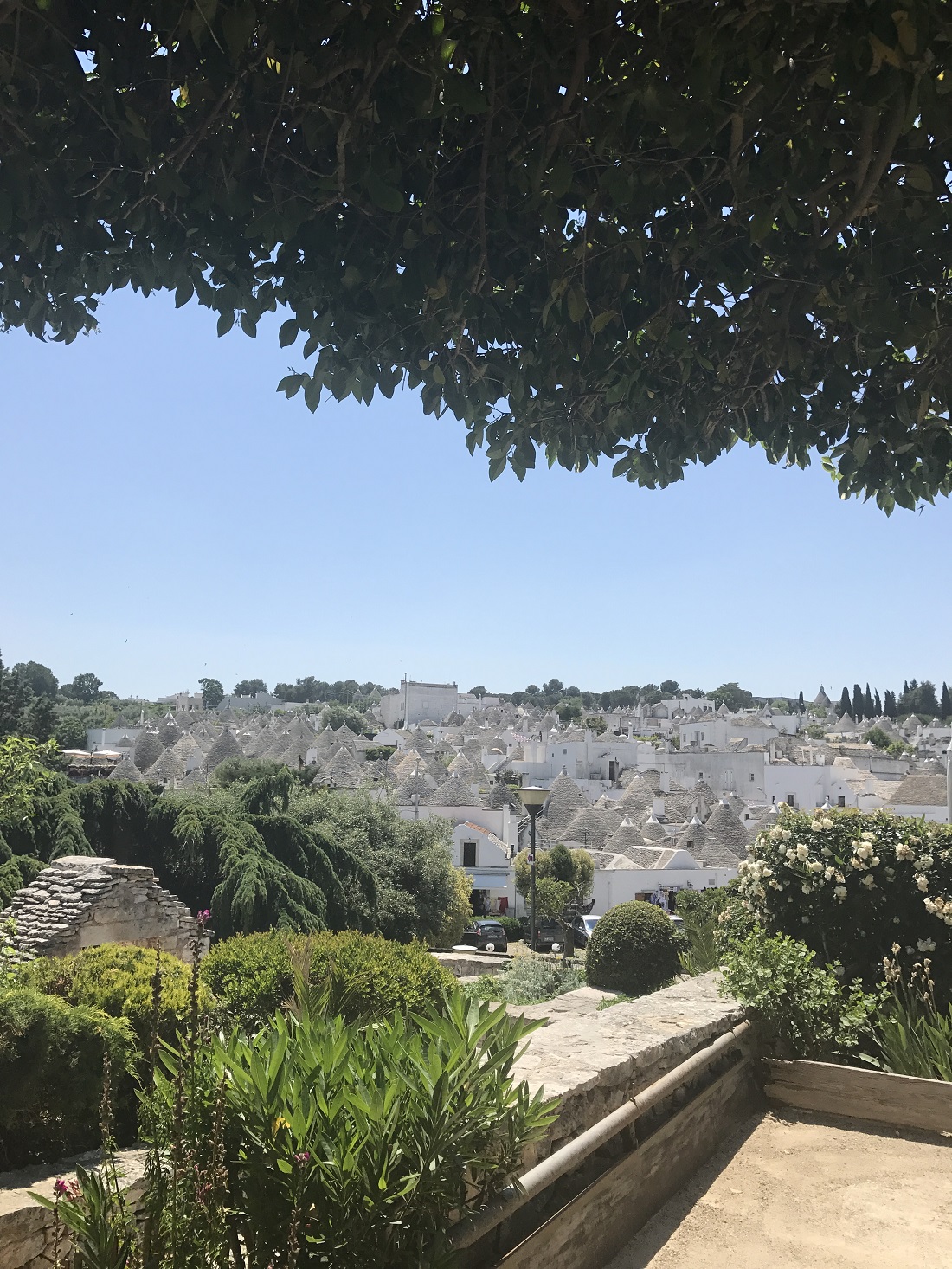 Alberobello
3. Alberobello: the home of the trulli. Trullis are unique buldings with hive-like roofs built entirely from dry stone, without mortar. The little town is really magical, looking like the setting of a fairytale.
You can reach Alberobello from Bari taking the FSE train from Bari Centrale (the last plaform in the station). The ticket is about 5 euros and the trip takes between 1h40′ and 2h.
We did not find that there is a lot to do in Alberobello besides going to visit the trulli and snap pics of them from the several belvedere points (plus eating the most delicious cherries from the local market) so half a day should be enough.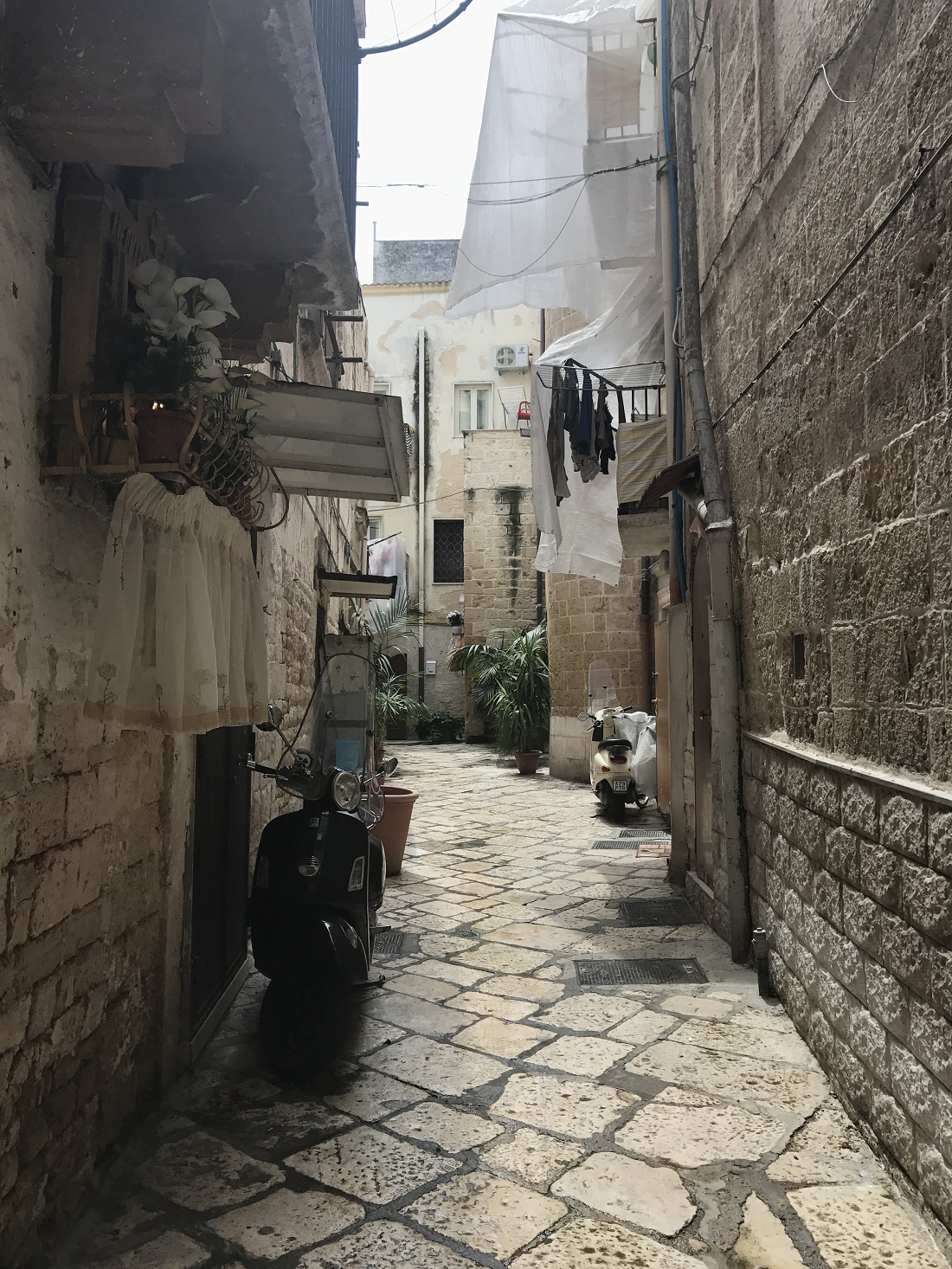 Bari Vecchia
4. Bari Vecchia is the old town neighborhood, a really beautiful and well preserved part of the town. The main attraction is the St. Nicholas Church,but just wandering the streets is really interesting: there are a lot of little charming piazza's where you can have a coffee or a glass of Aperol and you can see how the locals actually live here. There is also an area where everyone makes pasta, orecchiette to be more precise, and you will see them drying on the special tables in the street.
5. Matera or Castel del Mare: I have not visited any of these two because I was too lazy and I wanted to hang around our hotel room and visit the shops. But the people who recommended them spoke really nice about the two sites and they are definitely on my list for the next visit (I plan to make Puglia a destination to explore more in depth).
6. The ulivi secolari (ancient olive trees). All around Bari there are olive plantations where you will see some unexpected sights: the knotted, gnarled trunks of ancient trees, twisted in odd shapes by time, wind, sun and the human hand. They are protected by strict laws against theft. Actually, Puglia is the producer of 40% of Italy's olive oil, so the presence of the trees (ancient or younger) is not just for the tourists' eyes. But looking at them is really a feast, they look as they are part of a fairytale.
All photos are made by me there.
Keep up with Project Fairytale
Facebook / Pinterest / Twitter
Follow my blog with Bloglovin
0