Hello guys! Long time no recipe on the blog but I've been quite busy lately and I did not have a lot of time to innovate in the kitchen department. I only remade all the recipes that I knew well and were a sure thing. But I got some purple potatoes and I needed to prepare them, so a new thing to add to my list. This is the first time I ever cooked purple potatoes and they turned out great. There is no difference compared to the usual white / red potatoes when it comes to preparation, but the way they look makes them so special. Plus, I added some red chili flakes and a green sauce for some contrast. I also had bought a seabass the day before and decided to pair it with the purple potatoes. Baked fish and baked garlic seemed like the perfect thing with mashed purple potatoes.
So, here it is.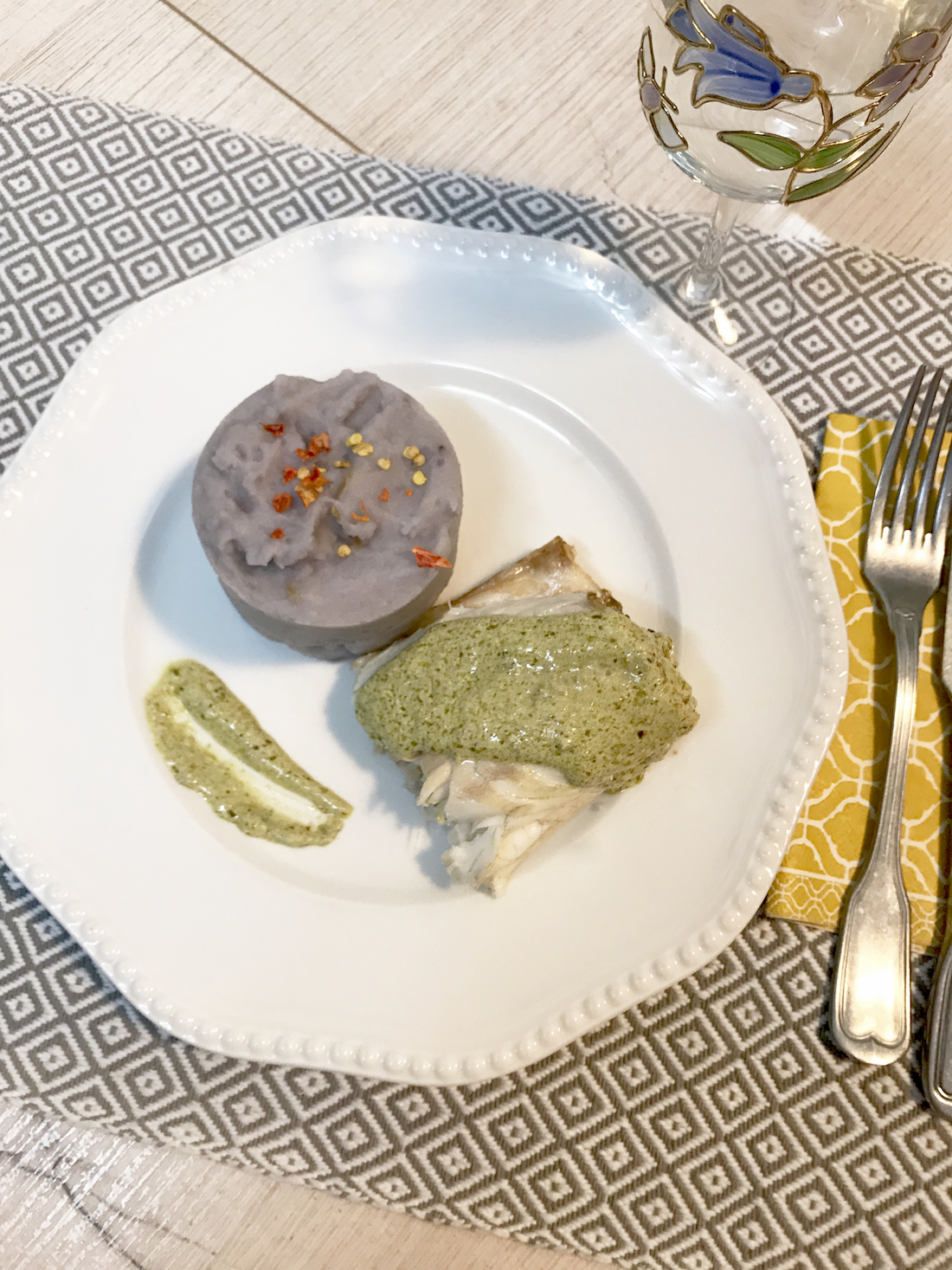 INGREDIENTS:
(for two people)
500g purple potatoes
2 garlic heads
1 sea bass
100 ml milk
2 tablespoons of green pesto
150g greek yoghurt
Powder garlic
Butter
Salt, pepper, olive oil
METHOD:
1. Start with preparing the fish: if you bought it eviscerated and cleaned, just season it with salt, pepper and something spicy (chili powder in my case but you can skip this if you are not a fan of spicy things) and olive oil.
2. Preheat oven to 220 Celsius. Cut the top of the garlic heads and cover them with an aluminum foil. Put it in the oven and bake for about 25 minutes (depending on the size).
3. Peel the potatoes and cube them. Fill half a pan with water and add the potatoes. Add salt and boil until tender (fork test).
4. Using an oven proof skillet, pan fry the fish on the stove for 1-2 minutes on each side in butter / olive oil. Put the pan in the oven and cook for another 15-20 minutes (until it can be easily split with a fork).
5. Once the potatoes are ready, mash them (I do it manually but a blender / mixer works perfectly) adding the milk and the butter (you can also add a little bit of the water they boiled in) until you get a fluffy purée. Add the baked garlic by squeezing the head.
6. To make a simple green sauce, mix the yoghurt with the pesto and some powdered garlic – here you can use any greens you like: chopped parsley, coriander of spring onions / chives with the yoghurt.
7. Pour the sauce over the fish and add the potatoes. A white wine works wonders.
Enjoy!
Keep up with Project Fairytale
Facebook / Pinterest / Twitter
Follow my blog with Bloglovin
0