A couple of weeks ago we took a short trip to Florence. And by short, I mean really short, arrived there on Friday night, left on Monday morning and took a day to visit Siena as well. This resulted in about two days of Florence, as we did not stay too long in Siena (it was a rainy Sunday with a lot of closed shops and the weather chased us back to Florence earlier than planned) so, we got an extra afternoon of strolling around Florence (Sunday=closed shops there as well so no shopping for me).
As the stay was short we wanted to take advantage of all the things the city had to offer so we booked an accommodation in the the old center. A great idea and a lovely place! We had a wonderful view over Giardino di Palazzo Pandolfini which was an added bonus to the moments I needed to go back home to dry or just rest for a little while. The area surrounding our place (via San Gallo) was full of lovely restaurants, cafes, wine bars and gelato places. HEAVEN!
The first evening, after checking in, we took a stroll to the Piazza de Duomo and we ha our first encounter with the Santa Maria del Fiore Cathedral and its glorious marble facade. We continued our walk, going towards the river on Via de' Tornabuoni (a street recommended to me for its magnificent shops) and we crossed on Ponte Santa Trinita for a beautiful view of Ponte Vecchio. We got back to the hotel, passing through Piazza della Signoria and admired Palzzo Vecchio and Mercato del Porcellino and its wild boar statue that people touch and put a coin in its mouth for good luck. This night walk was great, as it showed us Firenze's beauty without all the tourist herds waving their cameras and posing for selfies.
The next day we left to explore the city properly and it was a treat. So, here you will have a totally non-exhaustive and utterly subjective list of must-do things when you are in Florence for a very short trip. I hope this will inspire some of you to go and visit this magical city and maybe even experience some of the things listed below.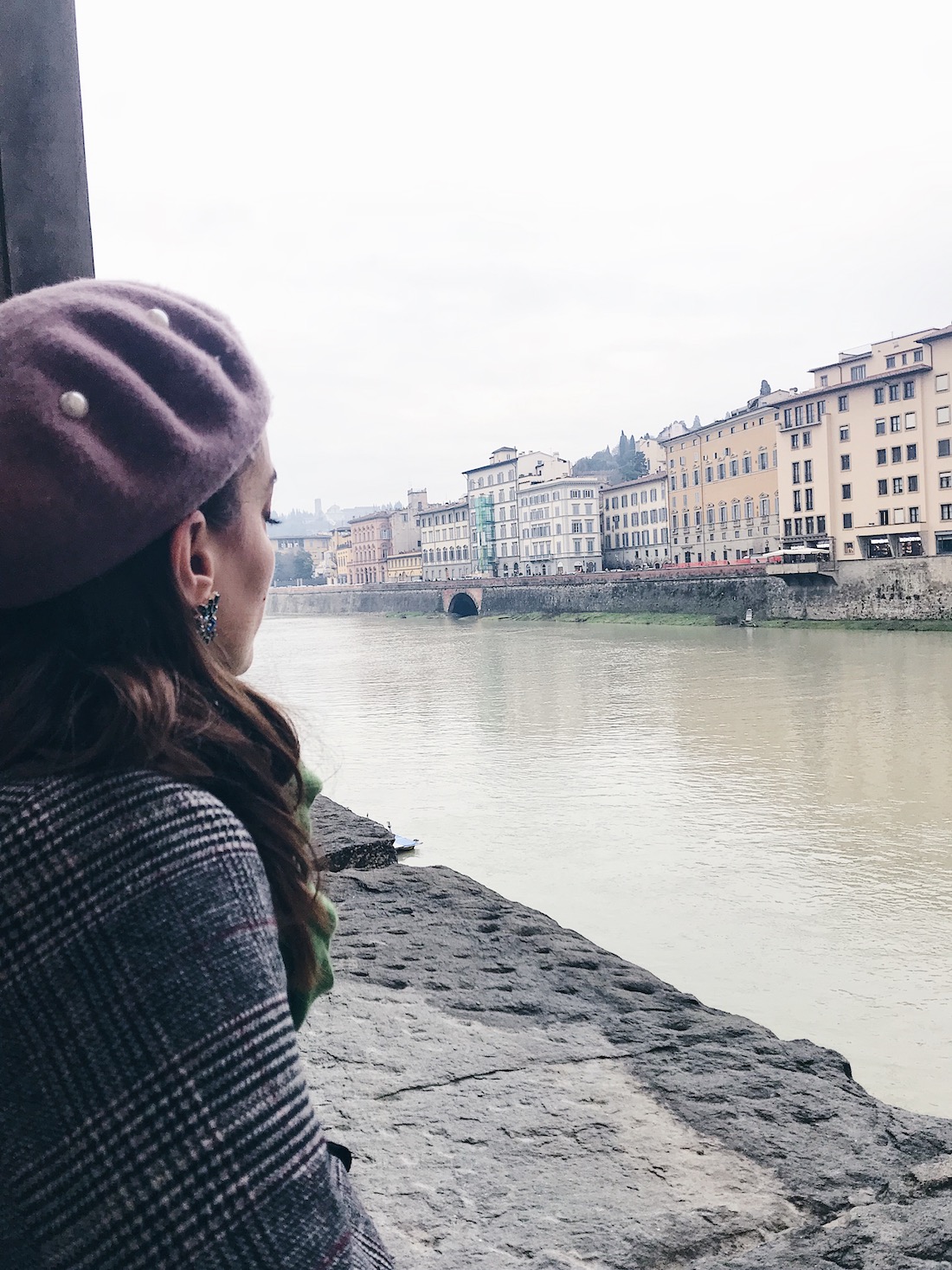 Take a minute to appreciate the view from Ponte Vecchio. Everyone is trying to capture the perfect shot, of the bridge at sunset, from the perfect angle, or trying to buy something from the jewelry shops that line on the bridge. But the view of the buildings that look like they are ready to plunge into the water and the calm flow of the river will offer an even greater spectacle.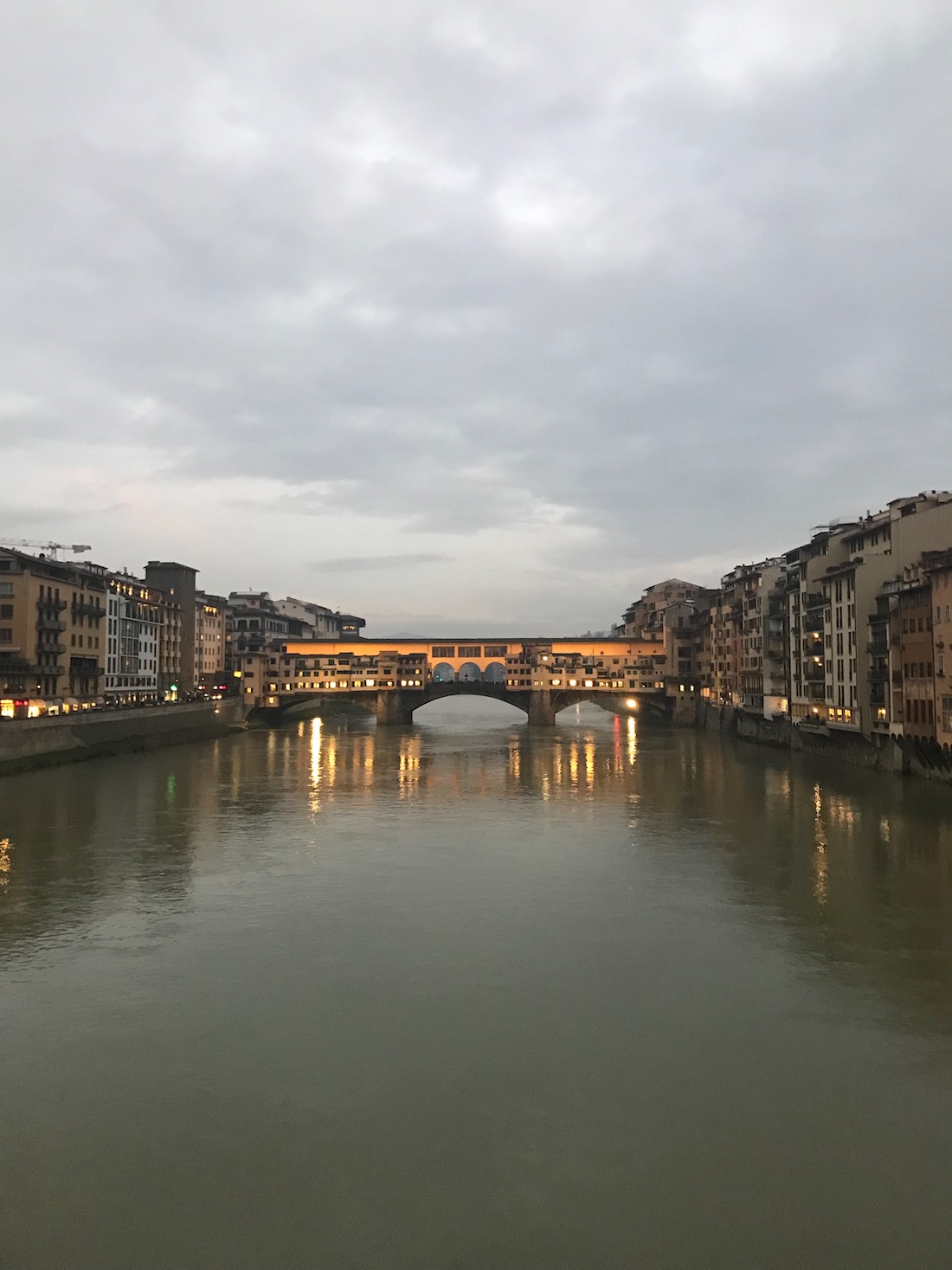 If you really want to capture that perfect shot of Ponte Vecchio, go to Ponte Santa Trinita, early evening, and you will get a great shot. An added bonus? Right at the end of the bridge, on Via de' Tornabuoni, you will find the Salvatore Ferragamo Museum, an ideal place to stop and get a little warm (if visiting, like us, in a colder season).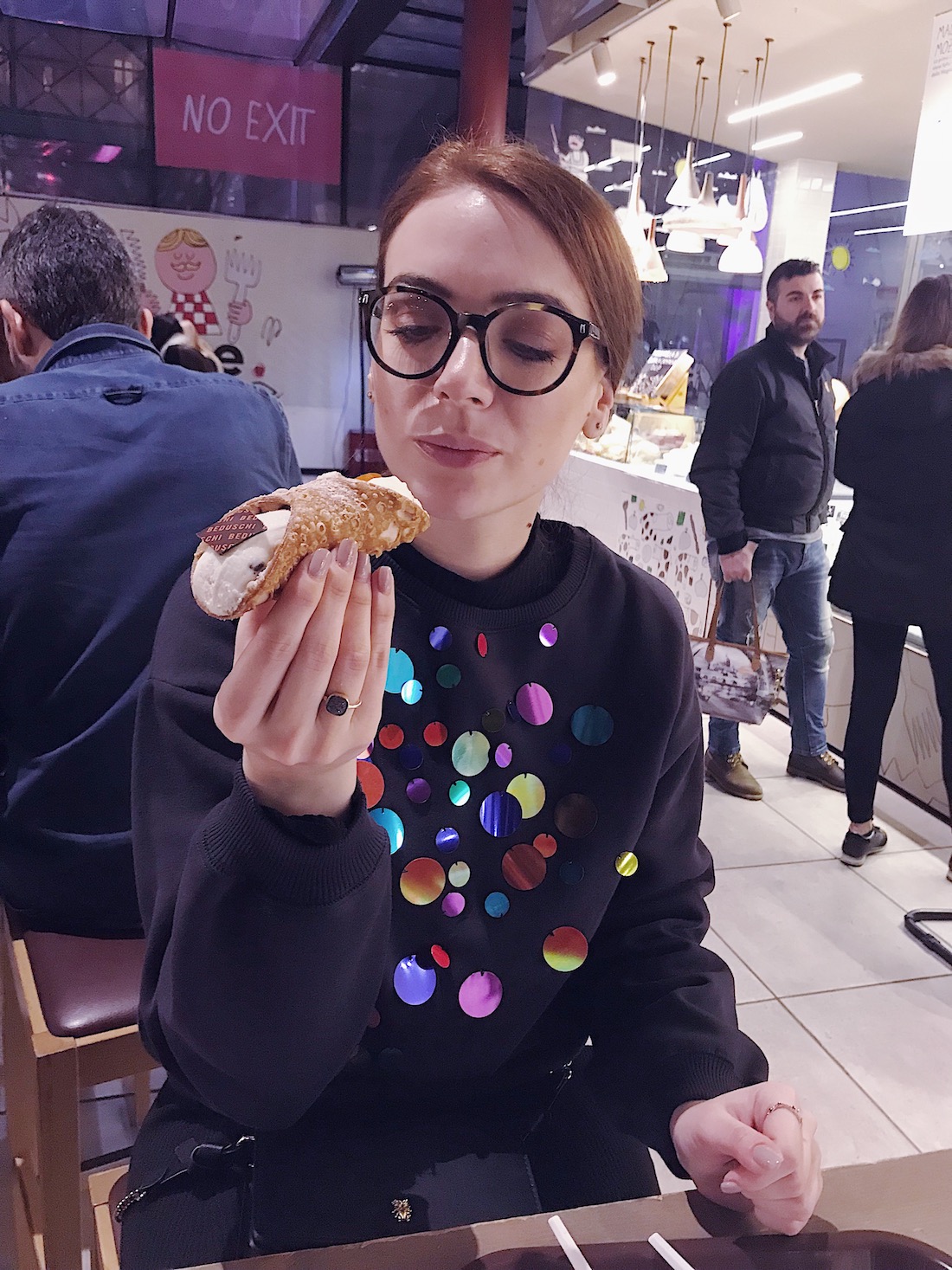 For any food lover or hungry tourist, Mercato Centrale is the place to go. You will find all types of local and international food (even lots of beer, which was not really the case in all the other restaurants we visited) and during the day you can also visit the actual market. The food court is opened till late (midnight if I remember right) and it's an absolute must.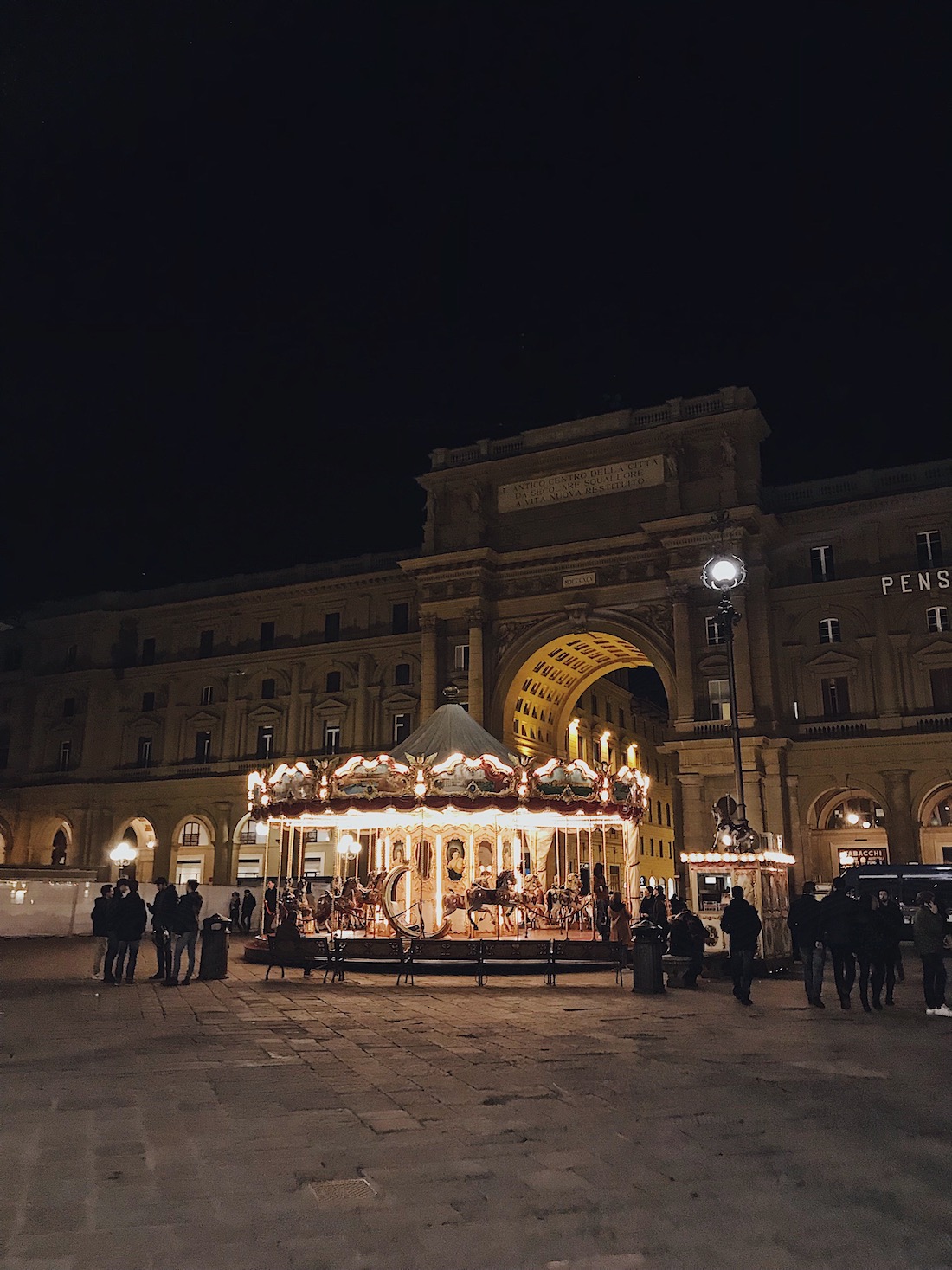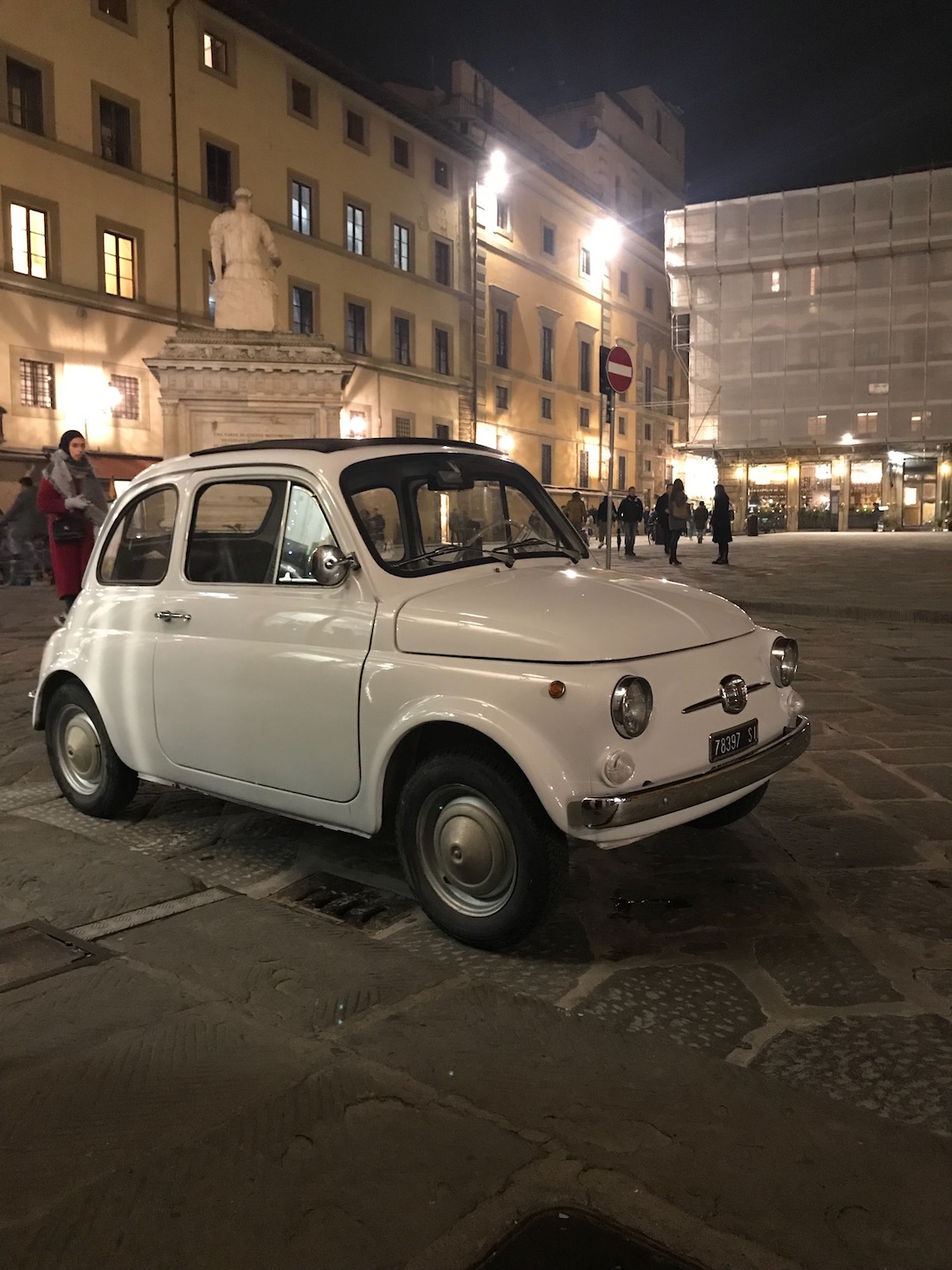 Take a night stroll through the city. You will discover a lively place – especially during weekends – with lots of places to stop for a glass of Tuscan wine (they are amazing…) and many streets to get lost on.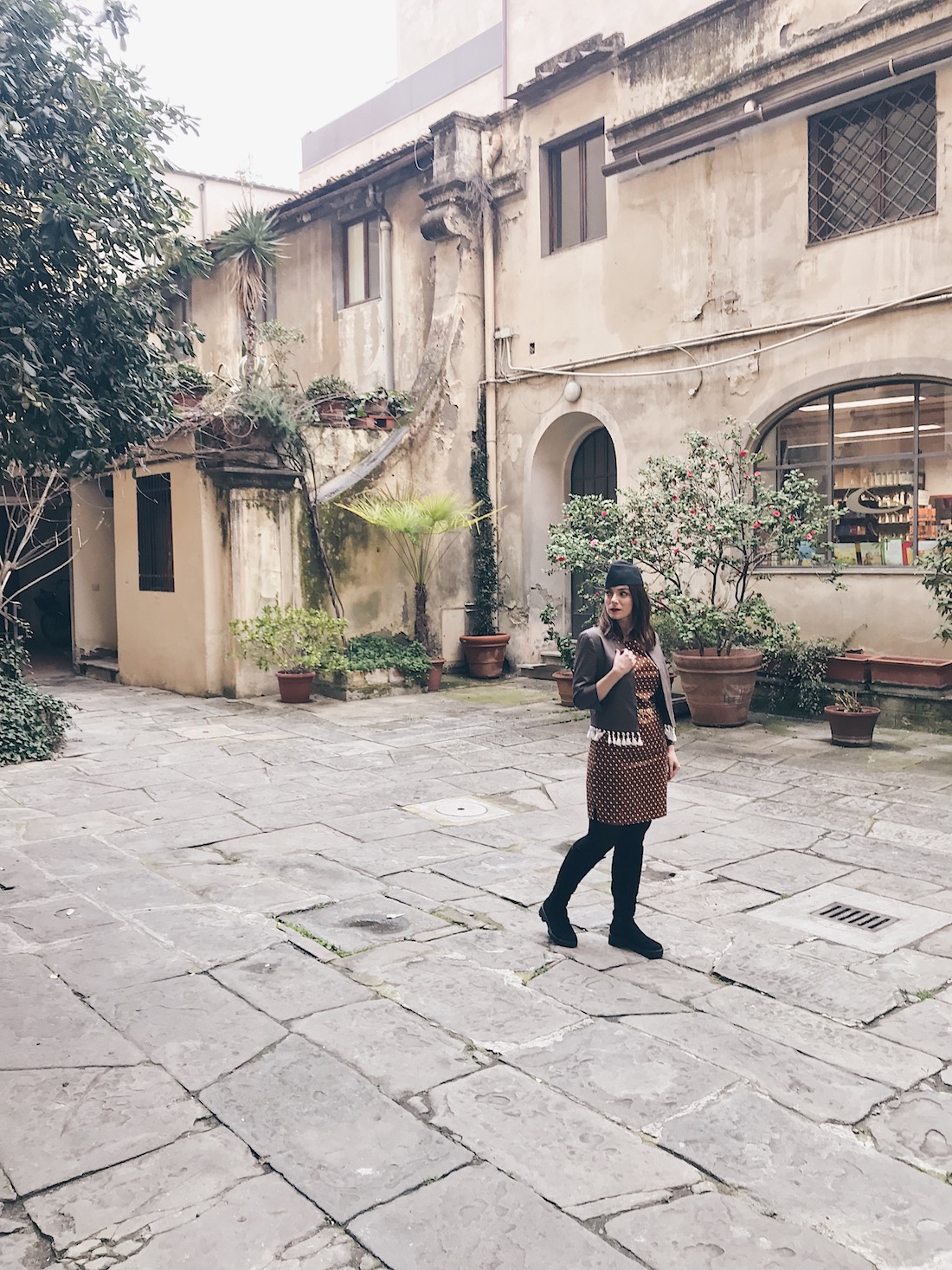 While wondering on the narrow cobblestone streets, look carefully around you – you might discover some hidden treasures that you can explore: gardens and courtyards that look like they were imagined for a fairytale princess. One of them is the garden of the Palazzo Medici Ricardi, which has a free entrance.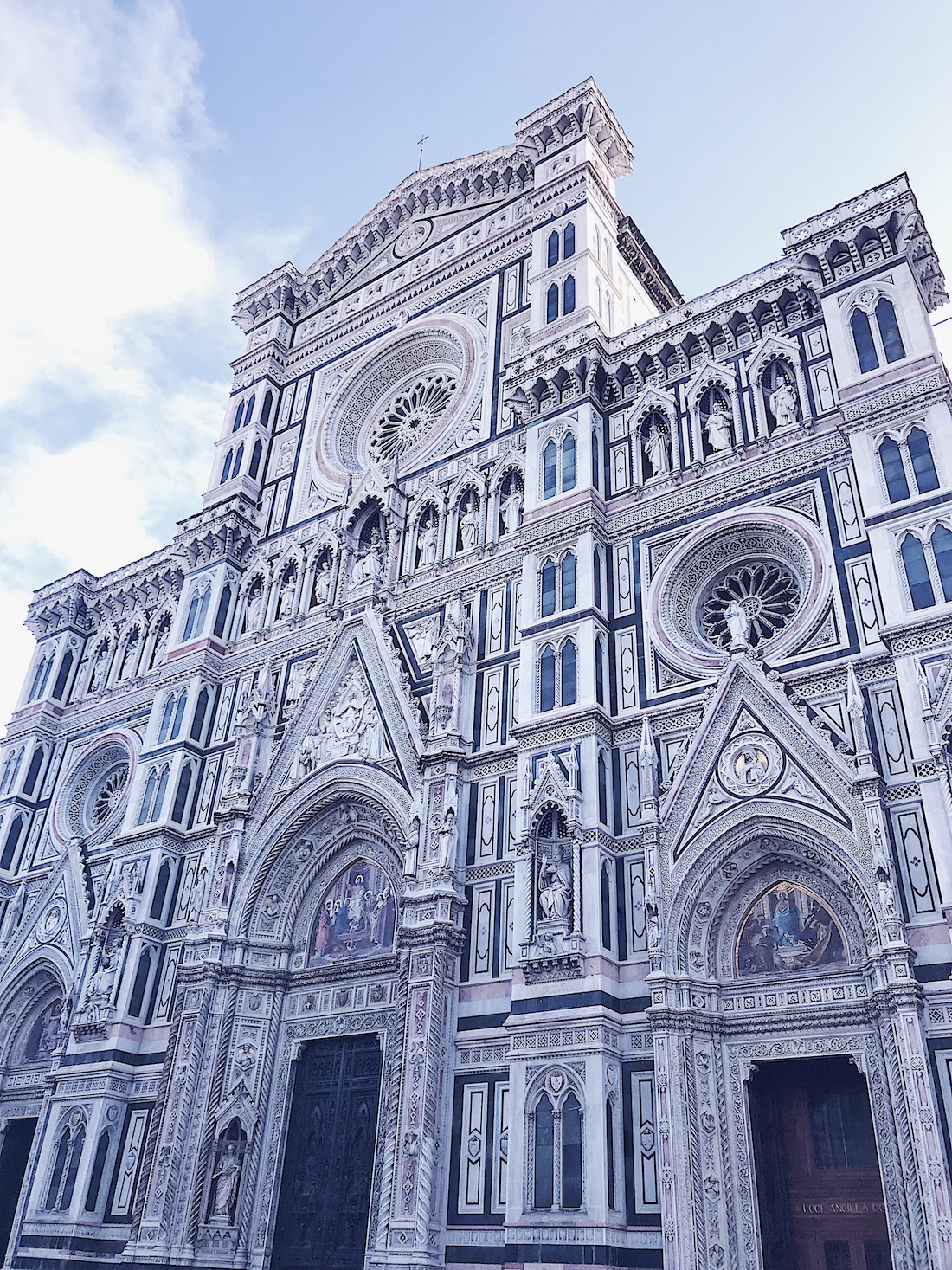 The Duomo or Santa Maria del Fiore Cathedral is a true masterpiece and there are many other architectural wonders to see in Florence. Do not miss them because you might think they are too touristy, they are also amazing and worth it.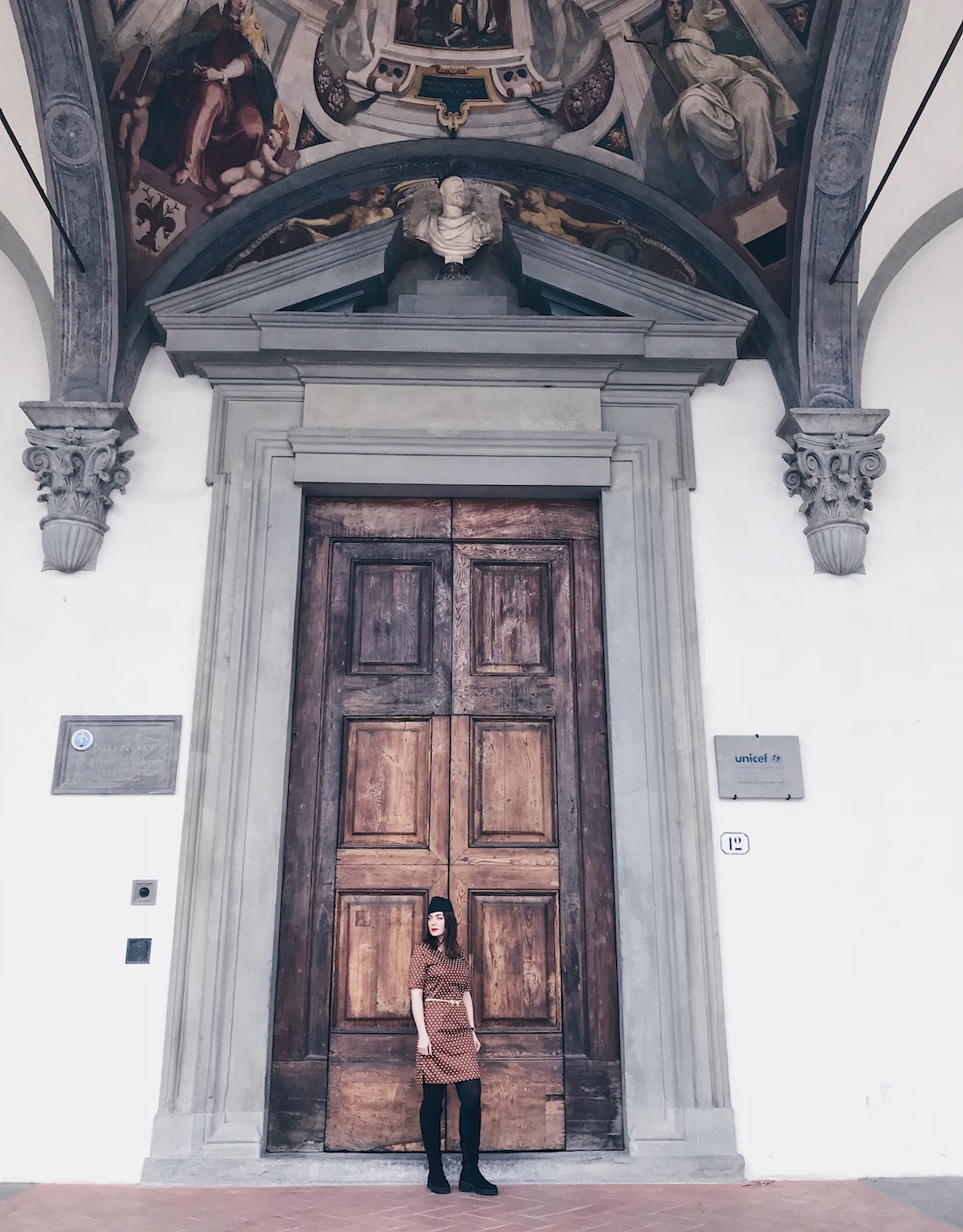 Speaking of it, pay attention to the details. All the buildings have stories to tell and secrets waiting to be unraveled. Just look around and also up from time to time and just be prepared to be blown away <3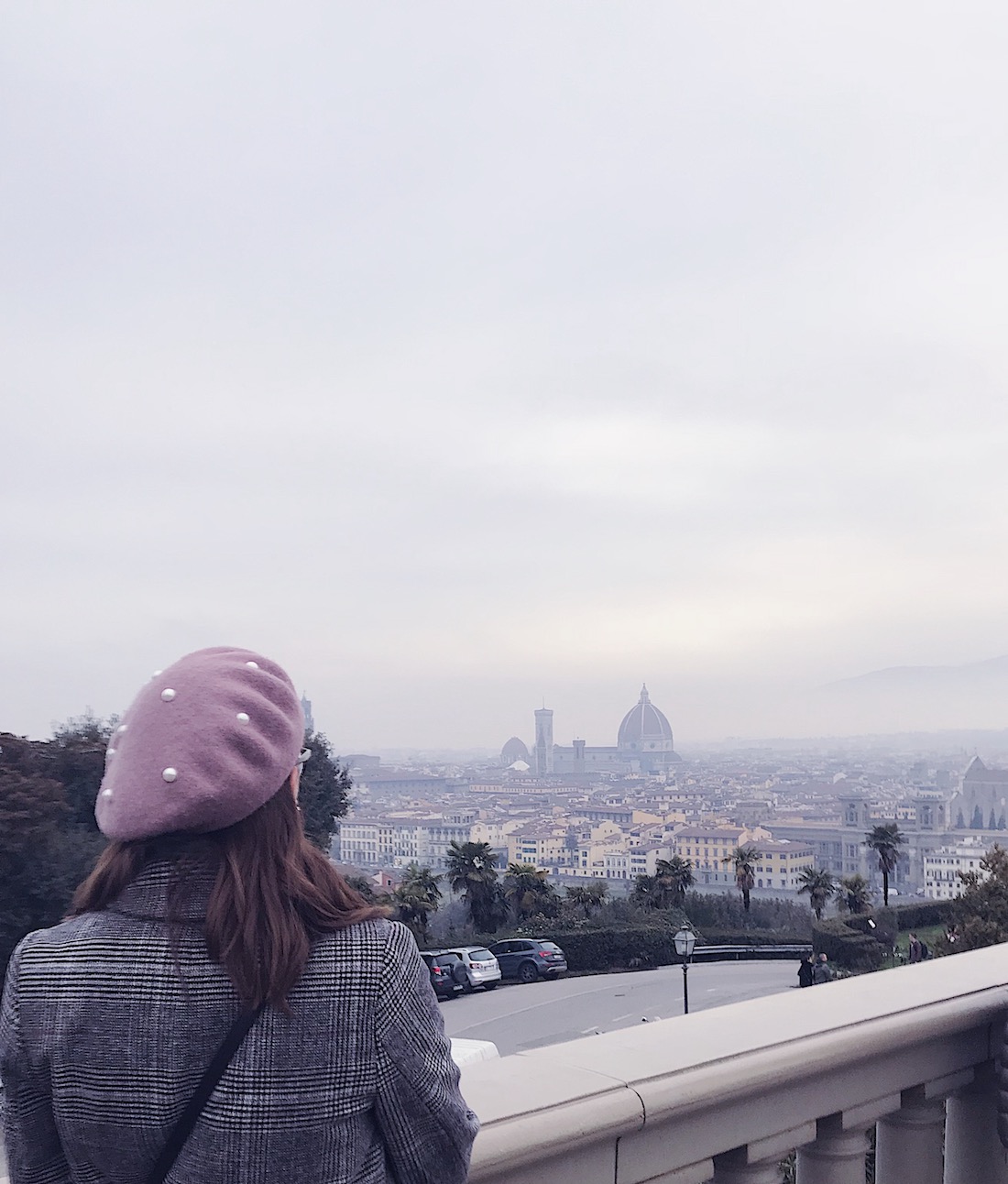 Another touristy spot, Piazzale Michelangelo is a perfect place to see Florence from above. And a place I could not visit because of its quite restrictive opening hours (closing at 15h00) are the Bardini Gardens – a spectacular view and still not as very well known as the Piazzale Michelangelo. They are on my list for next time.
Since we briefly touched the subjects of food and wine, I thought gelato deserved its own special mention. Please have at least one. Even if you're not a fan. You will love it! Trust me!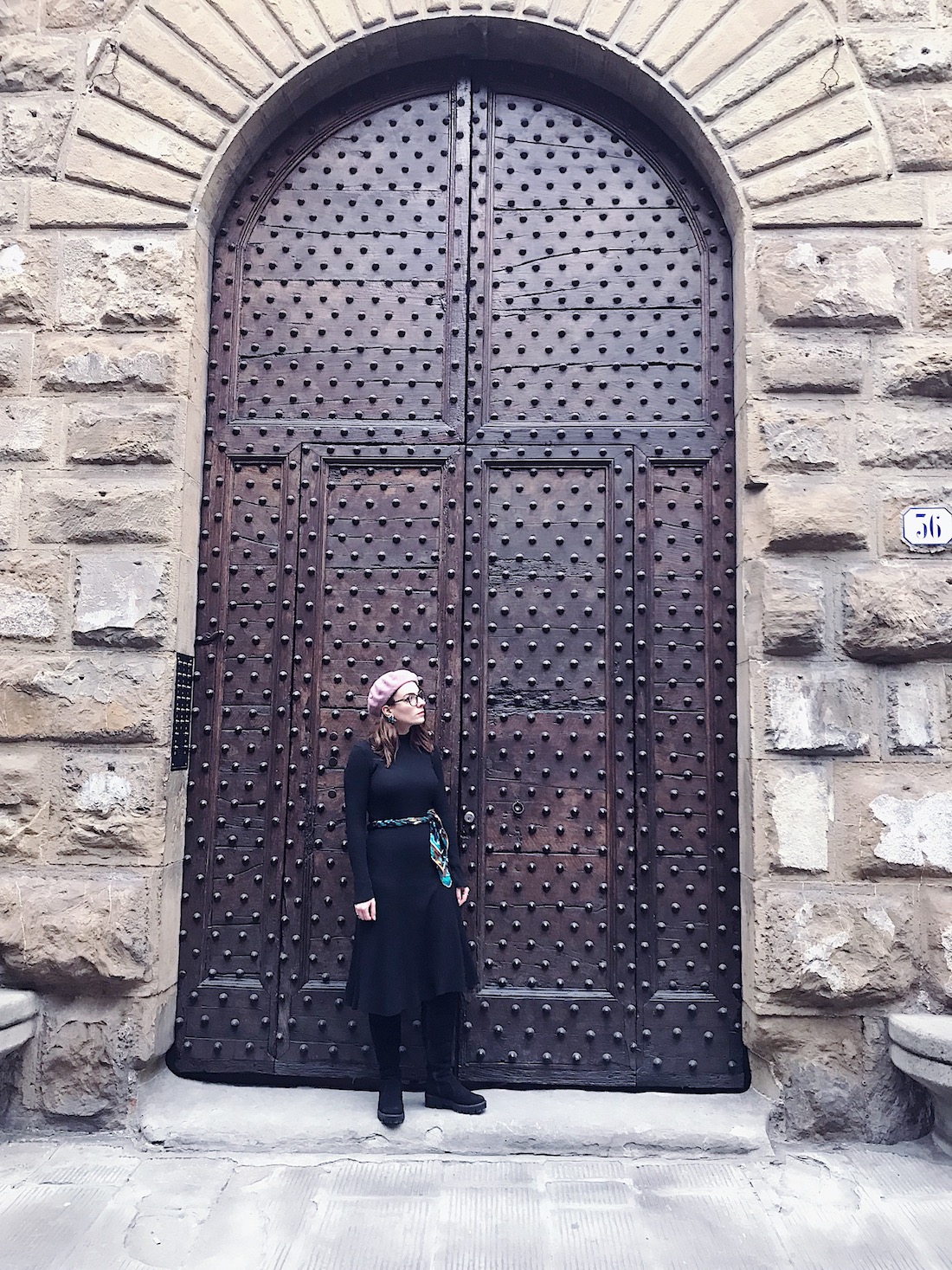 There are many other things to see or do (like the Ufizzi, the Pitti, going up in the different towers, visiting Palazzo Vecchio, seeing Michelangelo's David etc.) but whenever we get to a new place and we have a little amoun of time, we like to feel the city more that just visiting it. We like to walk and get lost on smaller streets, off the beaten path, to go to places which are not that popular, find the small, local restaurants where only residents eat in, go to the market (but look for a smaller, less central one) and in the supermarket and buy local produce and eat in on the street. Just take a little glimpse at the way locals live and try to have a little experience of that. And that makes us the most happy!
Keep up with Project Fairytale
Facebook / Pinterest / Twitter
Follow my blog with Bloglovin
0