I love food! Do I need to say that again? I LOVE FOOD! And during the holiday period things are tough. My family cooks, I visit people, I meet people outside the home and all this involves, no, revolves around food. And I am weak, I cannot refuse something I like or something that looks inviting and delicious. So usually I accept. That's why, when I am at home, I need to eat as clean and simple as possible. I try not to have anything different from what I normally eat in the fridge and I try to keep away from excess. However, it is difficult and if I have guests or I am visiting someone, I need to have something prepared. That is why I came up with a simple, light(ish) – at least compared to the normal cakes you would find in most food minded homes in Romania – cake.
Behold the lime cream cheese cake. The base (the cake itself) can be anything you like, I tried brownie and normal cake batter with a hint of chocolate to give it a golden colour. The cream cheese is mixed with sugar, lime zest and lime and lemon juice. And it's heavenly good (at least I like it) and looks really pretty.
Here is the recipe for a simple, airy cake base, but remember, you can use anything, from carrot cake, to red velvet or brownie (these would also make a great contrast with the cream cheese).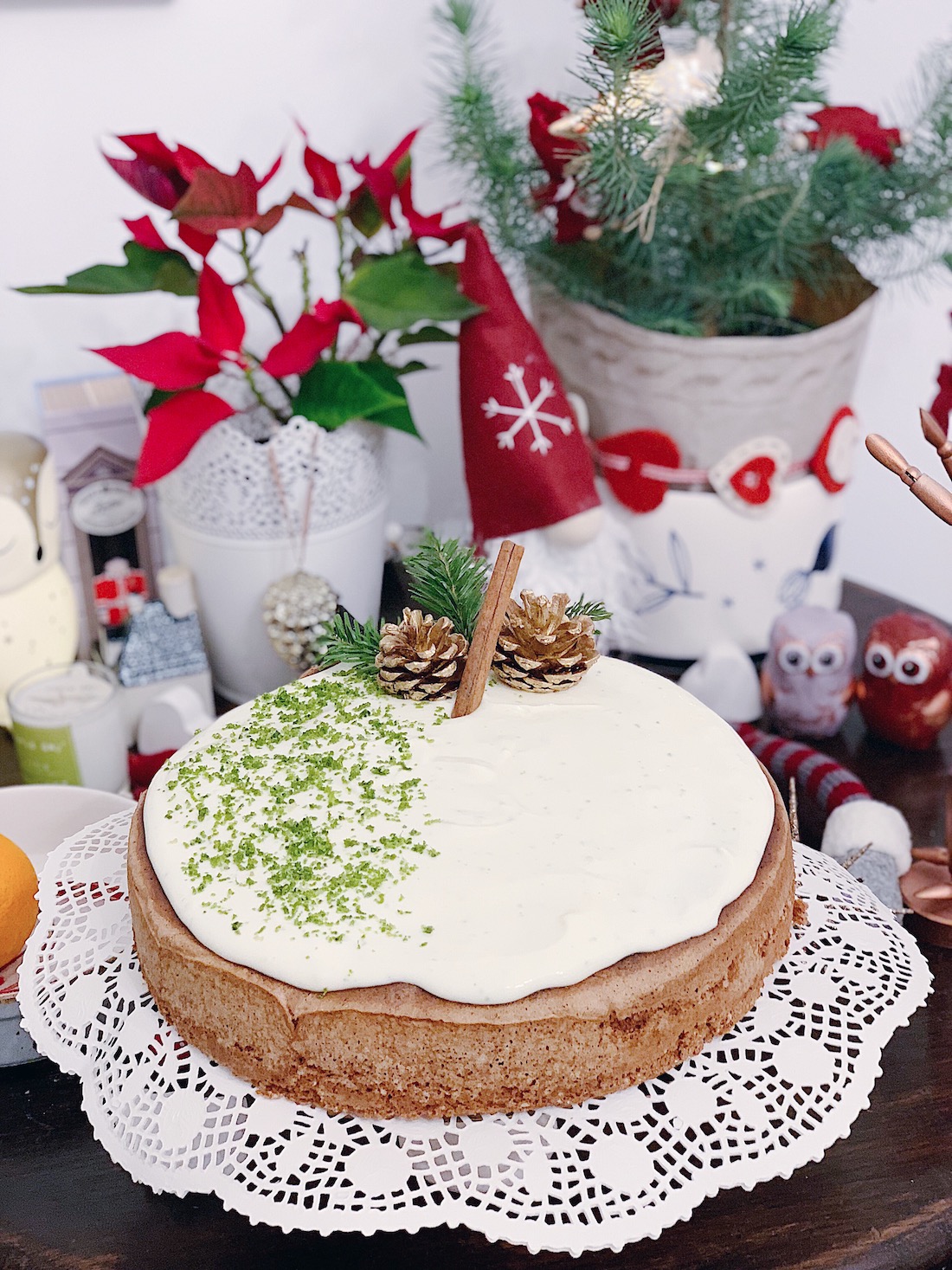 INGREDIENTS:
For the cake:
200g flour
100g butter (+ a little oil if needed when incorporating the flour)
200g sugar (you can use slightly less, it's up to you how sweet you want to make it)
5 eggs (separate the whites from the yolks)
almond and vanilla extracts (1/4 teaspoons each)
4-5 chocolate squares (just for colour)
1/2 teaspoon baking powder
A pinch of salt
For the cream cheese
500g cream cheese
zest and juice from 2 limes
3-4 tablespoons of sugar (again depending on your preference)
lemon juice – according to your preference, upon tasting
Preheat oven to 200 degrees C.
Melt the butter and 100g sugar together and add the  chocolate mixing continuously. Set aside to cool.
Once cooled add the egg yolks and the baking powder (after mixing it with a little bit of lemon juice) and the salt
Start adding in the flour mixing continuously and add a little bit of vegetable oil to make this easier (I was using a hand held whisk).
 Whisk the egg whites with the remaining 100g sugar until firm and start incorporating them to the mix – first two table spoons can be added more vigorously, but then mix them carefully not to release all the air from the egg whites.
Once done, pour the mixture into a springform pan lined with baking paper or with butter and flour and pop in the oven. Decrease the temperature to 190 degrees C. Let the cake in the oven, without opening it for a minimum of 20-25 mins and then test if ready with a stick (a good indication is also if the sides get detached).
While the cake is in the oven prepare the cream cheese: in a bowl mix the cheese with the sugar and whisk until the sugar is melted and the mixture is glossy (or use a mixer :)).
Add the lime zest and juice. Taste it and add more lemon juice if needed.

Once the cake is ready and cool, decorate with the cream, any remaining lime zest or anything else: pomegranate seeds, pistachios, other nuts etc. For Christmas I chose a small fir tree branch, pine cones, and a cinnamon stick.
Enjoy!
Keep up with Project Fairytale
Facebook / Pinterest / Twitter
Follow my blog with Bloglovin
1