Hi guys, long time no food here! But I made these a couple of weeks ago and they were great (and way too many for us, so we ended up having them for dinner and breakfast the next day). They are super simple to make (the dough is store bought) and they can make quite an impression if you have guests over.
INGREDIENTS
2 tablespoons extra virgin olive oil
salt and pepper
1 garlic clove, minced or grated
chilli powder
100g frozen chopped spinach, de-frosted and squeezed dry
100g mushrooms
50g shredded cheddar cheese
50g shreded Comté cheese
50g shredded halloumi cheese
1 portion puff pastry, de-frosted (the usual packs in Ro supermarkets are made of two sheets, I used one. The other one I
sprinkled half with parmesan and the other half with a mix of seeds, cut it into longish strips and baked into perfect
appetizers when I had guests over)
1 egg, beaten
mix of seeds (I used black and white sesame) for decoration
100ml plain yoghurt
harissa spice mix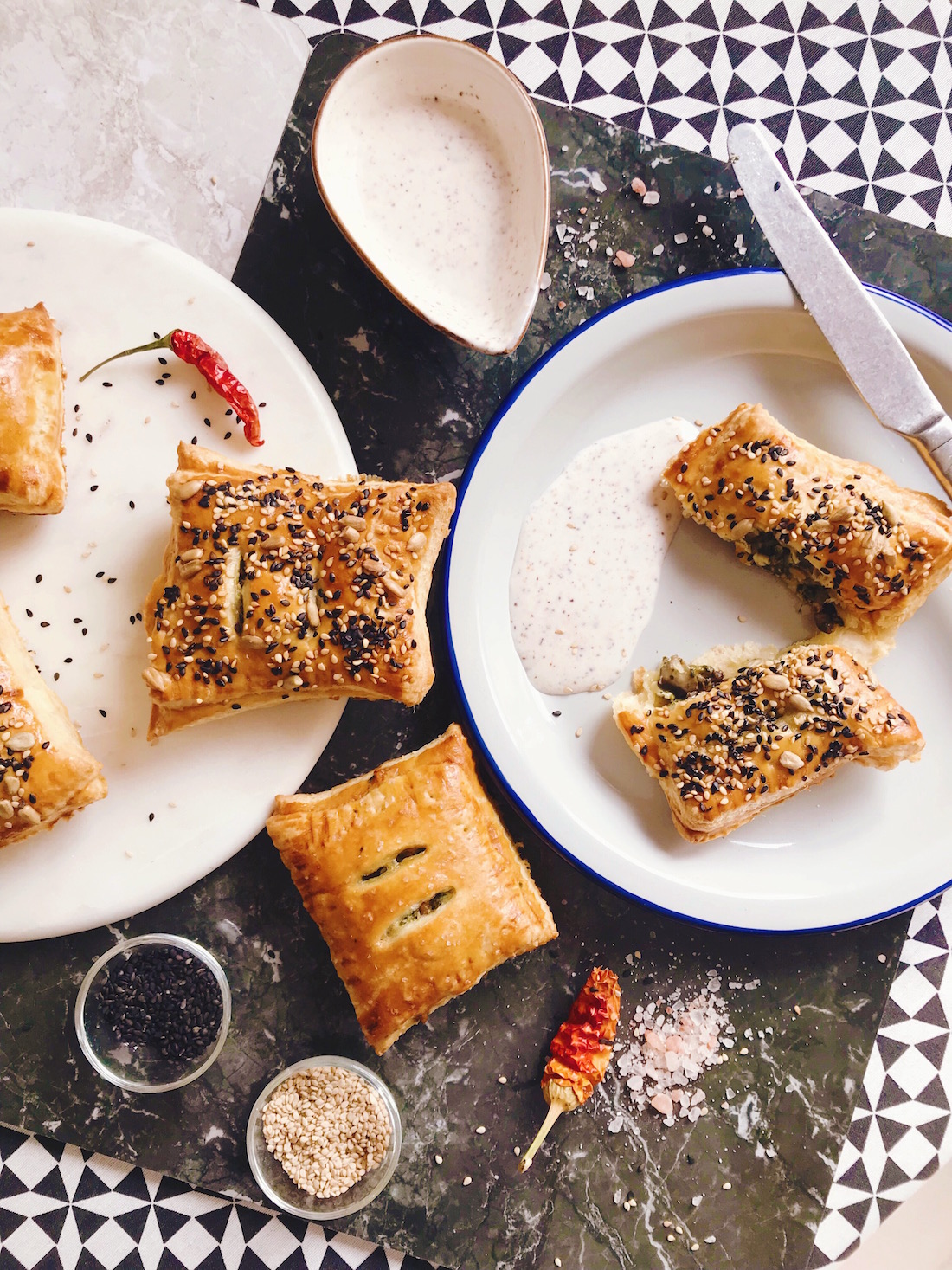 INSTRUCTIONS
1. Preheat the oven to 200C. Line a baking sheet with parchment paper.
2. Heat the olive oil in a large skillet over medium-high heat. When the oil shimmers, add the mushrooms and cook 7-10 minutes, stirring occasionally until softened. Add the garlic and chili powder, cook another minute. Remove from the heat.
3. Stir in the spinach, and cheeses.
4. Lay the pastry sheet on a floured surface. Roll the sheet out to stretch slightly. Cut each sheet into an equal number of squares (I got 16, but it depends on how much you stretch the pastry). Divide evenly the filling among half of the squares, leaving a 1/2 cm border around the edges. Brush the edges with egg. Lay the remaining 9 squares over the filling and seal the edges by crimping with a knife or the back of a fork.
5. Place the squares on the parchment paper and brush them with the remaining egg. Make small cuts on the top of the pastries. Sprinkle everything with seeds or flaky salt or both or nothing. Bake for 20 minutes or until golden brown.
6. Serve warm or not so warm (they are best warm, tbh) dipped in the yoghurt with harissa.
Keep up with Project Fairytale
Facebook / Pinterest / Twitter
Follow my blog with Bloglovin
0