Image source
So many of us are blessed with outdoor space, but we tend to stay indoors for most of our time at home. Granted the sofa is comfortable and the technology you have inside makes life easier but, outside you have something different. Being outdoors and enjoying your garden space, being closer to nature and wildlife, it's a calming more relaxing way to spend your leisure time. Actually for some people, the garden is anything but relaxing. You could have a lawn that is out of control, pavement slabs that are chipped and cracked, and next to no flowers or plants. Wildlife is rare and the only thing you usually see is a bird that momentarily lands to get some rest. This can all change if you design your garden as somewhere you can ponder life. A calm relaxing but visually beautiful garden at that.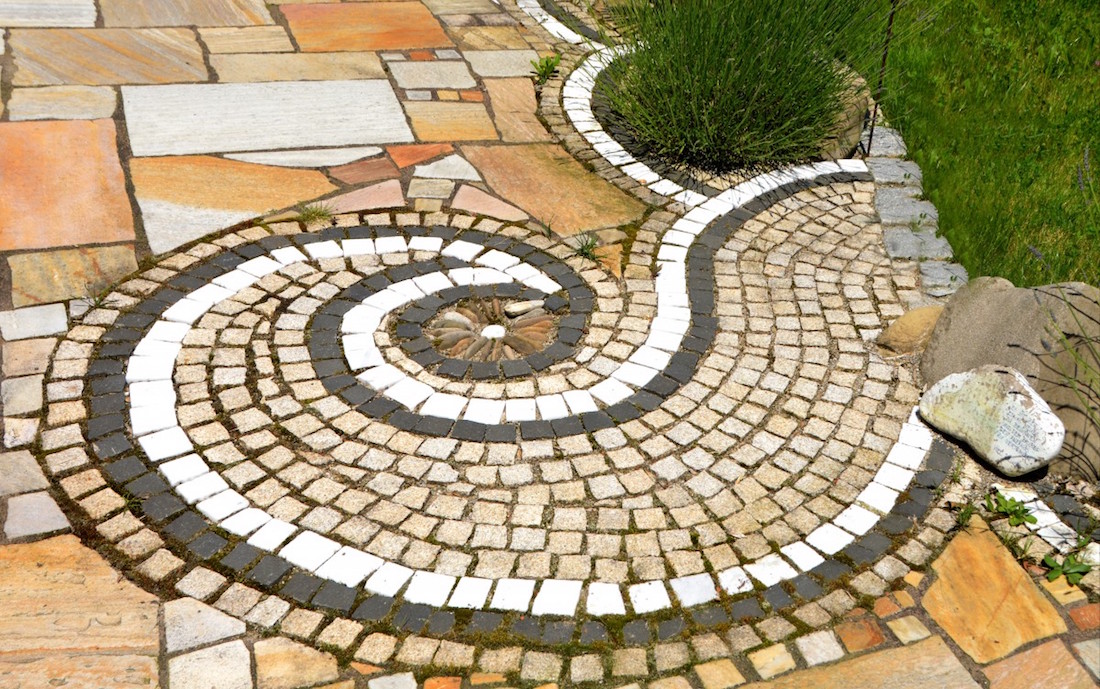 Source pxhere
Quality stones
The garden doesn't have to be all lush and green for it to be a great place to be. Stoning is a good idea for a more simple garden that doesn't need a lot of maintaining. There are a range of options for stone styles. If you want something that is very easy to keep clean and is robust, then high quality sandstone slabs would do nicely. They can be very large squares or they can also be in smaller squares that interlock with each other when properly fitted using grit and mortar. Rough stoning is one of the more popular styles as the work needs to be done with care and detail in mind. Rough cut stones cannot be simply wedged together, they need to be unique placed and shaped. Each stone can be of a different type, so naturally you have different textures and colors.
Up the path
Pathways are universally liked by everyone. They are versatile, easy to fit, easy to maintain and they provide a journey through your garden. Pathways can be made out of almost any kind of material. For a more traditional garden, rough stoning is again a very popular choice albeit on a smaller scale. The other very popular option is pebbling. Pebbling pathways come in various styles but Scottish pebbles and white limestone pebbles are top choices. The design of the path is completely up to you. It can be a simple straight path that goes to all four corners of your garden, or it can weave around like a snake and go wherever you please. Keep in mind, this path is for walking slowly on and taking your time to wander and pace around your garden as you wish. Walking around pathways at a leisurely pace also helps to order your mind and think more clearly.
A quiet evening
Sitting beneath the stars, and enjoying a cup of hot chocolate outside in the garden proves the saying 'the simple things are often the best'. Your seating area might not be so close to the door so you'll need lights to guide you and illuminate your garden at night. A professional Landscape Design company can come and assess the current state of the garden. When they have a basic floor design they can give you their professional opinion on what kind of lights you should have and where to place them both for practicality and aesthetic style. Once you've made up your mind, then they can go ahead and fit them for you. Lighting the garden can add a new layer of beauty as well, but also help you see in the dark as night falls.
A seating area
You can't ponder life in your garden without sitting down, so you need a seating area. Putting some outdoor seats into a circle around a fire pit, fountain or table is fine. The area for sitting will be cut out from the rest of the garden. You'll need to dig up the soil, move any stoning and plants etc. However you don't need to make a big seating area, it can just be a bench or a swinging egg chair underneath a cloth ceiling. Taking the pathway up the garden and behind some tall plants, you can put your seating area where you have some privacy.
As the sun beats down, you close your eyes and breathe in the fresh cool breeze. The sound of birdsong fills the air, the buzzing of bees and the rustling of leaves in the wind, fill your ears. Sat in your own garden, you have a place that is a marvel of natural beauty. It's a place you can come to relax in and ponder life.
Keep up with Project Fairytale
Facebook / Pinterest / Twitter
Follow my blog with Bloglovin
0