If you want to make a change this year, and replace the Thanksgiving pumpkin pie with something more sophisticated, here's an idea from Camille Styles: Pumpkin Tiramisu Layer Cake.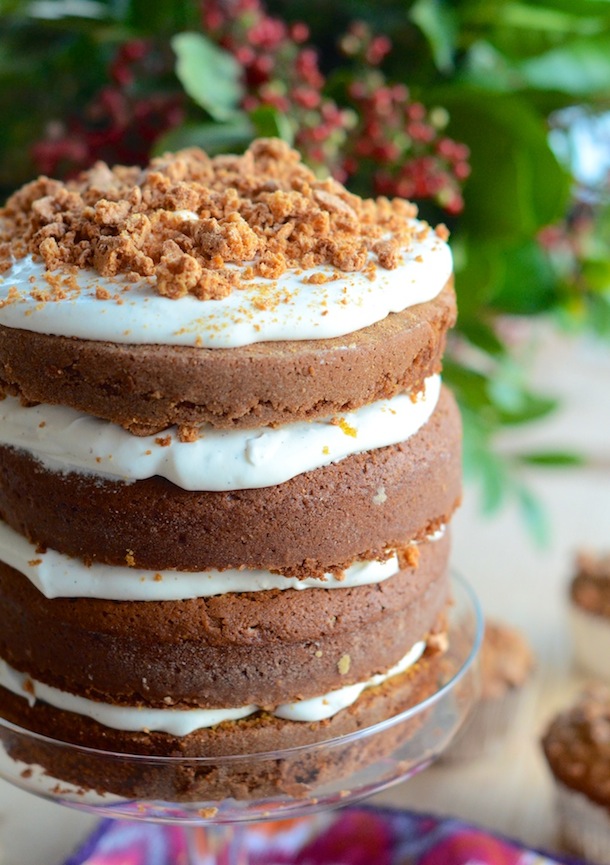 Pumpkin Tiramisu Layer Cake
INGREDIENTS
cake:
3 cups all purpose flour
2 teaspoons baking powder
1 teaspoon baking soda
1 teaspoon salt
1 cup sugar
1 cup (packed) golden brown sugar
1 cup canola oil
4 large eggs, room temperature
1 15-ounce can pumpkin pie filling (includes all the spices)
1 tablespoon vanilla extract
1 tablespoon grated orange peel
almond syrup:
1 cup water
1 cup sugar
1/4 cup amaretto
filling:
1 1/2 cups heavy whipping cream
2 tbsp powdered sugar
pinch of cream of tartar
1 1/2 cups mascarpone
2 vanilla beans, seeds only, pods reserved for another use
2 tbsp amaretto liqueur
1 bag of amaretti cookies, crushed (found at many grocery stores or at any Italian market)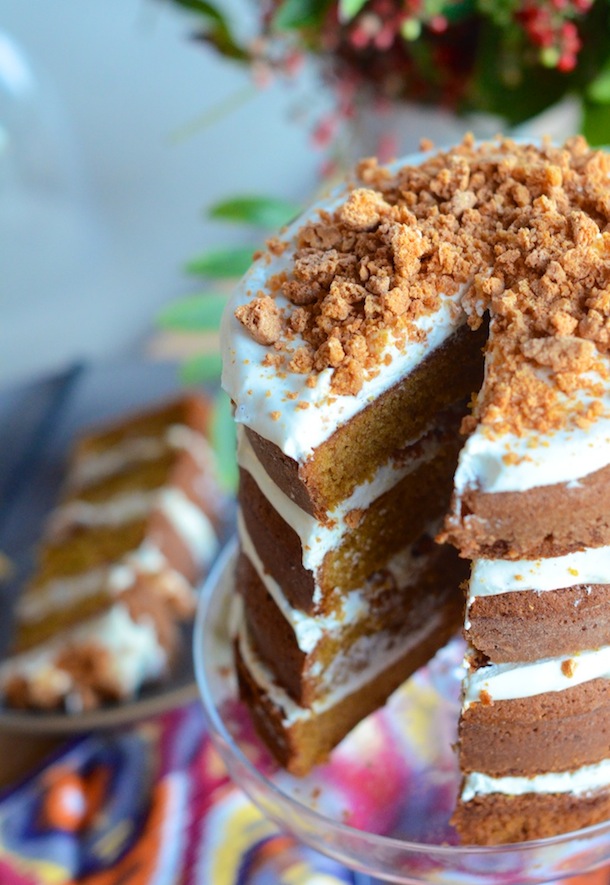 INSTRUCTIONS
for cake:
Position rack in center of oven and preheat to 350°F. Butter two 9-inch-diameter cake pans. Spray with cooking spray, then line bottom of pans with parchment paper; spray again, and dust pans with flour. Sift flour and next 3 ingredients into a bowl. In the bowl of an electric mixer, beat both sugars and oil in large bowl until combined. Add eggs 1 at a time, beating until well blended after each addition. Add pumpkin pie filling, vanilla, and orange peel; beat until well blended. Add flour mixture; beat on low just until incorporated. Divide batter between prepared pans. Smooth tops.
Bake cakes until tester inserted into center comes out clean, about 1 hour. Cool cakes completely in pans on rack. Run knife around cakes to loosen. Invert cakes onto racks; remove parchment paper. Turn cakes over, rounded side up. Using serrated knife, trim rounded tops of cakes to level, then divide cakes in half horizontally to make 4 thin layers.
for syrup:
In a saucepan, combine water and sugar. Bring mixture to a boil and continue boiling for 5 minutes. Strain into a sealable container, allow to cool, then cover and store in refrigerator.
When ready to use, mix in amaretto.
for filling:
In the bowl of an electric mixer, beat whipping cream until soft peaks form. Add powdered sugar & cream of tartar, then beat until stiff peaks form.
Meanwhile, combine mascarpone, vanilla beans and amaretto in a small bowl. Beat with a whisk to combine, then fold into whipped cream.
to assemble:
Brush a couple spoonfuls of amaretto syrup on the cut side of each cake layer.
Put the first layer, uncut side down, on a cake stand and spoon a generous layer of mascarpone filling over the top. Sprinkle a layer of crushed amaretti cookies over the filling. Repeat this process until all cake layers are used, ending with a thick topping of mascarpone filling and a generous sprinkle of amaretti cookies. Drizzle a little extra syrup over the top of the cookies and serve.
Store in the refrigerator – it's great the next day!
0