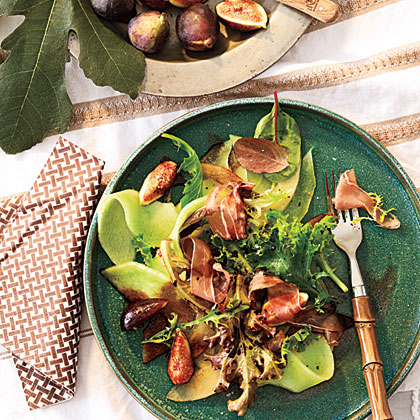 Salad mood activated. I will probably post only salads from now untill fall, as these are among the few foods I crave, besides fruits and ice cream. And hey, this salad has fruits in it, insane right?
Ingredients
1/2 cup balsamic vinegar
2 teaspoons extra-virgin olive oil
1 teaspoon fresh lemon juice
1/4 teaspoon freshly ground black pepper
1/8 teaspoon kosher salt
4 cups gourmet salad greens
1/2 pound honeydew melon, peeled, seeded, and thinly sliced
1/2 pound cantaloupe, peeled, seeded, and thinly sliced
4 very thin slices prosciutto, torn (about 1 ounce)
4 fresh figs, quartered
Preparation
1. Bring vinegar to a simmer in a small saucepan over medium-low heat; cook until syrupy and reduced to 3 tablespoons (about 10 minutes), stirring occasionally. Remove from heat.
2. Combine oil, juice, pepper, and salt in a bowl, stirring with a whisk. Add salad greens; toss gently. Divide melon among 4 plates; top with salad greens. Arrange prosciutto and figs over salad greens; drizzle with balsamic syrup.
recipe and image via MyRecipes.com
Keep up with Project Fairytale
Facebook / Pinterest / Twitter
0