I love to really cook breakfast, I think it's my favourite. I seldom do that from Monday to Friday but I really enjoy doing it during weekends. And it actually transforms in a kind of brunch, as I really like to spend as much time in bed whenever it is possible.
Last weekend I wanted to try a different version of one of my go-to dishes for brunch: the shakshuka. But this time do it on the stove and not in the oven. It was not the wisest decision, probably because I insisted upon using the wrong pan (I dread cleaning the cast iron skillet) but everything turned delicious in the end. I served it on a bed of Moroccan couscous I prepared using a little bit of chicken stock for a stronger flavour and topped it with fresh parsley and some crumbled Romanian white cheese (telemea), but feta should work just fine.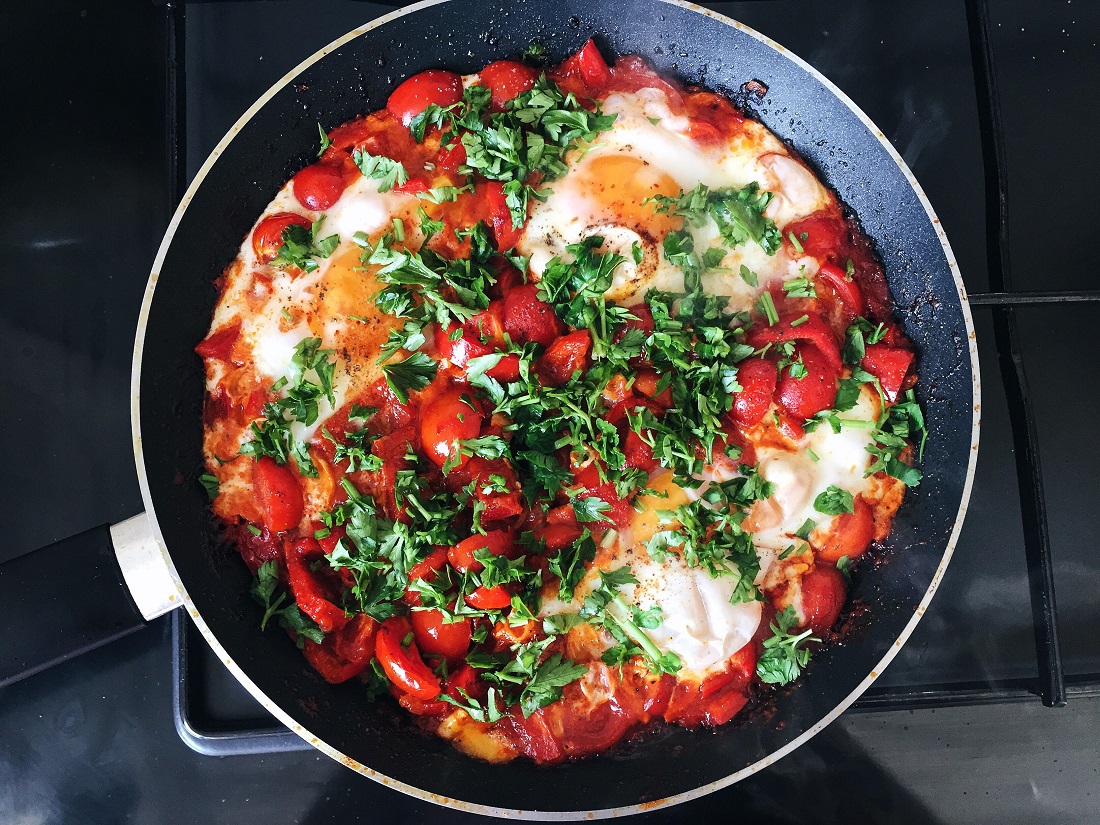 INGREDIENTS:
200g cherry tomatoes
1 red pepper
half a can of canned tomatoes
2 shallots
2 cloves of garlic
3-4 eggs
salt, peper, cumin
chilli powder (or chilli paste – harissa would be the best)
cheese
parsley
butter, olive oil
white cheese
METHOD:
In a iron cast pan sauté one finely diced onion in a little butter and olive oil. Once softened (add a little bit of salt to the onion to speed up this process) add the garlic and the chopped pepper.
Halve the cherry tomatoes and add them to the pan. Add the canned tomatoes.
Add salt, pepper, cumin (or any other spices you wish) and chilli.
Mix everything and let it simmer for 3-4 minutes.
Add the eggs.
Once ready, remove from the heat and sprinkle with fresh parsley.
On a plate put a layer of cous cous (this is easily made following the instructions on the pack) and follow with a thick layer of shakshuka and add some crumbled cheese.
Enjoy!
Keep up with Project Fairytale
Facebook / Pinterest / Twitter
Follow my blog with Bloglovin
0