Because we had a very sunny and warm Christmas, I did not think to much about cozy decor for freezing winter nights, candles and fairy lights did the trick perfectly. But I forgot, as I tend to do, that January is actually the worst winter month and February tries to keep up, so we are not yet in the clear. And the last days have been pretty cold and snow finally made an (unwanted, if you ask me) appearance on the streets of Bucharest this week. So what better moment to think about arranging a really comfortable and hyggelig corner for our late night series-watching activities.
But I wanted to make sure I am incorporating all the essential elements, to make this experience perfect and these nights memorable (plus I want to hold on to the holiday spirit for as long as possible without making my home a circus of perpetual Christmas). Therefore I compiled a list of my essentials for warmth, comfort and the ultimate coziness.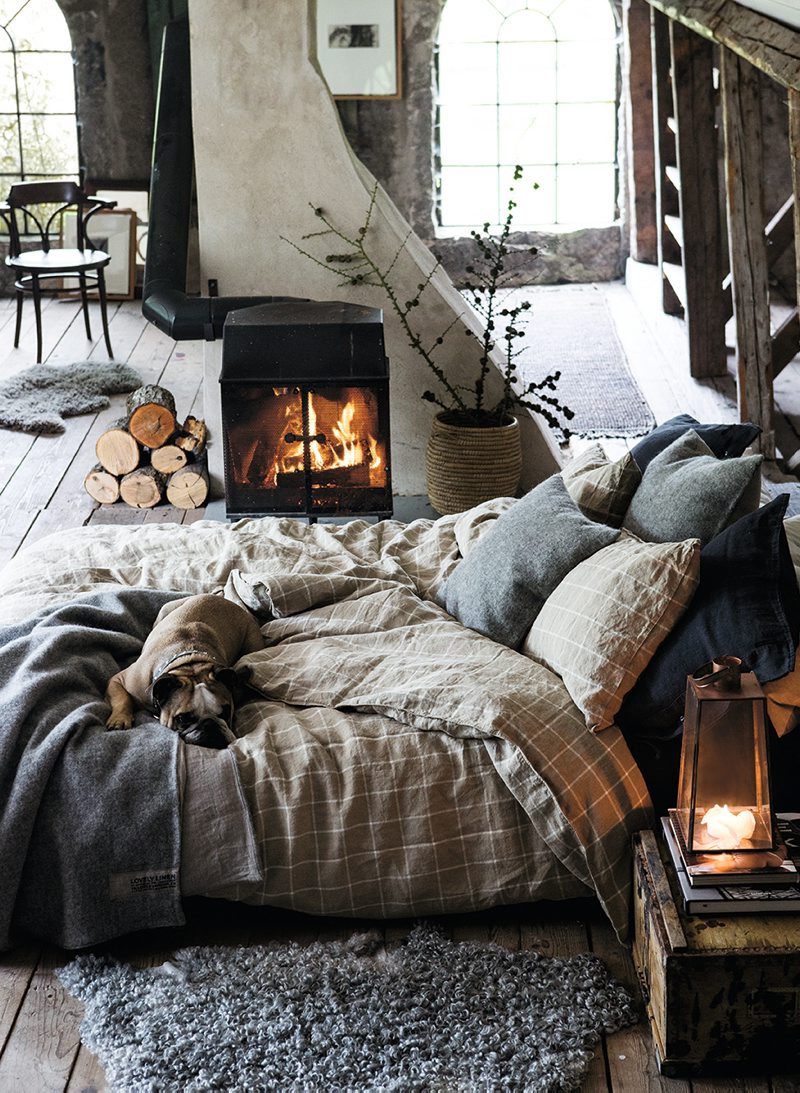 1. A fireplace – I do not have access to this at home (but can enjoy it during weekends – that is why it's my number one go-to for instant hygge factor) but I like to improvise one by organizing my candles and lanterns to a corner to give this soft light and even a little bit of warmth.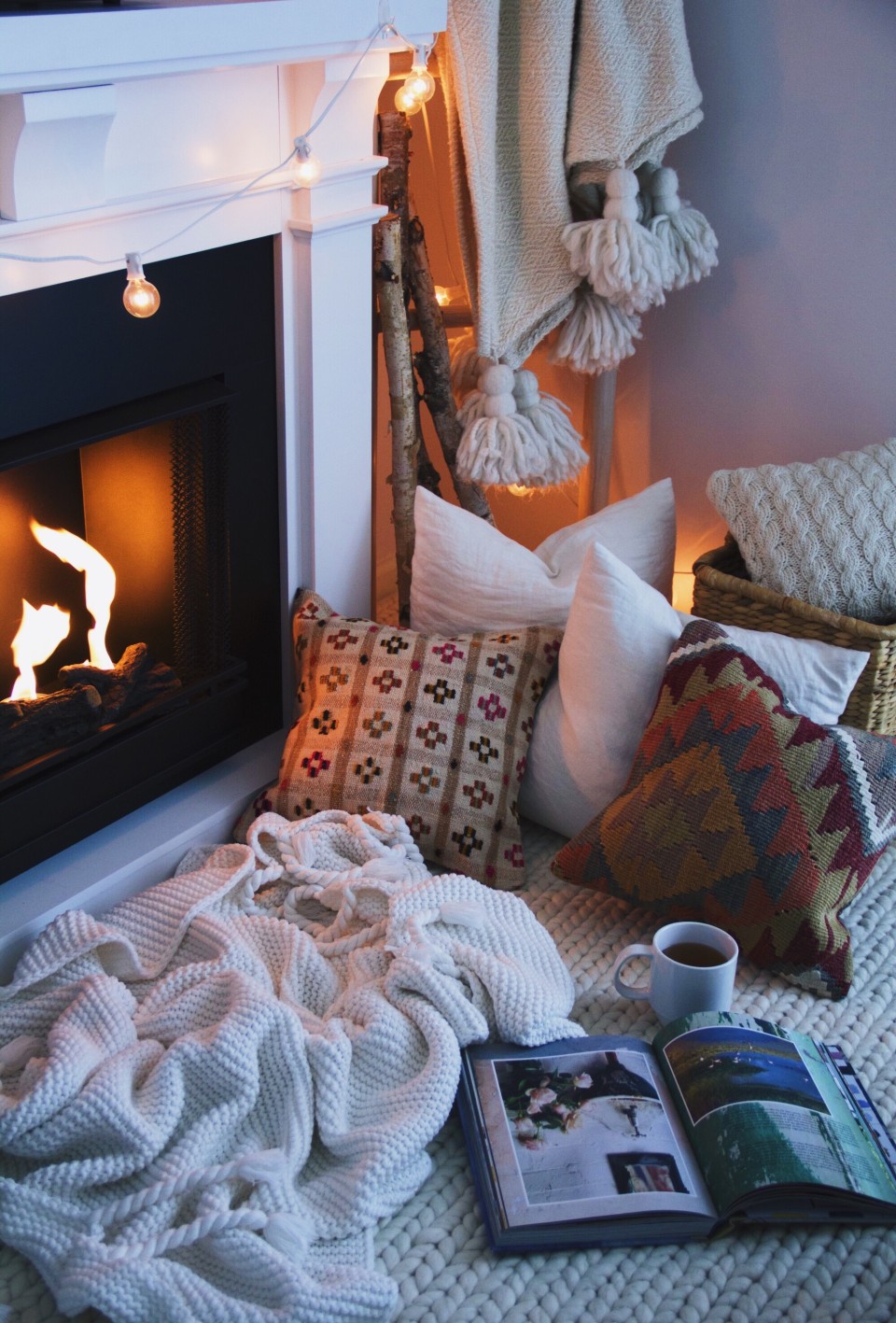 2. Fairy lights and cozy blanket spread on the floor – this is a rule. Add a glass of wine, some cheese nachos and you will get my every Friday evening.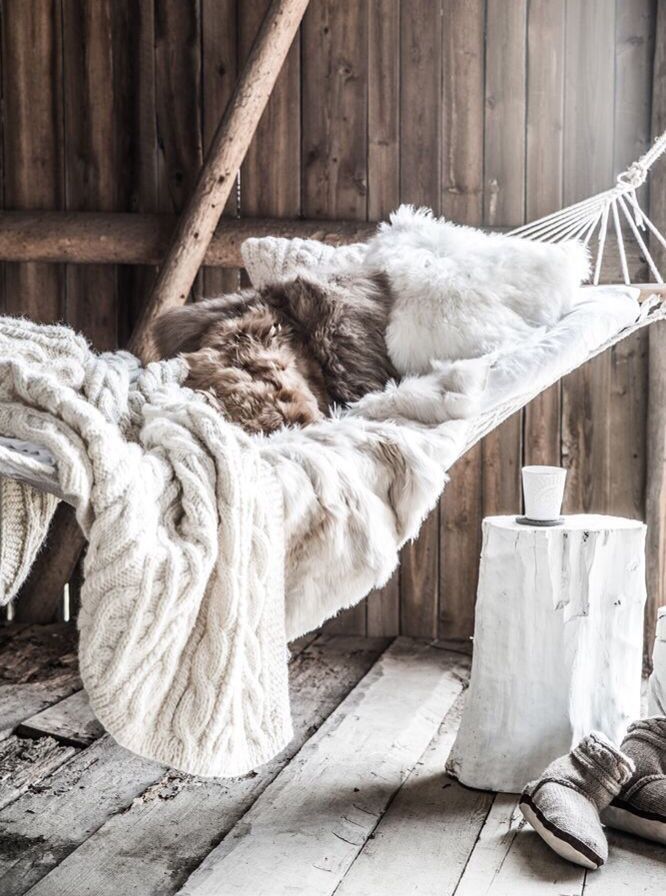 3. Wood details, a hammock and cozy shoes – I do not have a hammock or so much wood (if you do not count the flooring) but I do love to cozy up in my comfy home boots every evening (and all the other fluffy home wear I own)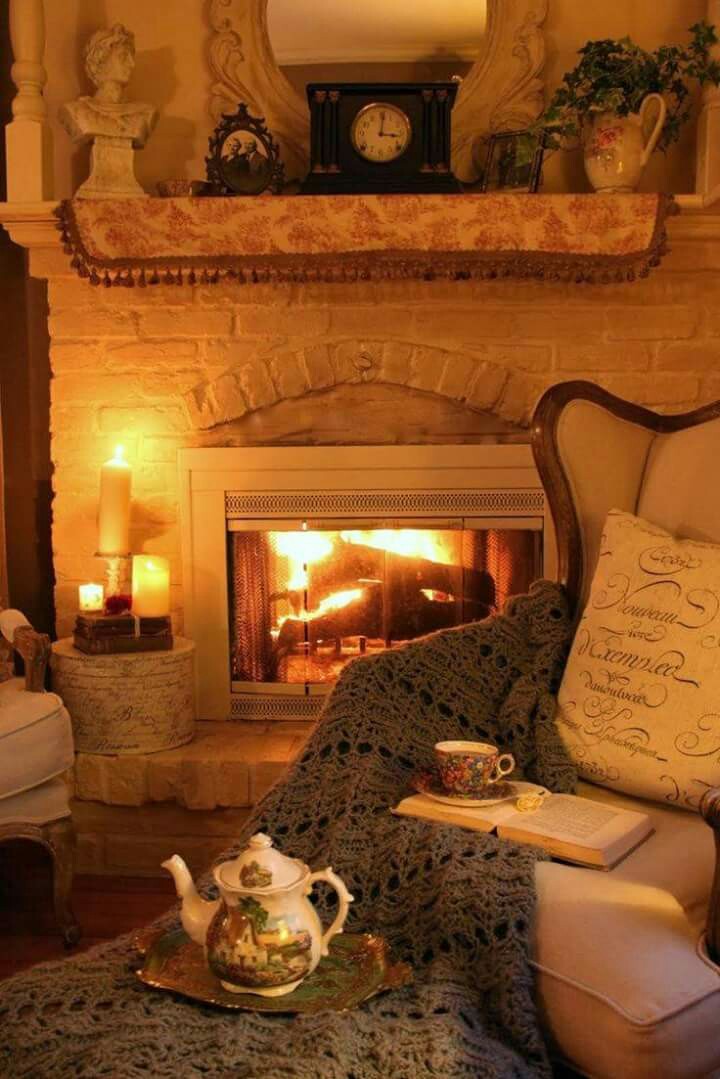 4. Tea, a blanket and the reading armchair – checked, checked, checked. This is my favourite corner when I am not building my blanket and pillow fort on the floor.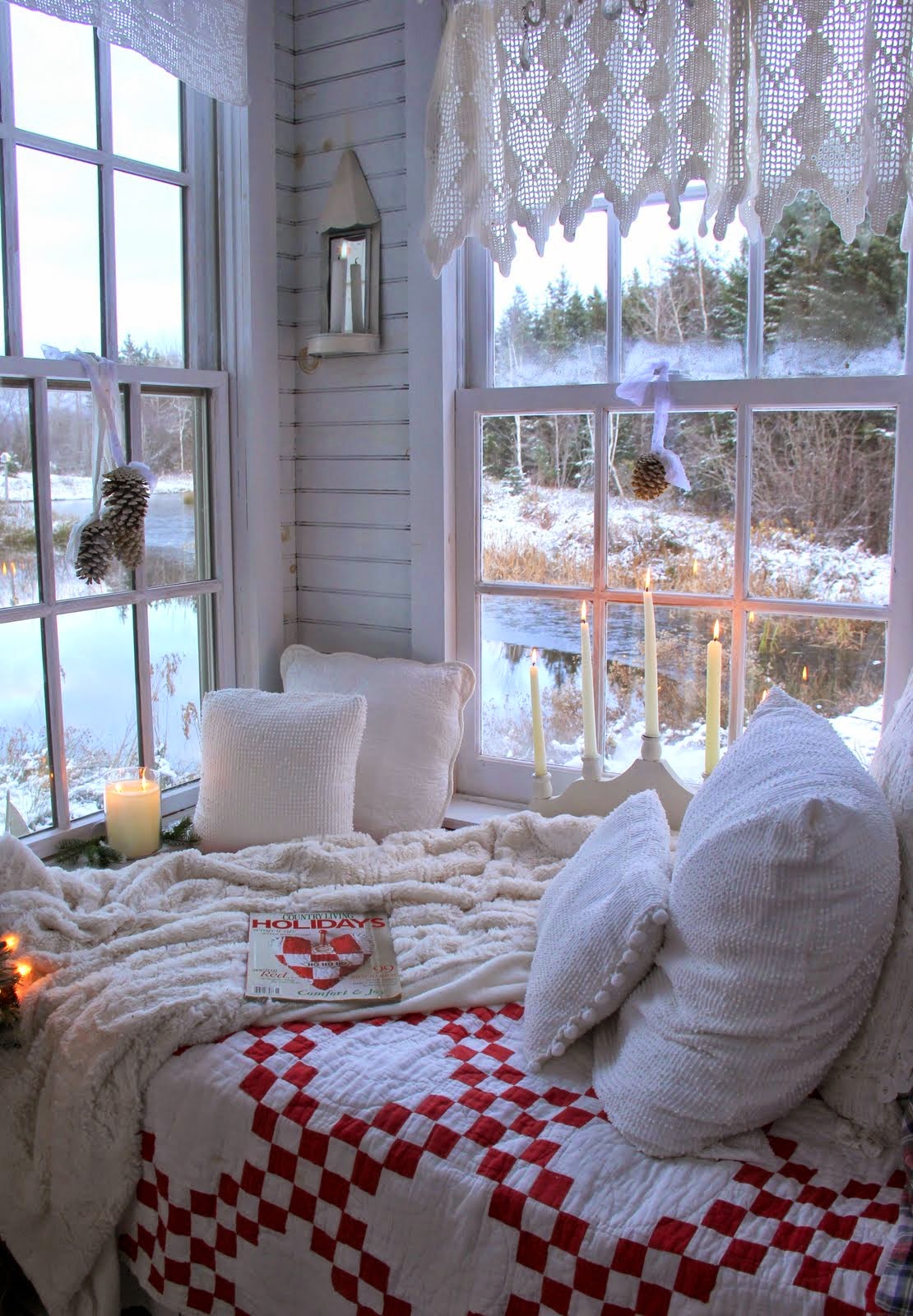 5. A reading nook by the window with a nice view and candles – again, only available during weekends but I do like to take advantage of its offers.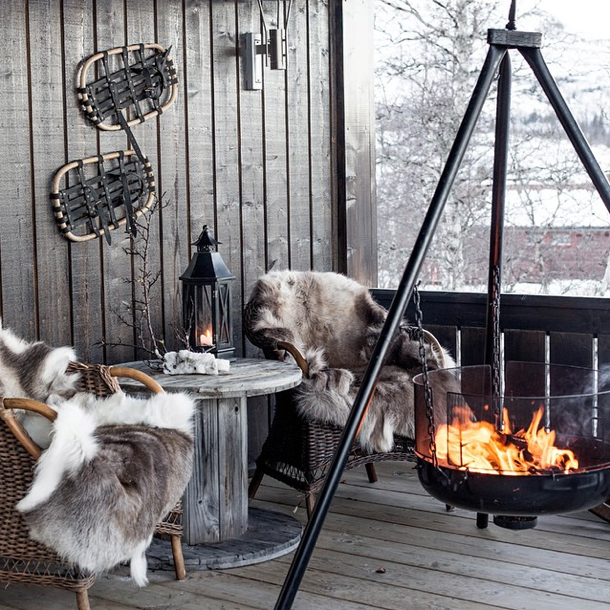 6. Ok, so this is not inside, I know… But, enjoying a great winter means also being able to get outside from time to time. And those chairs look amazingly comfortable and with the fire and some mulled wine, who wouldn't love to spend some time outside – the winter night sky is amazing!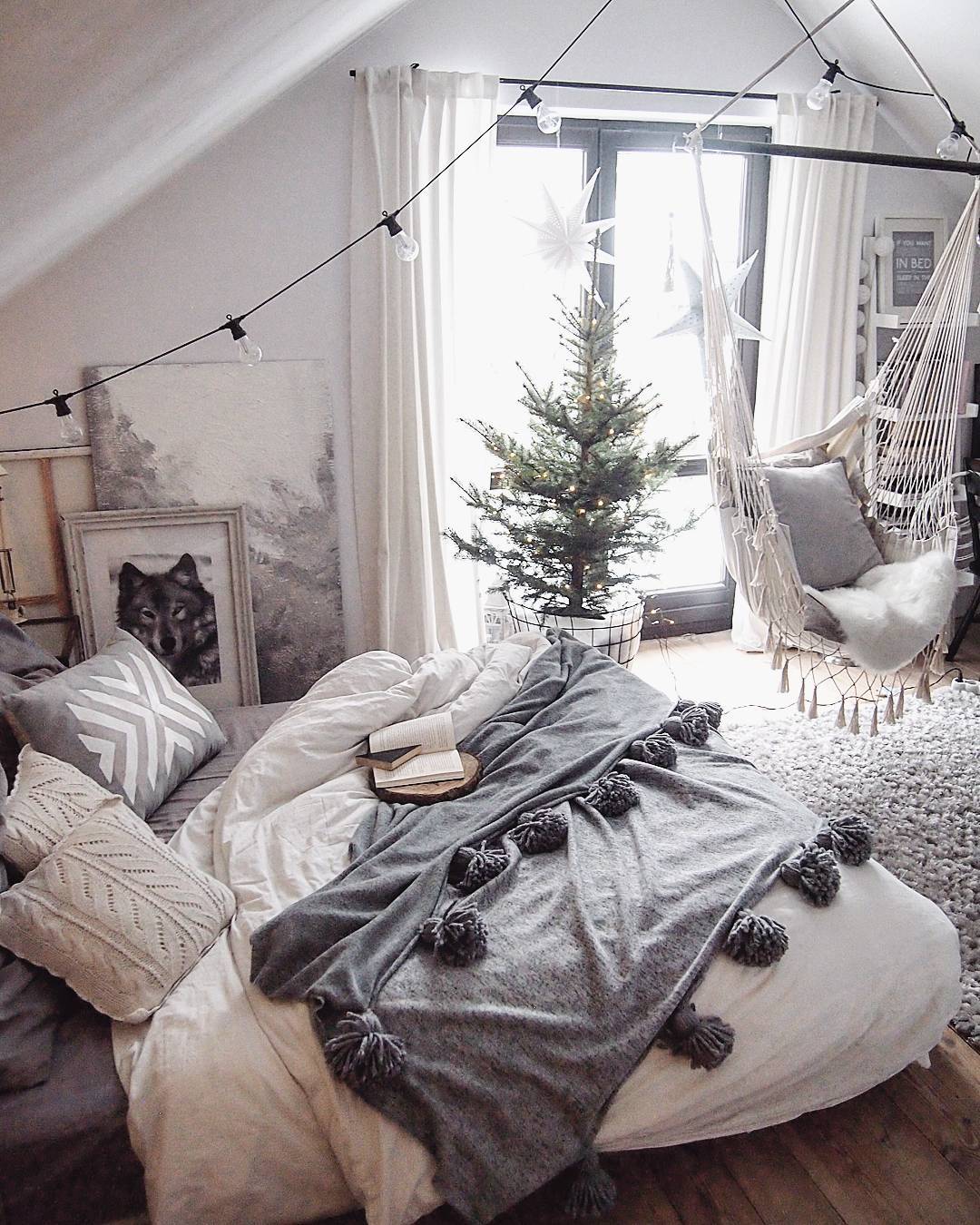 7. And if you're like me you can keep your tree for a little while more (especially if it's a potted one), just leave the lights on, put away all the other ornaments and enjoy the lingering holiday spirit. Gingerbread cookies help you not turn melancholic <3
Image sources: 1  // 2 // 3 // 4 // 5 // 6  //  7 //
Keep up with Project Fairytale
Facebook / Pinterest / Twitter
Follow my blog with Bloglovin
0